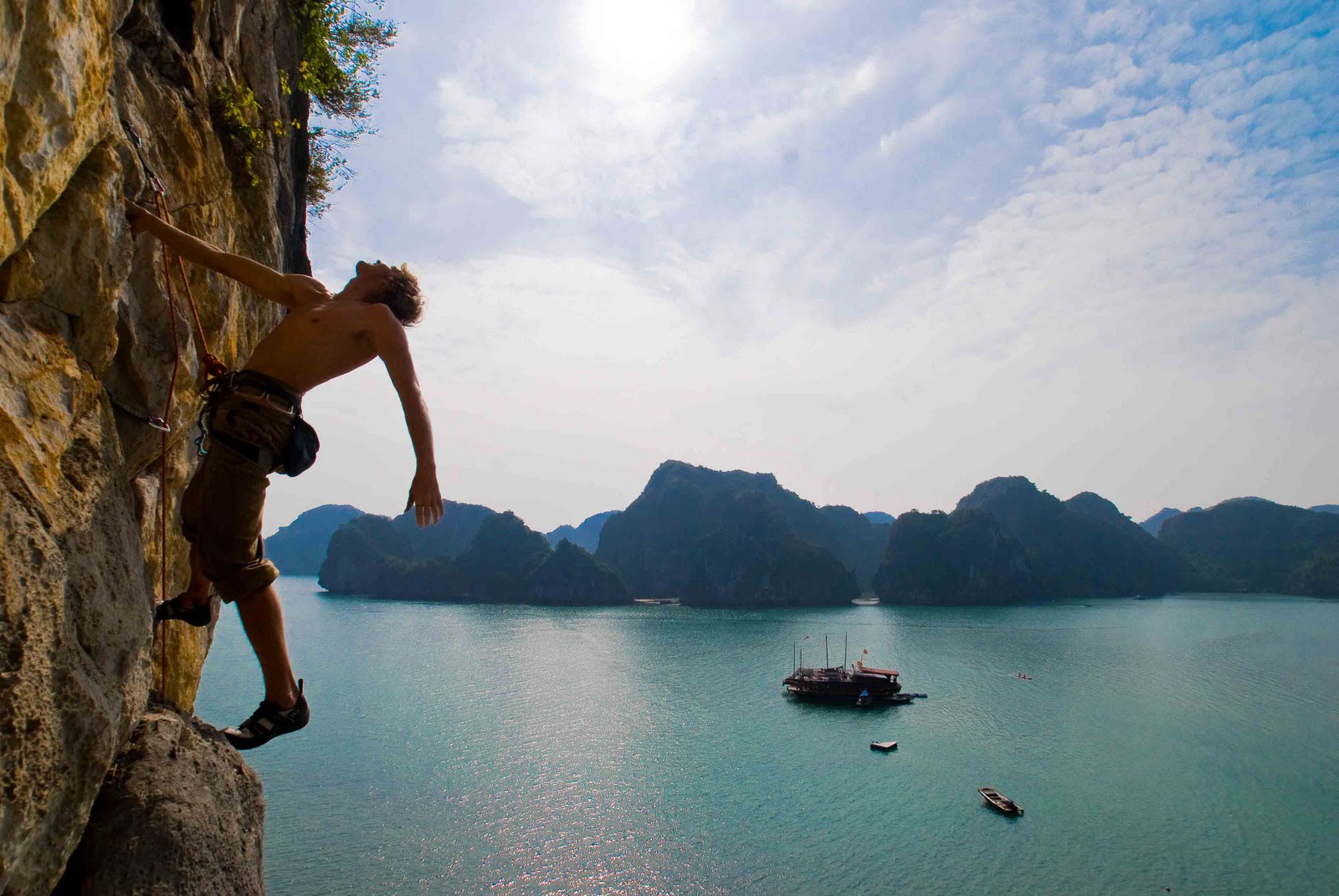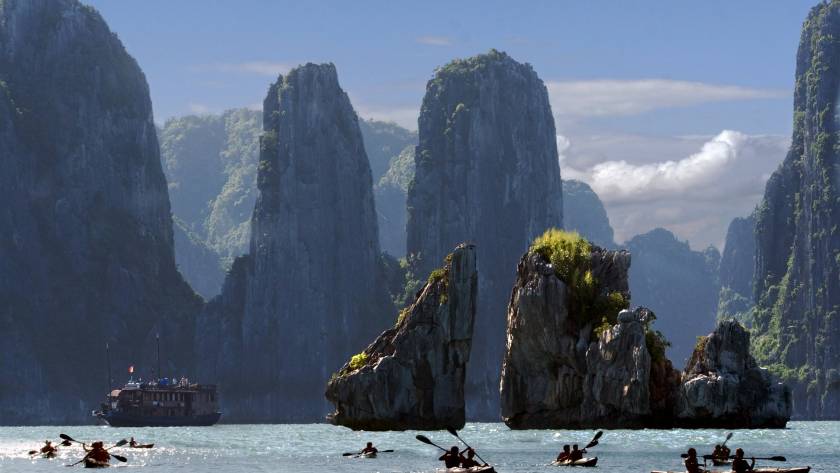 If Ha Long Bay is a well-known name on Vietnam's tourism map, Bai Tu Long Bay is relatively unknown to many, especially foreign tourists. Here are some interesting experiences and things-to-do that you must try when coming to Bai Tu Long Bay
1. Immerse yourself in the cool water on Bai Tu Long Bay
Bai Tu Long Bay is well-known for its clear water, few boats (because there are very few cruises and ours are licensed to go through the bay) so it is an ideal place for you to immerse in the water and fully enjoy the beauty of the Bay. However, inform your on-board manager to stop and you can have a shower in permitted areas.
In addition, Bai Tu Long Bay has many islands with beautiful beaches for those who are not confident with their swimming ability on the Bay. The white sand beaches on the island are extremely pristine and natural.
Few people explore it and few hotels, amusement parks, etc. so it's really a great place to rest with your friends and family. Some famous beaches on the islands that you should visit include Minh Chau beach or Quan Lan beach on Quan Lan island, beach on Ngoc Vung Island, Cong Do area, Hon Goi,…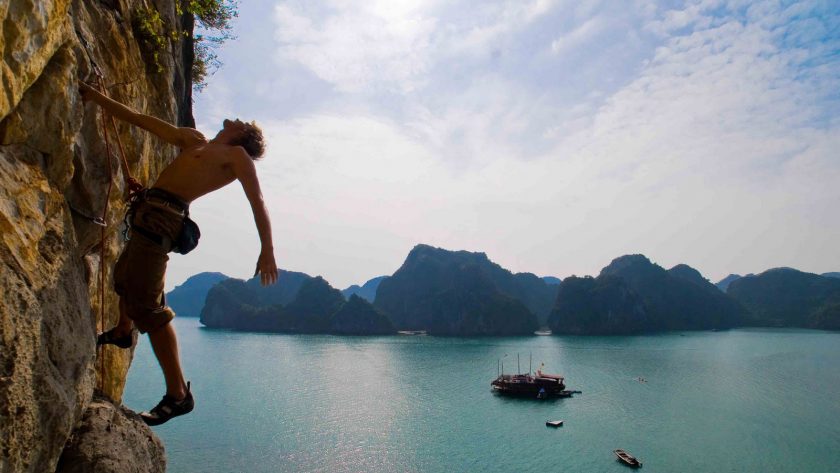 2. Climbing in the limestone mountains of Bai Tu Long Bay
Bai Tu Long Bay is an area with many rocky mountains that are higher than the rocks in Ha Long Bay. Here, those who love adventuring and climbing often choose rocky blocks with a height of about 60 meters to conquer and from there jump into the clear-blue-water on the Bay.
In the overwhelming landscape with dozens of limestone mountains, climbing here is really worth to try, right?
Of course, this sport is definitely not for the faint-hearted and unprofessional. You will probably need the advice of a guide and preparation of climbing gear if you intend to try this sport in Bai Tu Long Bay.
3. Discover the flora and fauna ecosystem in Bai Tu Long National Park
Bai Tu Long National Park covers an area of ​​157.83 square kilometers, of which about one-third of the forest land and more than two-thirds is the sea surface area and the floodplain. It is the home to many genetic specimens of rare plants and animals which are recorded in the red book of Vietnam.
According to the National Park Survey, there are 178 species of aquatic plants 119 species of fish, 132 species of invertebrates, 106 species of coral that inhabit, grow in the sea, tidal flats and birds like Burmese hawks, Japanese hawks, Blackhawks, stingrays, Hai Nam hummingbirds,…
The geological structure of Bai Tu Long National Park consists of land islands interspersed with rocky islands such as Ba Mun island, Tra Ngo Lon island, Tra Ngo Nho island, Sau Nam, Sau Dong, Dong Ma, Hon Chinh, Lo Ho, Ha Nam Trough, Ha Bac, Di To, Da Dia, Soi Nhu cave,… In addition, there are also limestone mountain ranges surrounding large valleys forming trenches as a habitat of different types of plants and animals.
Coming here, you can walk through the dense forests on the island, explore the rich fauna and flora while learning about the culture and history of Vietnamese people.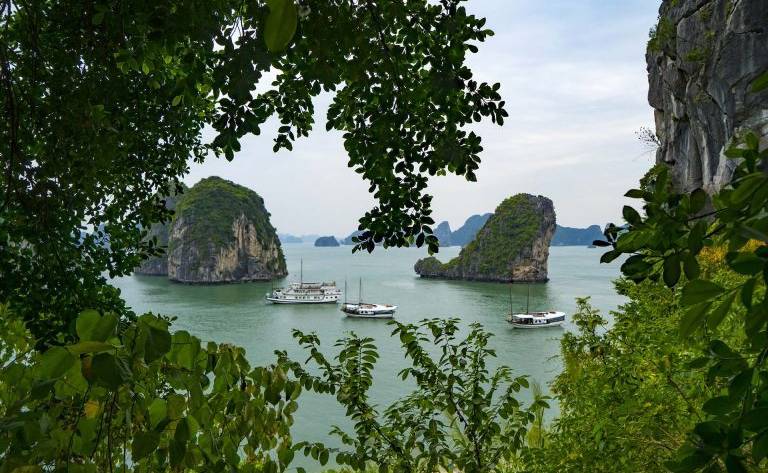 4. Discover mysterious caves at Bai Tu Long Bay
Bai Tu Long Bay has many caves which not only have aesthetic value but also high geomorphologic value. The famous caves in Bai Tu Long can be mentioned as Thien Canh Son cave, Bat cave, Quan cave, Soi Nhu cave, Me Cung cave, Tam Cung cave,…
If Thien Canh Son is a cave with spectacular limestone stalactites that create overwhelming beauty, Soi Nhu cave was discovered to be inhabited by ancient Vietnamese about 14 thousand years ago with the port trade.
Due to less exploitation of tourism and fewer people coming here, the caves here are still intact, unaffected by human hands like caves in Ha Long Bay. Therefore, when you enter here, you will feel extremely new and mysterious.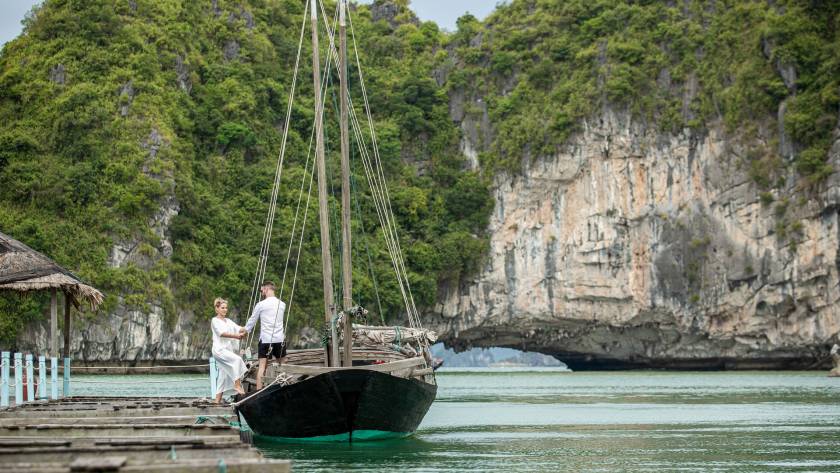 5. Visit famous fishing villages and seafood farming areas on the Bay
In addition to famous beaches and attractive caves, Bai Tu Long Bay will surprise you by the fishing villages with fishermen living here.
In fishing villages, people live by raising seafood such as sea cucumbers, grouper, oysters,…these are marine creatures that bring high economic value and have the effect of cleaning the water on Bai Tu Long Bay.
You can explore the life and aquaculture way of the fishing villagers here, even with everyone involved in planting mangroves. This will definitely be a memorable experience when you come to Bai Tu Long Bay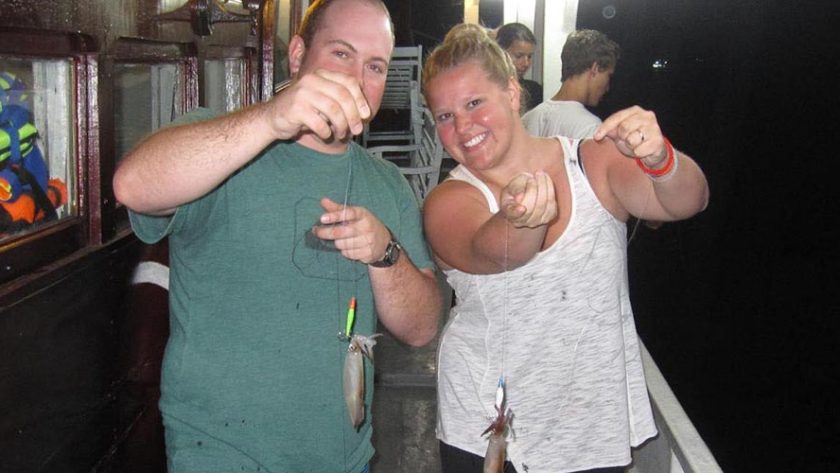 6. Night Squid Fishing in Bai Tu Long Bay
Night squid fishing is an interesting activity that you should try when traveling to Bai Tu Long Bay. This activity usually takes place from April to August, which is ideal as this is the summer and also the breeding time of squid. In addition, squid fishing should take place in dark, without shadows, foggy as possible at night, because when fishing, the darker the sky, the more light will attract squids.
You can choose the way of fishing squid right on the cruise or fisherman's boat. Fishing squid on the Bay and enjoy grilled squid, steamed squid,…by yourself right on the boat is an interesting experience, right?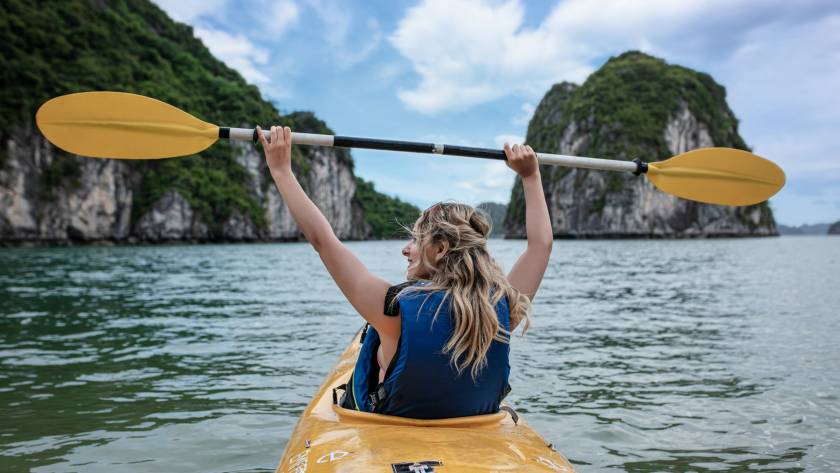 7. Kayaking on Bai Tu Long Bay
If you go during the day, you can buy tickets to Bai Tu Long Bay and from here rent a kayak or small boat by fishermen. If you spend the night on the bay, you can use the available kayak of the cruises.
Luon Cave is one of the most beautiful and unique kayaking spots when visiting Bai Tu Long Bay and Ha Long Bay. In addition, you can kayaking to explore the pristine islands or areas with rich ecosystems such as Cong Dam, Cong Do,…
Kayaking to explore Bai Tu Long Bay is usually suitable for groups of 2-3 people.
Above we have listed all the experiences you absolutely must not miss when visiting Bai Tu Long Bay. In addition to the above activities, you can combine to explore other places in Ha Long Bay and Cat Ba Island. Hope that, with the useful information we have provided, you will have a great experience when exploring Bai Tu Long Bay.