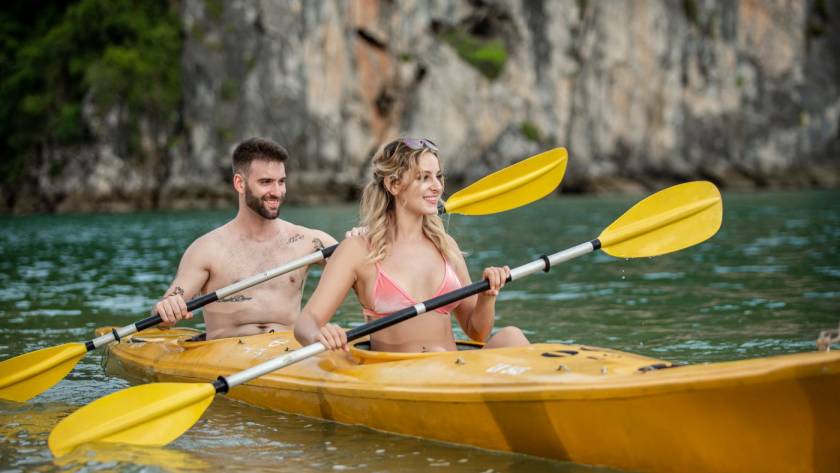 About Emperor Cruises
The cruise was inspired by the luxurious life of Emperor Bao Dai, Vietnam's last. Therefore, the boat itself is a discovery of the 30s with INSPIRED Design, RICH IN HISTORY and Royal Heritage. We bring  your customers to Experience Every Moment with us by being treated as kings and queens, indulging in services such as music, fine art, architecture, culture, cuisine, history, and outdoor & indoor activities, life on boat, stories of the Emperor Bao Dai through the design and where everything is all included.
Currently Emperor Cruises has Full Day and Sunset-Dinner Cruises in Nha Trang bay and the overnight Emperor Cruises in Ha Long. We are The first and the only 5 star all-inclusive cruises in Nha Trang and Ha Long bay
---
EMPEROR CRUISES NHA TRANG 5* RECRUITMENT
POSITION: 1 Sale OTA
JOB DESCRIPTION:
• In conjunction with the area/sales manager, develop, implement and manage E-Commerce sales.
• Assist in the development and implementation of an online pricing strategy to achieve online sales targets in conjunction with the local Sales organization and the Pricing department
• Cooperating with Marketing Deparment to identify direct connect opportunities with OTAs and develop strategy to optimise distribution costs and efficiencies.
• Taking care of FIT request and follow booking
• Handle all issue related to OTA and FIT booking : guest feedback, complaint, requirements… communicate with guest.
• Making weekly and monthly report directly to Sales Manager and BOD
• Other duties as assigned.
REQUIREMENT
• Influent Korean and English languages
• Good communication skill
• Good at Word, Excel, Powerpoint
• Free training from managers
• Specific knowledge of OTAs of Korean or English speaking guests would be advantageous.
BENEFIT
• Salary: negotiation
• Promotion Opportunity to higher position
• Support for accommodation (if available)
• Bonus as company's regulation and other benefits
APPLICATION
CV in English please send to email [email protected]
Office: 74 To Hieu street, Nha Trang city, Khanh Hoa
Website: www.emperorcruises.com
---
Sales Manager & Senior Sales/ Sales online in Hanoi Office
Working in Hanoi Office.
Product: Emperor Cruises Ha Long & Nha Trang Bay, Vietnam
For Immediate Interview, high salary + bonus
Start Working: ASAP
We are now seeking for a Sales Manager who will lead, develop and inspire the cruise, leisure and tourism travel sales team to achieve our cruise sales targets. The sales manager will provide the leadership to enable the company to achieve its sales goals, by promoting business profitability, monitoring performance, developing new business and effectively utilizing resources.
The responsibilities of the Sales Manager are:
Understand Emperor Cruises Company's vision, mission, purpose and values and be able to articulate them to the staff and partners.
Ensure effective human resources management, development in sales team, coach and grow a strong cruise sales team in both Hanoi, Nha Trang and Saigon offices.
Keep, develop a productive partnership with travel agents, tour operators, MICE planners.
Keep and enrich a database of clients both b2b and b2c. Coordinate with our reps in various markets.
Communicate with clients in the most effective ways. Customer Retention Management (CRM) campaigns including segmented e-mail campaigns, brochure launches & direct sales activity.
Establish and maintain an effective local marketing and sales strategy (Direct sales B2C, B2B contracts)
Prepare and/or attend the trade shows, sales calls, events if required.
Lead the sales team to ensure high energy, customer focused with consistent focus on sales Key Performance Indicator (KPI's).
Set, agree and execute performance against all Key Performance Indicator's, Monthly, Quarterly and Annually.
Measure and track actual performance versus budget performance and make any necessary adjustments.
Monitoring and reporting of Emperor Cruises Ltd. performance and process
Maximize revenue by driving up-selling opportunities through tactical selling
To actively resolve and investigate customers feedback, issues and queries
Engage with suppliers to maximize key selling opportunities liaise with product & commercial, marketing and other departments
Ensure high sales work rate, high occupancy of the boats further to set goals. Meet the annual sales target personally and the whole team.
Strictly follow the process of the company and provision of customer services
The skills required for the Sales Manager are:
Passionate, luxury minded person who can speak luxury travel industry in Vietnam and Indochina and experiential cruising travel
Two years of experiences required in the similar position in cruises, hospitality, travel and tourism.
Exceptional experience in people, coaching and leadership skills
Excellent in soft skills and sales management
Proven track records driving call centre motivation and change management
Experience of working in the leisure travel, hotel, tourism and cruise industry preferred
Able to think and operate strategically as well as tactically
Task focused deliverer with exceptional drive for change and quality
Creative and proactive approach to problem solving
Excellent numeracy skills to understand sales figures and how to leave them to improve sales performance
Ability to work under pressure and to deadlines
Travel industry and tour operating experience desirable
Ability to demonstrate excellent communication and influencing skills
Commercially and customer focused with an ability to drive strong sales performance
BENEFITS
High Salary + Bonus + Insurance + Sales Policy
Company benefits
Allowance for sales calls, trade shows in VN and abroad.
Please send letter of application with resume and recent photo to: [email protected]
Contact: 0914 929 196 (Mrs. Huong)