Type of cabins: Signature Suites
Maximum people: 2 Adults + 2 children
All Meals Included: Yes
Cabins: 4 All have private Terrace & Jacuzzi bathtub
En-suite Bathroom: Yes
Wifi: Yes
Size: 35m² – 43m².
+ Do Son & Lak Lake Suites: 43m² with private balcony, full ocean view, bathtub and jacuzzi.
+ Ha Noi & Sai Gon Suites: 35m², no balcony, full ocean view and bathtub.
Bed Type: Double/Twin convertible
Room Service: Yes
Location:
+ Do Son & Lak Lake Suites on main deck
+ Sai Gon & Ha Noi Suites on upper deck
Possible extra bed: Yes
Gym Access: 24/7
Do Son Suite
Lak Lake Suite
Hanoi Suite
Saigon Suite
Do Son Suite
Located on a beautiful hill, Bao Dai Villa was the emperor's royal residence on Do Son Beach near Hai Phong in Tonkin Bay. Do Son is just a few hours by boat from famous Halong Bay. Emperor Bao Dai used to stay here for vacations and to relax with his family between 1933 and 1954, when he was Emperor of Annam and Chief of the Vietnam State.
The Do Son Suite is located on the main deck of the vessel and is 37.6 square metres in size. Every suite is designed individually with the character reflecting the history of the original royal villas. The interior design is inspired by the 1930s and the isolated former royal summer residence overlooking Do Son Beach, which was the most popular beach destination in Northern Vietnam.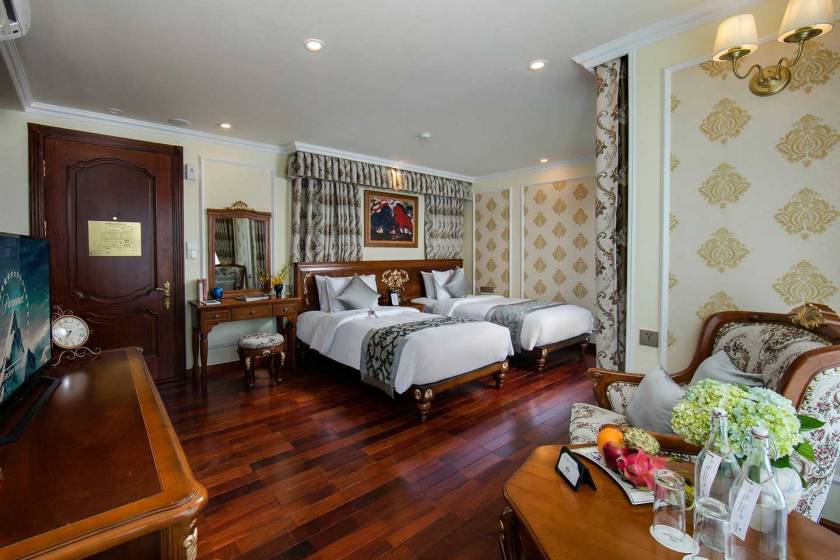 The Do Son Suite has twin beds and is adjacent to the Vung Tau Suite complete with its own private sun deck. This is just perfect for families. The suite also features typical Indochine décor, old black-and-white photos, wooden flooring, stylish tiles and a marble bathroom. Air-conditioning, a mini-bar and smart TV are included.
The Do Son Suite is spacious with its own private balcony affording spectacular ocean views. The old-fashioned bathroom is tastefully designed, gold in color and fit for royalty with a tub or walk-in shower. The ocean can be viewed from any corner of the bathroom.
Lak Lake Suite
Hanoi Suite
Saigon Suite
Room Services
Knowing that guests sometimes prefer to dine in the comfort of their suites, we offer room service around the clock. Room service offers a delectable choice of appetizers, main courses and desserts along with breads, sandwiches, burgers, soups and salad 24 hours a day.
Exquisite Cuisine
Excellent cuisine is one of our core values on board.
Menus change daily and a multitude of dishes are offered during the cruise program.
Guests are free to dine whenever, wherever and with whomever they choose.
Personal service
Our staff have been highly trained to attend to guests' every need and desire and they take great pride in providing a personal service that really sets them apart.
Their goal is to provide exemplary personal service day and night, ensuring that guests' wishes are satisfied completely.
Butler service is included. It is the ultimate prerequisite for individualized attention. Highly trained and profoundly committed to fulfilling guests wishes, butlers are the ultimate indulgence, usually reserved for the privileged few.
Experience the Do Son Suite – Emperor Cruise through 360-degree photo