| | | |
| --- | --- | --- |
| Type of cabins: State Suites | Maximum people: 2 Adults + 2 children | All Meals Included: Yes |
| Cabins: 04 with private balcony, full ocean view & Jacuzzi bathtub | En-suite Bathroom: Yes | Wifi: Yes |
| Size: 43m² inside and 7m² balcony | Bed Type: Double/Twin convertible | Room Service: Yes |
| Location: 02 cabins on main deck & 02 cabins on upper Deck | Possible extra bed: Yes | Gym Access: 24/7 |
NhaTrang Suite
Da Lat Suite
Hue Suite
Vung Tau Suite
NhaTrang Suite
In the 1920s Emperor Bao Dai built holiday villas in some of Vietnam's most picturesque locations across his empire. In Nha Trang he chose a bluff 5km from downtown with a private beach and spectacular views across the bay.  The French colonial style villa complex, or Bao Dai Palace, is located in Cau Da and his majesty used it as a holiday residence for his royal family and lovers from 1940 to 1945.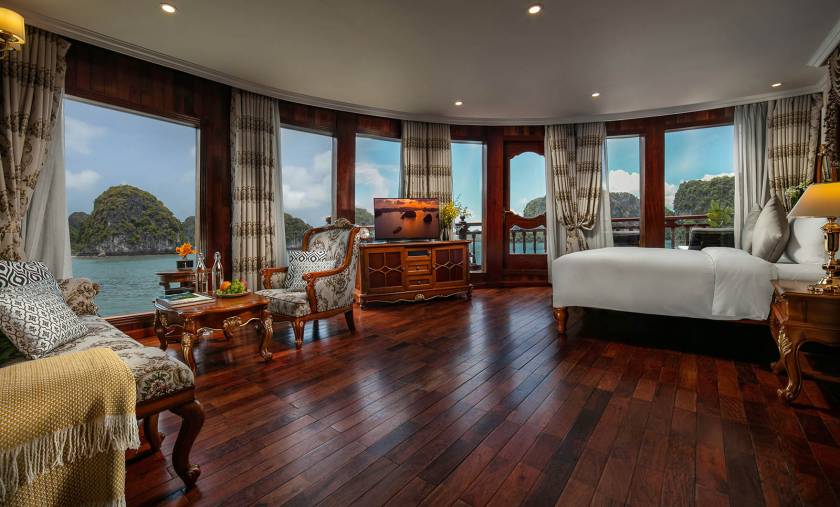 One of his servants, named No, now lives in Dalat and he revealed that the emperor spent a lot of time in these magnificent villas with his most beloved concubine, Mong Diep. A visit to the palace will reward travelers with a taste of Vietnam's past while enjoying some of Nha Trang's best views.
Inspiration for the cruises came from the recreational activities of Emperor Bao Dai, when he stayed in his villas in Nha Trang. He took great pleasure in sailing in NhaTrang Bay to go fishing around the offshore islands, relax and unwind on empty beaches and enjoy the nutritious seafood reserved only for the king such as lobster, abalone, tuna fish and sea cucumbers which are very abundant in Nha Trang Bay.
The vessel is designed to reflect the inspiration of Vietnamese heritage and history. The Nha Trang Suite is located on the upper deck towards the rear of the Emperor Cruises boat. The suite is very spacious, large enough for a king and queen with ocean views on both sides and a private sundeck. Designed with privacy, romance and elegance in mind, guests can enjoy the best views in the sun-filled cabin as well as sharing the memory of the gorgeous sunset over a glass of wine.
The Nha Trang Suite has a double bedroom and all the amenities are handmade and exclusive as befits a suite on the upper deck. The large, gracious balcony allows plenty of light into an airy 42.9 square metre room featuring elegant furnishings and rich decor. Meticulous attention to detail is reflected in the king-sized bed and marble bathroom featuring walk-in shower and an Indochine style old-fashioned bath tub.
Da Lat Suite
Hue Suite
Vung Tau Suite
Room Services
Knowing that guests sometimes prefer to dine in the comfort of their suites, we offer room service around the clock. Room service offers a delectable choice of appetizers, main courses and desserts along with breads, sandwiches, burgers, soups and salad 24 hours a day.
Exquisite Cuisine
Excellent cuisine is one of our core values on board.
Menus change daily and a multitude of dishes are offered during the cruise program.
Guests are free to dine whenever, wherever and with whomever they choose.
Personal service
Our staff have been highly trained to attend to guests' every need and desire and they take great pride in providing a personal service that really sets them apart.
Their goal is to provide exemplary personal service day and night, ensuring that guests' wishes are satisfied completely.
Butler service is included. It is the ultimate prerequisite for individualized attention. Highly trained and profoundly committed to fulfilling guests wishes, butlers are the ultimate indulgence, usually reserved for the privileged few.
Experience the Nha Trang Suite – Emperor Cruise through 360-degree photo