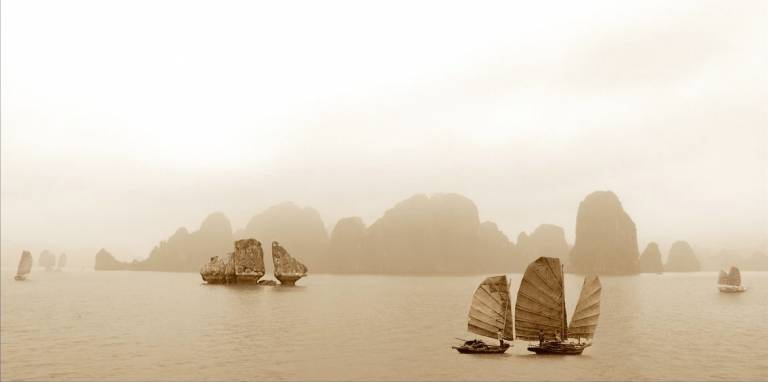 Halong Bay is one of Vietnam's most stunning attrations – there is no way to describe Halong Bay other than as purely breathtaking. As a UNESCO World Heritage Site and natural wonder of the world, the bay features thousands of limestone islands and cliffs emerging from the turquoise sea.
Halong Bay sits off Vietnam's northeastern coast, 165km from the capital, Hanoi, and it has incredibly serene emerald waters that are home to multiple small limestone islands covered by rainforest. It is a popular spot for boat tours, both day trips and overnight cruises, cave exploration, booze cruises, and kayaking and no trip to Vietnam would be complete without visiting it.
The name translates into "where the dragon descends", and according to the local legend, the bay's islands were formed when a dragon charged from the mountains towards to the coast, its tail carving out valleys and crevasses, until the dragon hit the water, flooding the area and leaving nothing but the peaks visible.
Halong Bay is understandably popular, but if you want to come here alone without other tourists, be sure to book our private charter boat to sail where you want, cruising on your own itinerary deep into the bay, exploring the caves and grottoes, heading over to Bai Tu Long Bay and Lan Ha Bay, trekking in Cat Ba National Park, rock climbing, kayaking, and watching some of the most amazing sunsets that you'll ever set eyes on.
quang ninh
bai tu long Bay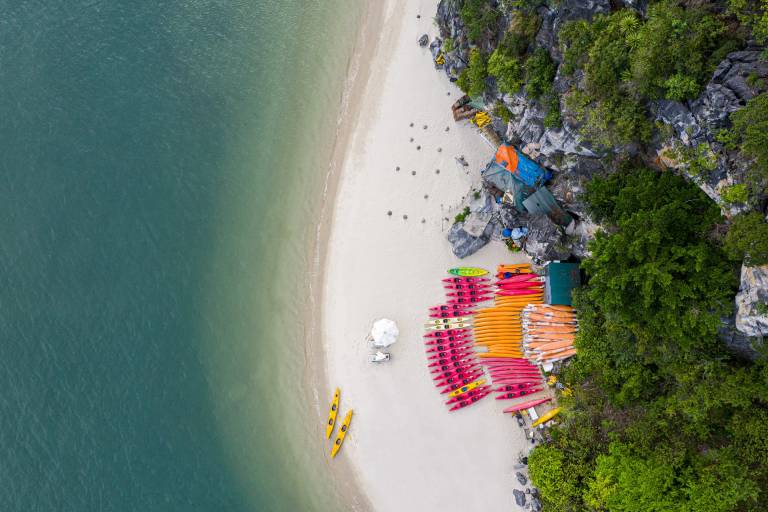 Adjacent, smaller and quieter, for many its untouched beauty surpasses that of Halong Bay. Bai Tu Long means 'the place where the dragon children descended'.
Rich in biodiversity, with a pristine environment and blessed with a marvelous landscape, the bay is dominated by thousands of limestone karsts and islets which rise out of the waters of the bay. It is dotted with floating villages, unspoiled beaches, caves and grottoes and tiny coves where you can hide to unwind and be a Robinson Crusoe for the day.
Very few boats can reach the Cong Dam area, with the Da Xep geological park at its heart, home to some of the most spectacular rock formations in the bay, as it is located a long way from the mainland. It also has an abundant marine ecosystem with coral and colourful fishes which can be enjoyed by snorkelers.
Most of the islands are uninhabited and are home to delightful flora and fauna and empty, white-sand beaches from which you can go swimming and snorkeling. Cong Do, Tra San, Vung Dang, and Cong Dam are just a few of the places where you can see the most beautiful scenery, kayak through tranquil lagoons and discover the coastal marine ecosystem.
Private charter cruises take you deep into Bai Tu Long Bay to Ngoc Vung, Quan Lan, Cong Dong, and Cong Tay islands where mother nature is at her best. You will understand why some of the scenes from the films 'Indochine' and the Vertical Ray of the Sun, were filmed here in this evocative landscape.
Bai Tu Long Bay is hauntingly beautiful and spiritually enriching. The fishing village looks most intense during dawn and dusk, but it is a place to be captured at any time of day.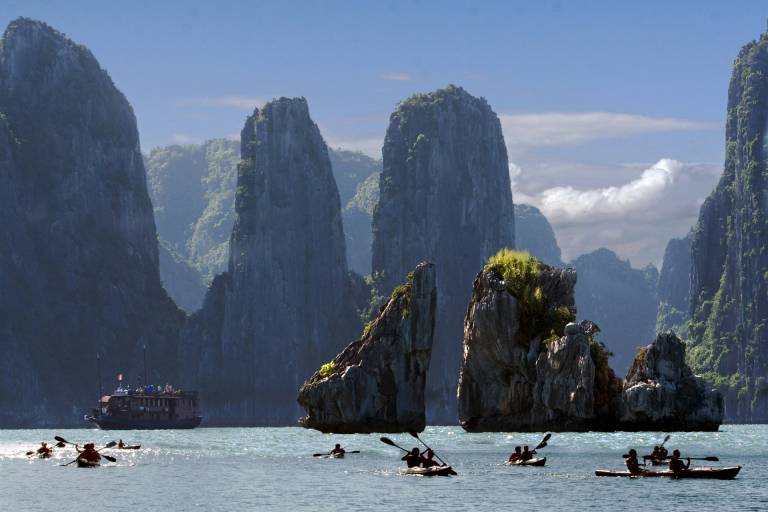 quang ninh
Travel Guide To Halong
When Is The Best Time to Visit?
Halong Bay and Bai Tu Long Bay can be visited all year round. The best time to visit is September to April. Expect hot weather and some tropical rain in the summer from May to August, but the sun and blue skies reappear after the rain before a magical sunset and the moon rising high into the night sky. Be a King for a night with us on board Emperor Cruises where our team ensures you enjoy every experience whatever the weather conditions.
How to Get There?
Self-drive car hire is not available for short-term visitors to Vietnam so most travelers to Halong Bay usually book a cruise package, which includes a private car with chauffeur driver or shuttle bus (3,5 hours). Helicopter or seaplane transfers are also available to the bay from Hanoi (1hour).
To ensure total comfort on your journey from Hanoi, we offer a daily limousine transfer service for pick-up and drop-off services from your hotel in Hanoi or Cat Bi Airport in Hai Phong City (upon request).
Where is it?
The best way to appreciate this magical scenery is from our Emperor Cruises, cruising between karst cliffs which loom up like fairytale castles, complete with rocky spires and hidden caves.
Our cruises operate in Bai Tu Long Bay on a daily basis and Halong Bay on a 2- night program and, whether you choose the day trip or overnight option, we ensure your experiences are exclusive, all inclusive, intimate, memorable and safe.
What are the cruising options?
In Bai Tu Long Bay we operate one-day cruises, two-day cruises and the option of cruising both Bai Tu Long Bay and Halong Bay in a three-day program. Party cruises and private charters are available upon request.
in Halong Bay, Nha Trang Bay and Phu Quoc Island.
our luxury cruises