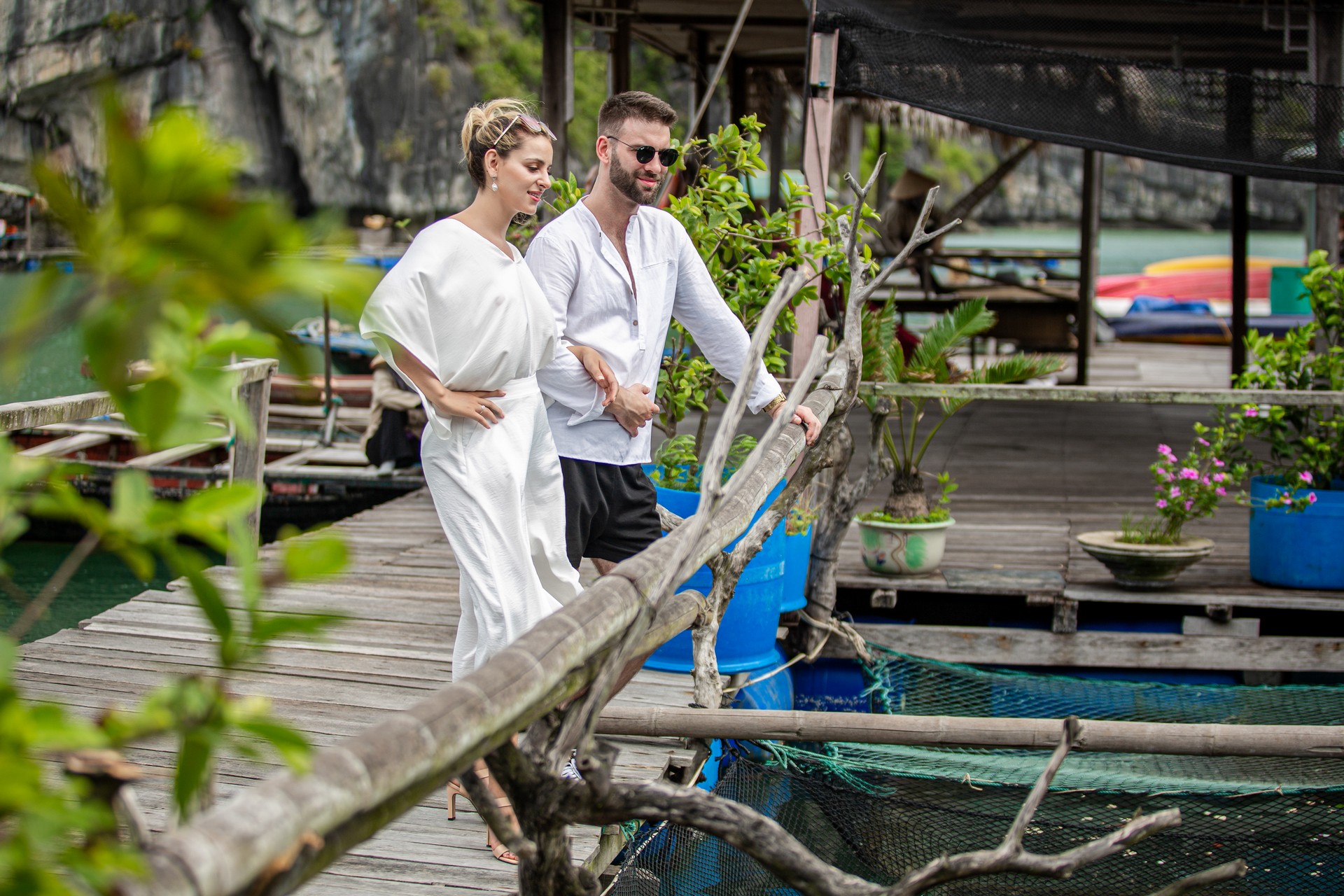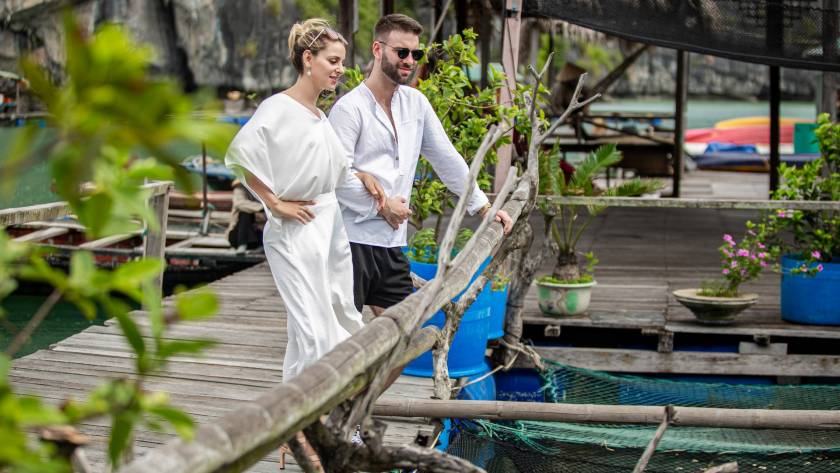 There are so many activities and aquaculture areas in Bai Tu Long Bay to explore such as watching oyster farming in Cong Nua, experience a day as a fisherman in Cong Dam village… If you want to try unique experiences, Here are some activities for you to explore.
1. Discover the oyster farming area in Cong Nua, Bai Tu Long Bay
Visiting Cong Nua on Ban Sen Island, Bai Tu Long Bay, you will be able to personally discover more than 1,000 oyster rafts here with a total area of ​​about 5 square kilometers.
After a successful nursery, the oysters are brought into strings to drop into the sea. The woven seed will be carried under bamboo rafts in clean water, rich in natural food sources.
Oysters are hung from natural racks made of bamboo. The farming process takes place naturally in 6 months. Oyster's food is seaweed.
When the oysters reach a certain size, the shell length is over 7cm, the depth of the trunk is about 5cm, which is considered to meet the harvest standard.
Oysters are harvested and preliminarily processed in rafts, then washed ashore, bubbled with ozone disinfection before being processed.
After being harvested, the oysters will be sold to traders or seafood restaurants. The dishes made from oysters are extremely attractive and good for health such as fried oysters with eggs, grilled oysters, oyster porridge, …
When visiting Cong Nua area on Bai Tu Long Bay, you will have the opportunity to discover how farming and processing oysters of the people here.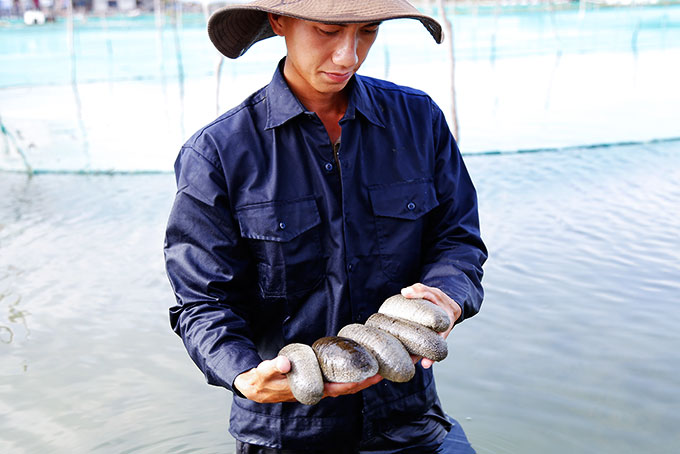 2. Explore white sea cucumber (Hai Sam) farming area in Bai Tu Long National Park
Previously, white sea cucumber appeared a lot on Bai Tu Long Bay, especially in the waters of Minh Chau commune and Ngoc Vung island, Ban Sen, Quan Lan island,… However, due to the overexploitation of the people, this species has been exhausted.
For that reason, Bai Tu Long National Park's Management has tried to raise white sea cucumber and so far it has achieved very good results.
The leftovers and manure of shrimp which pollute pond bottoms now become a source of food for sea cucumber.
The economic value of white sea cucumbers depends on the size of the trade item. The price of whole white sea cucumbers is 140,000 – 190,000 VND/kg (fresh, type 5-7 oysters/kg); semi-processed white sea cucumber 220,000 – 250,000 VND / kg (fresh); dried sea cucumber costs about 1.5 to 2.5 million VND/kg.
The food made from white sea cucumbers helps regulate blood lipids, regulate blood sugar, and prevent the aging process, eliminate fatigue, improve immunity,…so especially good for middle-aged and elderly people.
The dishes made from sea cucumber include: Chicken and sea cucumber soup, Sea cucumber cooked with mushrooms, Sea cucumber stewed with red apple, Sea cucumber stewed with goat meat,…In addition, there is a lot of delicious and nutritious dishes that you must try when visiting Bai Tu Long Bay.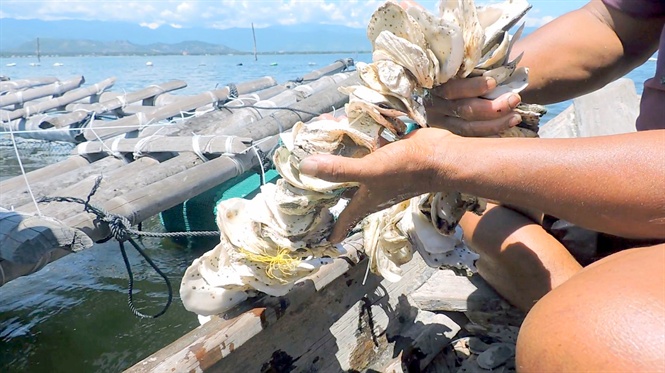 3. "Floating Village" on Ong Cu island, Bai Tu Long Bay
Ong Cu Island is located about 4 km from Vung Duc, Bai Tu Long Bay. It is a model of cages for aquaculture and economic development associated with protecting the marine environment in Cam Pha city, Quang Ninh.
The rafts are built, fully equipped and convenient for fishermen to live here. If you visit this area it will be very surprising because moving between floating houses is easy, like traveling by car on land.
Especially, the Banded grouper here has high value and very rare, with a fast growth rate. It is sold with prices from 800,000 VND to 1,000,000 VND per kilogram.
The households living on Ong Cu Island are longtime fishermen clinging to the sea. Coming here, you will see how the fishermen raise fish in floating fish cages, very interesting, right?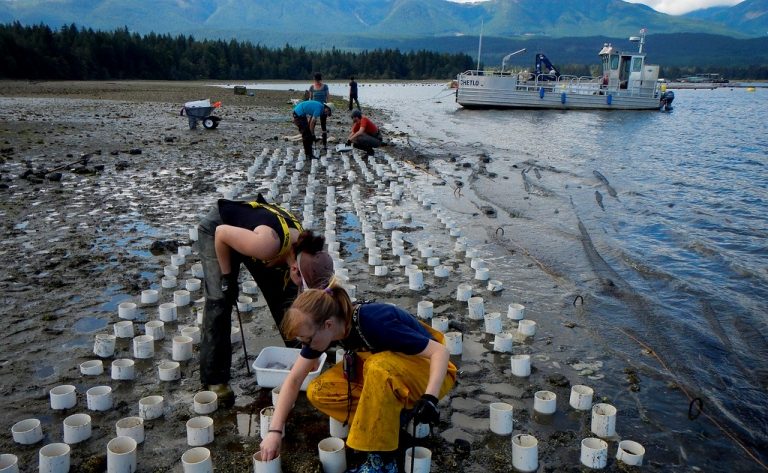 4. Visit Banh Sua Island – the famous Lutraria Geoduck farming area of ​​Quang Ninh
Banh Sua Island is not famous as other tourist areas such as Co To archipelago, Quan Lan island … because this place is still very pristine with an area of ​​less than 1 square kilometer.
Rhododendron lives in warm, salty environments and has coral reefs. They feed on algae and plankton in seawater.
Geoduck grows all year round, especially in the summer when the autumn Geoduck grows very fast. It takes about 15 months to raise one Lutraria Geoduck to make a commercial product (about 0.7 taels/head).
The dish from Geoduck is popular because of its delicious taste, sweetness, very rich in nutrients, especially good for men's health.
Coming to Banh Sua Island, you can not only discover how to cultivate Geoduck but also have the opportunity to explore Quan cave, which is only about 30 minutes by boat.
Quan cave was used as a military base during the destructive war of the US in the North. There are stalactites with many shapes and equally beautiful caves in Halong Bay.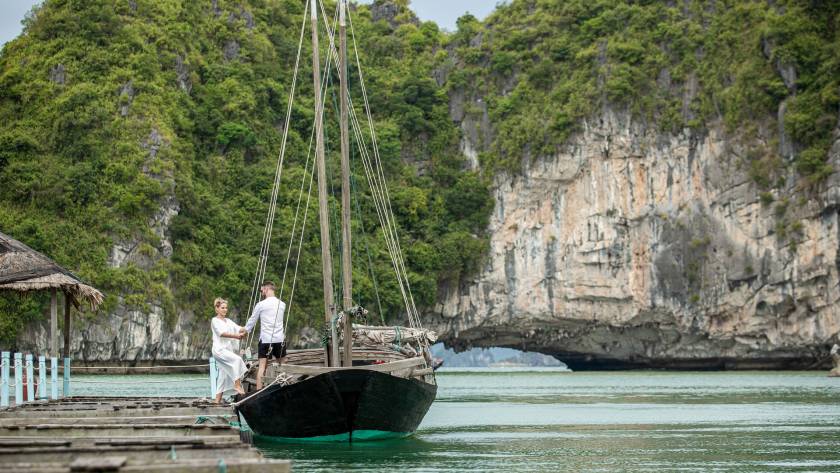 5. Experience a day as a fisherman at the fishing village of Cong Dam
Located on the peaceful Bai Tu Long Bay, the area of ​​Cong Dam is known for its majestic and poetic natural beauty of an outdoor geological museum.
Cong Dam is an area where lots of terraces, coral reefs, underground lakes in limestone mountains and underwater caves are located. This is also an area with many large and small beaches with small, white sand and clear water.
Coming here, tourists also have a great opportunity to visit Cong Dam fishing village – a small ancient fishing village with a population of about 120 people.
Located quite far from the mainland and completely isolated from bustling tourist routes, the village's scenery still retains many pristine features and a very clean sea environment.
In addition to participating in interesting activities such as kayaking and fishing with fishermen, you can also participate in planting mangroves to protect the environment.