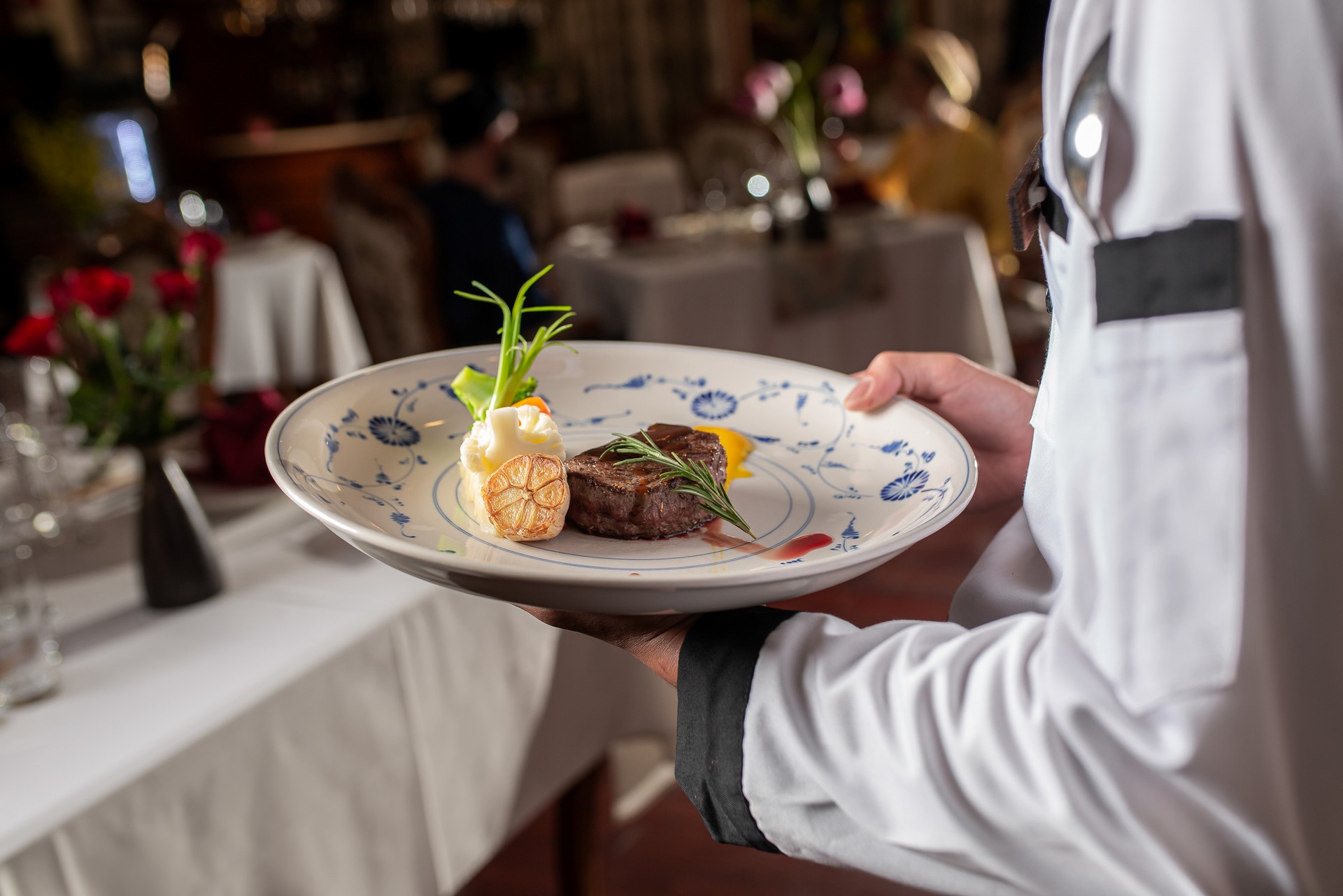 Bai Tu Long Bay – 8 dishes that you have to try
Referring to Bai Tu Long, everyone immediately thinks that it is an extremely popular tourist destination in Vietnam with hundreds of wonderful islands and beautiful natural scenery. However, Bai Tu Long tourism is not only to enjoy the scenery but also many special culinary specialties, dishes, cuisine, food.
Here are some specialties that visitors cannot ignore when traveling here:
1. Oysters – Best dish in Bai Tu Long Bay
Favored by nature for weather conditions and water sources, Ban Sen island commune (Van Don district) is an ideal place to raise Pacific oysters. Dubbed the "kingdom" of oysters, because it focuses on many large-scale farming facilities. In particular, there are oyster farming areas that stretching for kilometers with over 1,000 rafts in the Cong Nua area and Bai Tu Long Bay.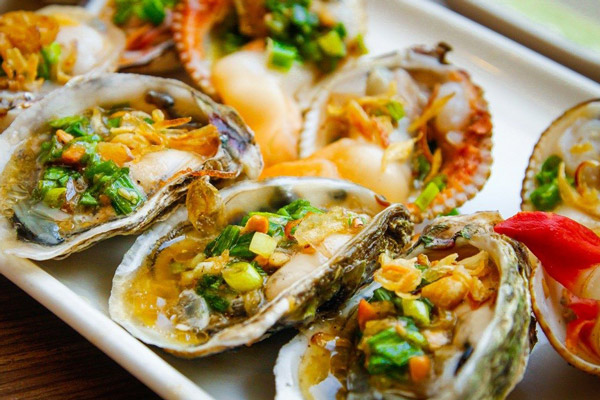 Here oysters are processed into many different attractive dishes such as:
a. Grilled oysters with onion
Oysters after being peeled on one side will be baked. When the oysters are almost ripe, they will coat a layer of onion fat to make the oysters sweeter and smell better. When you remove the oysters from the kitchen, add onions and some peanuts.
When eating, you will feel the sweet but still coolness of the oysters, blended with the aromatic smell of roasted peanuts and fried onions.
b. Oysters in tomato sauce
Only with simple ingredients: oysters, tomatoes, dry onions, scallions, dill, and a little spice, created a very tasty and extremely attractive dish.
Stir-fried finely chopped shallots with tomatoes. Then, put the cleaned oysters on the same. Seasoning with a little fish sauce, the main noodles add flavor. When the oyster infused spices, add scallions and cumin to smell up. This is the favorite food of many people in Bai Tu Long Bay, especially the children.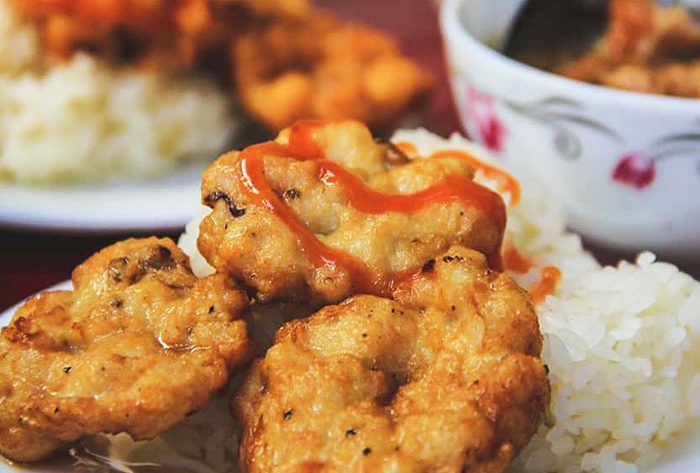 2. Cha Muc – Squid Sausage
Meticulous is the essential requirement of this dish. Squid is cleaned and cut into small pieces pounding in stone mortars. The pounded squid is a little tangled enough to create a sticky level to have a medium bristle texture, not too tough or too friable.
a. Xoi Cha Muc – Squid sausage with sticky rice
To eat Squid Sausage at Bai Tu Long Bay, the right taste is often served with white sticky rice.
Quang Ninh white sticky rice has a unique flavor. This is the taste of the sea and the unique feature of Bai Tu Long Bay tourist destination. Once enjoying Squid Sausage with sticky rice, surely you will not forget the taste of this dish.
Currently in Bai Tu Long Bay each white sticky rice yield from VND 35,000 to VND 50,000. As a traditional dish of a place, a tourist center, this price is not considered too expensive.
b. Banh Cuon Cha Muc – Squid sausage with rolled rice pancake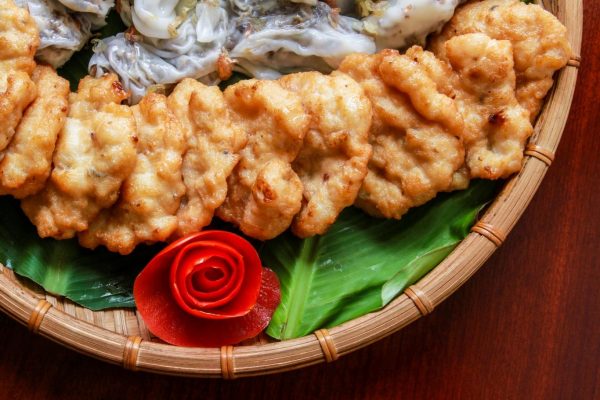 This is a dish with a combination of 3 elements: squid sausage, rolled rice pancake, and dipping sauce. These 3 elements must ensure good quality and quality to create harmony for the dish and the delicious taste.
To have a delicious flavor that attracts customers, you must make sure that the dipping sauce is the best. The sauce has enough ingredients including fish sauce, chili, sugar, lemon juice, … With a sweet and sour taste and the combination with the hot-rolled pancake, shrimp and each piece of squid slices to create a delicious taste right after touching the lips.
3. Sa Sung – Sipunculus nudus
Sa Sung is a type of mollusk, shaped like a worm, living in the coastal sandy beaches but not everywhere. Sa Sung is one of the best specialties in Bai Tu Long Bay that every traveler must try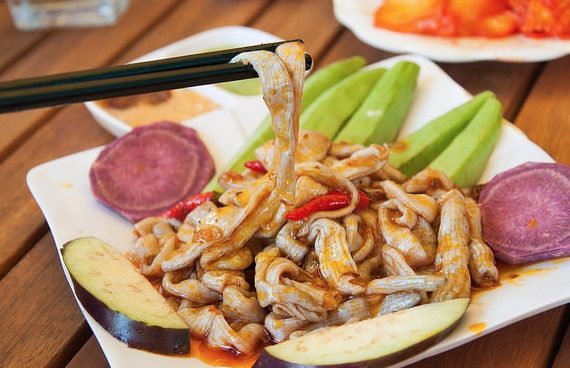 a. Fried sweet and sour Sa Sung
Lots of flavors we can enjoy from this dish, the sourness of lemon, the sweetness of sugar and pungency, the spiciness of chili, the richness of fish sauce. Along with the crunchy, fried sweet and sour Sa Sung will surely bring you and your family a great meal in Bai Tu Long Bay.
b. Sa Sung Soup
Sa Sung is cooked with garlic, dry onions, a little bit of fish sauce, and seasoning seeds to create a strong flavor. Sa Sung soup is usually cooked with tomatoes and when almost cooked, it is added to guise leaves. The broth has a slightly sour taste, very good for the body, especially those who are tired or just recovered.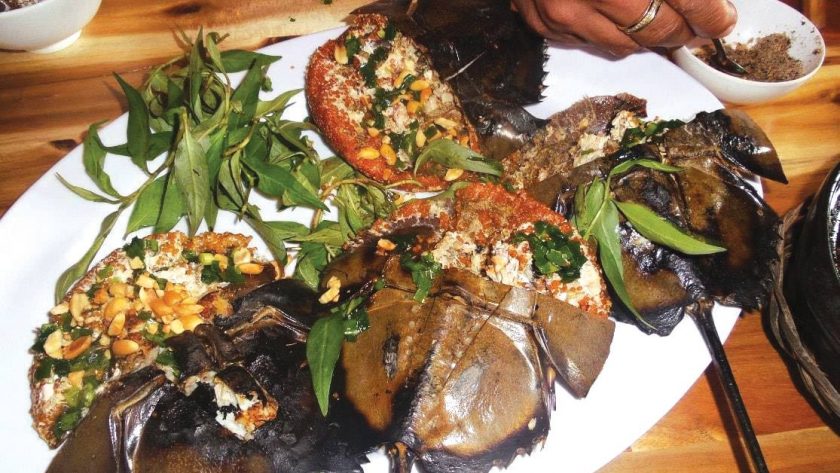 4. Sam Bien – Horseshoe crab
Sam Bien (Horseshoe crab) has a strange shape, hard shell, round body, swim very slowly and crawl like a crab. Female sam weighs about a kilogram, male sam smaller, weighs only half the female.
Sam Bien legs and thighs after being cut off will be soaked in hot water to remove fishy, ​​will be marinated with galangal, lemongrass, chili and spices and sautéed in a hot pan.
In addition to the familiar spices, it is indispensable for tamarind juice to wake up the aroma and natural sour taste for the dish. Guise leaf is added last to create the characteristic aroma of this dish.
Sam's legs are sweeter and more fragrant than crab meat. Vietnamese people (especially people in the coastal areas) consider it a favorite when drinking with friends.
5. Oc Mong Tay – Solenidae
With a two-piece structure, about the size of a finger, the intestine is milky white, the shell is slightly yellow-brown. The taste of it is fleshy and chewy so it is used as a raw material to make many delicious dishes in coastal areas of Vietnam.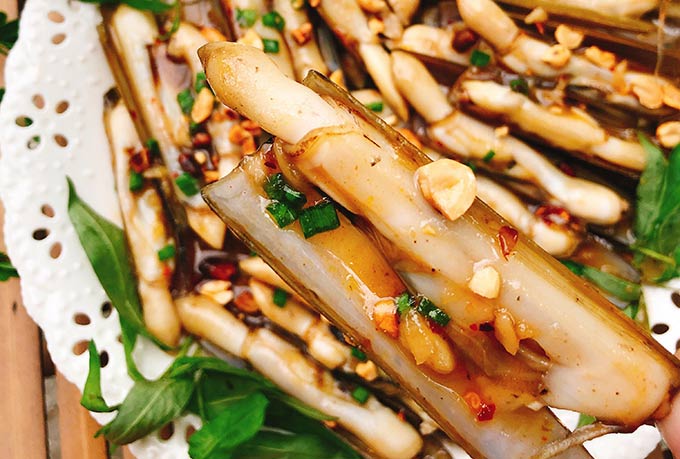 The popular dish of Oc Mong Tay is tamarind-fried. To make tamarind-fried Oc Mong Tay, people often combine familiar ingredients in the kitchen every day such as garlic, chili, tamarind, peanuts and laksa leaves – a spice that reduces the smell of fishy and flavor enhancement for the dish.
The solenidae after being washed will be cooked with tamarind. The sweet and sour fried solenidae with tamarind is a nutritious food, suitable for many people's taste, especially used as a snack on cool, rainy days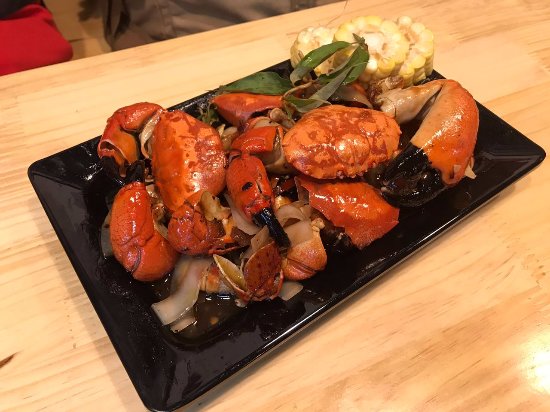 6. Bai Tu Long Cu Ky – Stone crab
Cu Ky is a type of sea crab with two very large pincers, hairy legs, firm meat and very fragrant. This crab has become a specialty dish in Quang Ninh (Bai Tu Long, Ha Long and Mong Cai).
Cu Ky lives in rocky ravines, wood chips along coastal cliffs and mangroves, as well as in aquaculture farms, rafts and breakwaters. They can grow to large sizes (width up to 12 cm), feeding on small planktonic.
Cu Ky's meat is only found in their two pincers. Their body is porous and almost no meat. The exotic is also processed in many different ways such as noodles, steaming, roasting with tamarind or grilling over charcoal.crustacean species.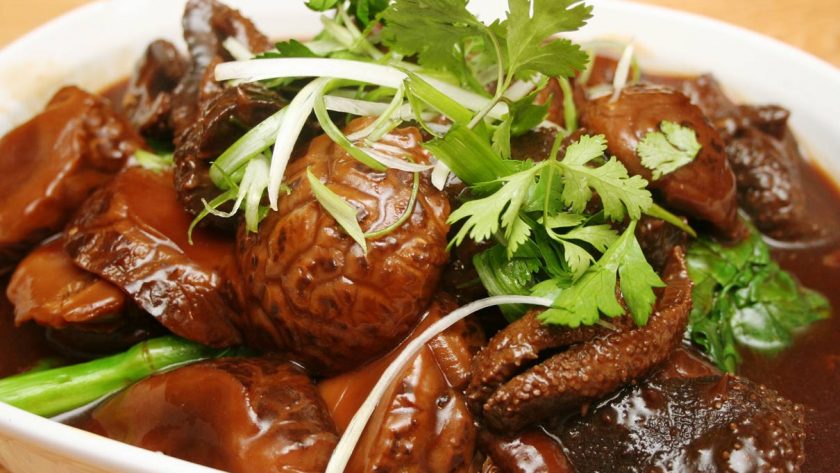 7. Hai Sam – Sea cucumber
This is a nutritious delicacy, does not contain too much grease, more fiber good for health. Sea cucumbers are cut into bite-sized pieces combined with shiitake mushrooms, spoon vegetables and a few spices for a tasty dish. When eating sea cucumber crispy and soft taste in the mouth. Sea cucumber is useful for health, preventing kidney stones, body weakness.
8. Nhim Bien – Sea-urchin
a. Grilled sea-urchin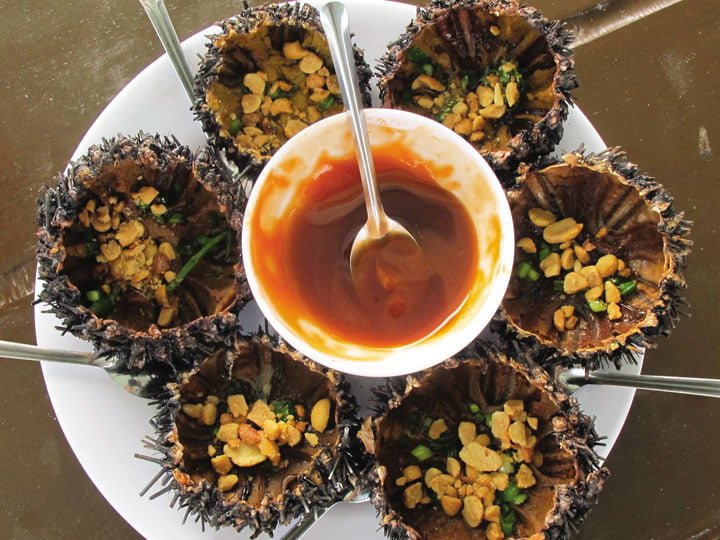 For those who love grilling dishes, sea-urchin grilled with onion is an attractive dish that you cannot ignore. This dish is made quickly but gives you a delicious and refreshing feeling.
The sea-urchin after being cleaned will be cut in half, put in some onion oil and baked on charcoal until the meat turns yellow.
When eating, adding a pinch of lemon pepper to the top of them then using a spoon to put into the mouth to swallow slowly is the best way to try the food.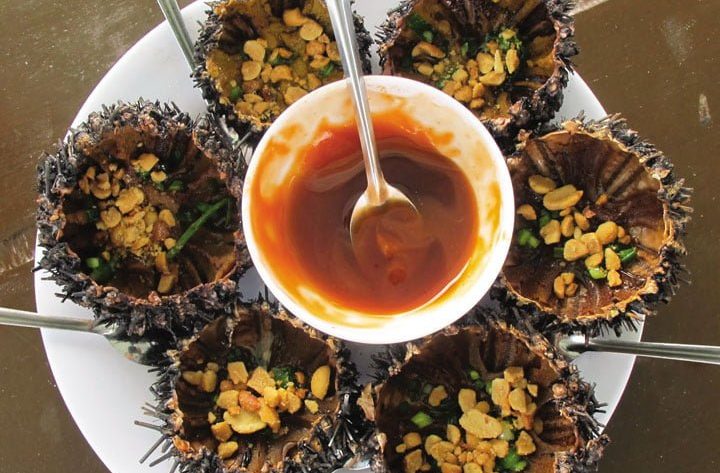 b. Sea-​​urchin porridge
In addition to grilled sea-urchin, you should not forget to enjoy the delicious sea-urchin porridge.
To make delicious porridge, one must use fresh sea urchin. For a more flavorful taste, the chef will marinate the meat with spices like pepper and onions. Then, the ingredients will be fried through to add flavor and blend together. Finally, just pour all into the pot of boiling porridge, stir well and scoop out the bowl quickly when it's still hot.
Above is a summary of some typical dishes on Bai Tu Long Bay. Hopefully, the above information will help you have a great experience with Vietnamese cuisine.