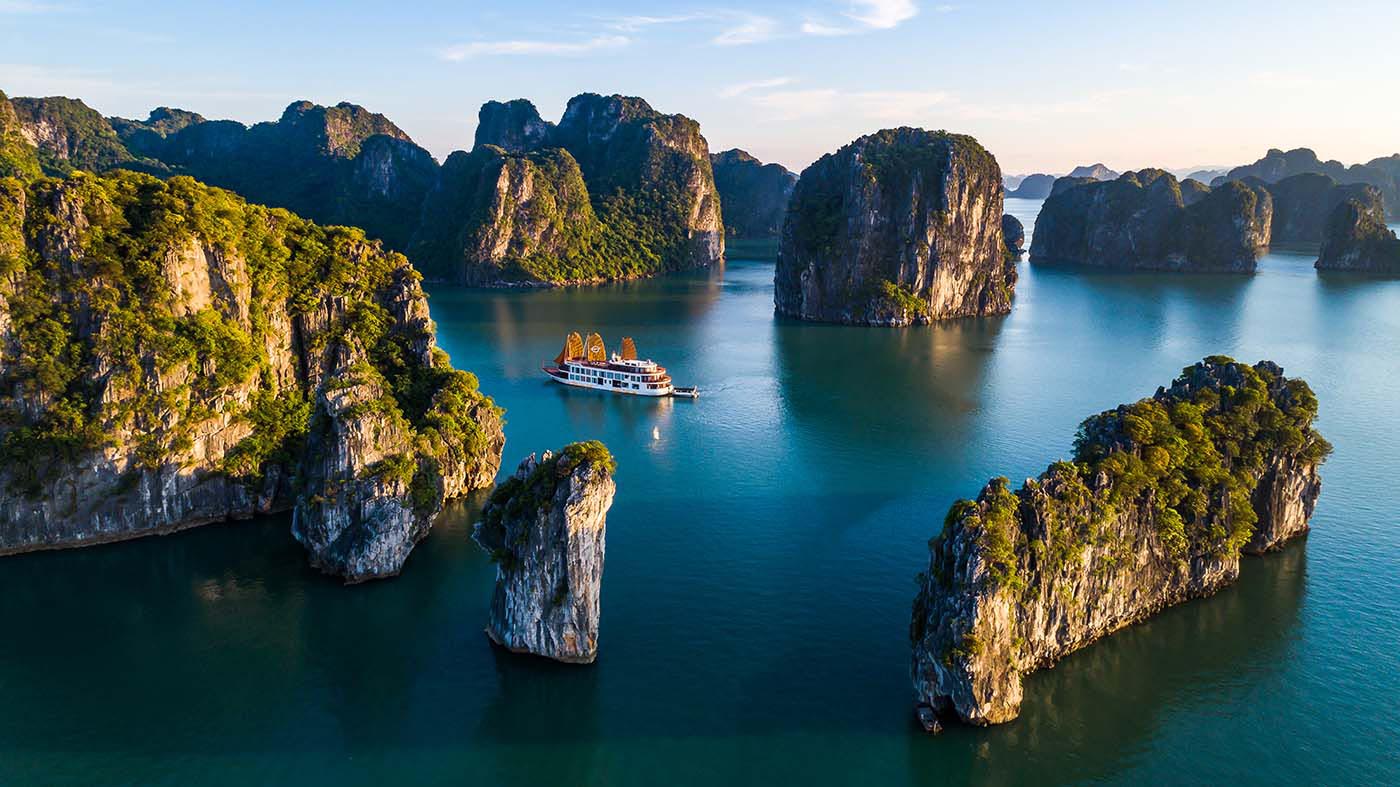 Bai Tu Long Bay – All Essential Guide in 2020
Not so popular like Halong Bay, Bai Tu Long Bay is the hidden charm in the North of Vietnam with all the beauty of nature like mysterious caves, wonderful beaches, unspoiled islands,… In this article, we will discover all the essential travel guide to Bai Tu Long Bay.

I. Where is Bai Tu Long Bay?
Bai Tu Long is located in the Northeast region of Vietnam. The East borders on the sea, the Northeast borders on Co To island district, the West borders on the mainland with Cam Pha city, the Southwest borders on Halong Bay.
Bai Tu Long Bay consists of hundreds of limestone islands, large and small schist islands, including many large islands inhabited by Quan Lan Island, Ngoc Vung, Van Canh, Ong Cu, Minh Chau,…
Bai Tu Long Bay is located about 30km east of Halong Bay. Halong Bay is a well-known name on Vietnam's tourism map with a large number of domestic and foreign tourists each year.
Bai Tu Long Bay has not been exploited much by the locality because it is difficult to access and there are many mysterious caves, so this place is still quite unspoiled and quiet. It can be said that this is a top place for those who like to explore the hidden, wild beauty of nature, not too bustling by tourist groups like other bays/islands.

II. Time to travel to Bai Tu Long Bay
The climate in Bai Tu Long Bay is divided into 2 distinct seasons: hot humid summers and cold dry winters. The average annual temperature is from 20°C to 30°C. The amount of rainfall is about 2000 – 2500 mm / year, the tidal range is about 3.4 – 4m / day.
The dry season on the bay starts from March to May and from September to November, at this time, the temperature is pleasant, the sun is mild and the sea is gentle, so it is very suitable for tourism activities to explore the Bay.
However, this is also the peak season of tourism so the price of train tours, hotel room prices, … will also be higher.
The rainy season is from May to September and from November to March next year. If you plan to visit this place, you should avoid going in July and August to avoid storms, rough seas – the water will be more turbid.
That being said, not every season on the Bay will be raining and storming, but you can take a closer look at the weather in the Bay during this time, you will choose a cool day but the price is also good because of better due to many deals from tours.
III. Interesting activities on Bai Tu Long Bay
1. Take a cruise to visit Bai Tu Long Bay

Emperor Cruise
Emperor Cruise is famous for being the most luxurious 5-star yacht designed with inspiration from the lavish life of King Bao Dai – the last King of the feudal dynasties of Vietnam.
What is better is that you can both relax on the boat and immerse yourself in the natural scenery, breathing the relaxed atmosphere after exhausting working weeks. Activities of visiting the islands, exploring caves, … are combined in the trip will definitely be a memorable experience with your loved ones.
Schedule:
2 days 1 night:
Day 1: Hanoi – Hon Gai Port – Bai Tu Long Bay – Thien Canh Son – Cong Do
Day 2: Cong Do – Vung Vieng Fishing Village – Hon Gai Port – Hanoi
3 days 2 nights:
Day 1: Hanoi – Hon Gai Port – Bai Tu Long Bay – Thien Canh Son – Cong Do
Day 2: Cong Do – Cong Dam (Hon Xep) – Hang Thay – Cong Do
Day 3: Cong Do – Thien Canh Son Cave – Hon Gai
There are also multi-day exploring packages, details: emperorcruises.com/experiences
Information:
Office address: 266 Doi Can, Ba Dinh, Hanoi
Phone number: (+ 84) 83 666 8879 or (+84) 24 3927 3475
Email: [email protected]
2. Explore Bai Tu Long National Park
In 2016, Bai Tu Long National Park was recognized as an ASEAN Heritage Park. Senior experts of the ASEAN biodiversity center during the survey and study evaluated Bai Tu Long National Park as home to the most unique ecosystem in Southeast Asia.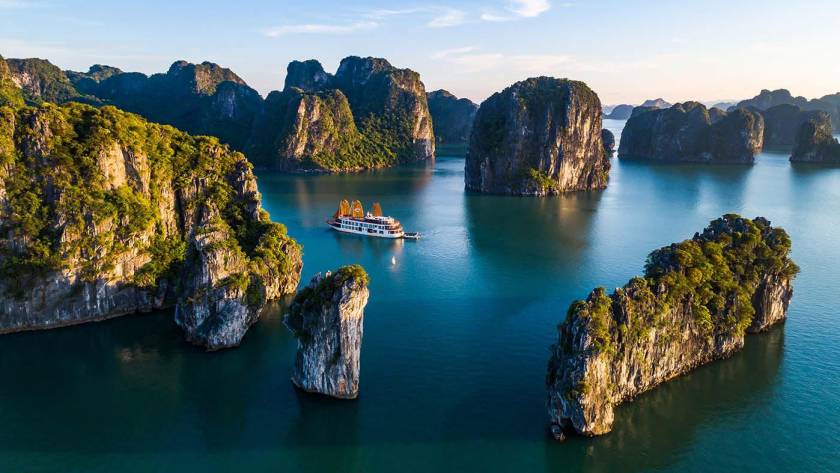 This is a national biosphere reserve with 5 extremely rich and diverse flora and fauna ecosystems: broadleaf rainforest, limestone forest, coastal forest, coral area, and shallow water area.
The sea surface area accounts for a quarter of the area of ​​the National Park and is home to many rare and precious animal and plant gene samples, many species are recorded in the Red book. The species of birds here are Burmese hawks, Japanese Falcon, Black Hawk, Warbler, Warbler, Bighead Bites …
The broadleaf rainforest has up to 494 species of plants and animals, some of them are listed as rare and endangered species, such as Tue Da Lime, Cheetah, Mang Do, Indian Civet, and civet…
Coastal ecosystems are small areas surrounding islands. It is biologically diverse with 251 species including 19 species of mangroves, 17 species of seaweed, 29 species of sea worms, 149 species of mollusks, 22 species of crustaceans and 15 species of echinoderms.
The Coral area ranges from the depth when tidal water recedes to the lowest depth of 10 meters. Here, 409 species have been found including Grouper, Sea Bass, Crab, Snail, Abalone, and Seaweed.
a. Ba Mun Island
The forest on Ba Mun Island has many rare and precious animal species such as pythons, fire leopards, golden monkeys, pangolins, and geckos and is home to the highest density of ungulate animals in Vietnam.
b. Tra Ngo Lon Island – The largest stone island of Bai Tu Long National Park
The island has a quite special geological structure, the south is limestone mountains with many valleys and caves creating a very unique landscape. Cai Lim Valley on the island is the most typical feature of a long-standing mangrove ecosystem.
However, this mangrove forest is isolated in the middle of the sea, few people back and forth so not everyone can access this forest.
The deeper you go into the valley, the more you will discover many interesting things such as the vegetation of the orchid family that lives on limestone, on both mangrove branches and stems.
Including the precious orchids named in the Vietnam Red Book such as Yellow Flower Orchid, Tai Trau Orchid, Kim Tuyen Orchid,…This is a phenomenon that scientists have confirmed is unprecedented in the other mangroves in Vietnam.
c. Minh Chau island commune
In a sea with many rocky islands, Minh Chau island commune seems to be the most favored land with ancient Tram forest, folk medicinal gardens on the sea and endless sources of seafood …
Every day here, there are often women who go hunting in the sand along the coast. When searching for food, Sa Sung crawls to the surface of the sand, pokes long tentacles in search of food around the mouth of the cave, and will crawl into the sand very quickly when there is a sound.
The time of hunting is mainly during the day in shallow days from April to August of the lunar calendar, other days, Sa Sung hunting is still available but less. Sa Sung, which is exploited by local people, is mainly purchased by traders and then exported to China to make noodle soup.
In the summer, the natural beach here is an attractive destination for visitors with white sand beaches for kilometers.
3. Experience as a fisherman on Vung Vieng fishing village, Bai Tu Long Bay
This is the habitat of thousands of fishermen year-round struggling to make a living. In particular, visitors will experience and explore the life of the fishermen here. To visit Vung Vieng fishing village, visitors have to take a small boat used mainly in the fishing village and go through Cao Cave- A famous cross-water cave of Bai Tu Long Bay known as the gate Vung Vieng Fishing Village.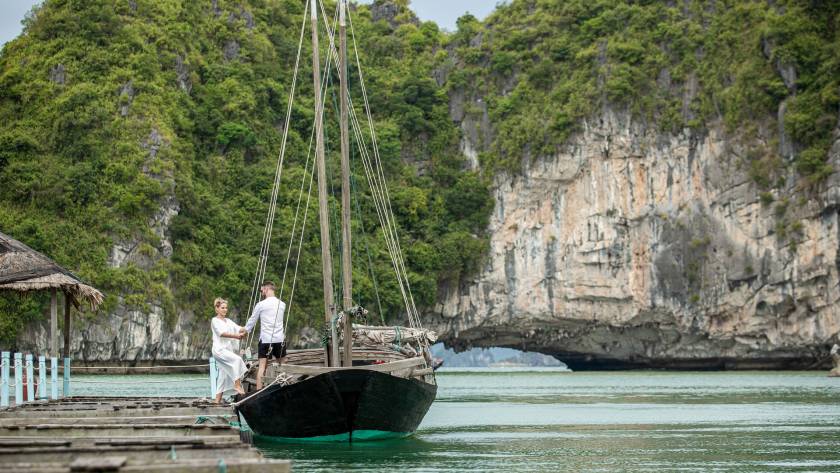 The fishing village appears with the looming a simple, idyllic beauty. The cages for raft fishing are located along the cliffs. Cobia, sea bass, grouper are raised for restaurants, hotels or for export. Some cages for ornamental fish such as Ong Lao fish, Tai Voi fish, cobia, …
The tourist services provided by the villagers take the form of kayak rentals; hire boat people to visit; Rent a traditional dragon boat
Fare:
– Kayak rental ticket price: 50,000 VND/person/hour
– Tickets hire rowing nan boat: 50,000 VND/person/hour
– Traditional dragon boat ticket price: 100,000 VND/person/hour
4. Explore caves on Bai Tu Long Bay
a. Thien Canh Son Cave
This is a pristine cave located in Cong Do Nature Reserve. The cave is also known as the Grotto Cave. About 20 km from Tuan Chau port, the cave has a moderate size, divided into two compartments connecting with each other through a narrow passage.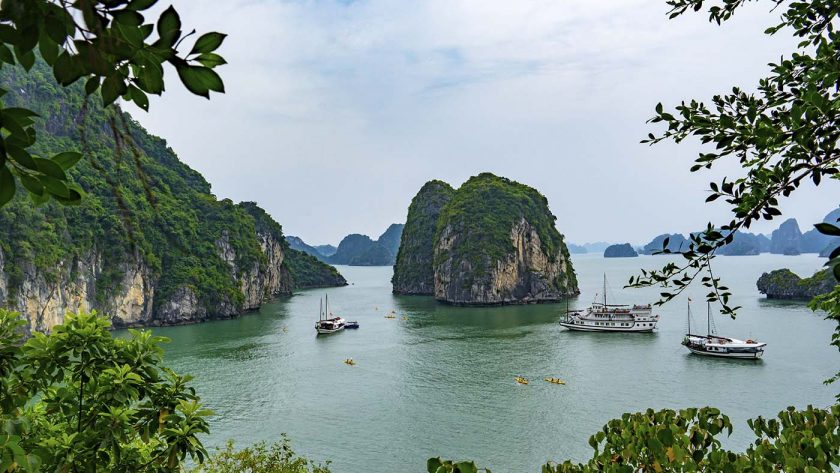 To reach the cave entrance, visitors must climb about 100 stone steps. The first compartment is quite small, the stalactite system is yellow-brown, creating strong features. The second compartment has a larger space, the stalactite system is also more diverse and richer.
b. Two new caves on Bai Tu Long Bay have not been named yet
The cave is located on an island opposite Phat Co Island, discovered by Mr. Nguyen Sy Binh – a local resident here.
Currently, the cave is being surveyed and checked by management and functional agencies to determine the value and potential for exploitation, so it is not known and visited by many people.
There is only one road to enter the cave, the entrance is 50-60m high from the water so the road to the cave is quite twisted, craggy, just a person away. Unlike quite humid caves in Halong Bay, this cave is dry, with a ceiling of 20-30m high, airy with giant stalactite columns hugging dozens of people.
In particular, in addition to wild beauty, the cave also contains many geological and geomorphic values. Entering the cave entrance, you can see a layer of fossil shells found only in archaeological relics. There are also emerald green stones in the cave that you cannot ignore.
IV. Enjoy food on Bai Tu Long Bay
List of certain dishes not to be missed when visiting Bai Tu Long Bay
1. Tu Hai – Geoduck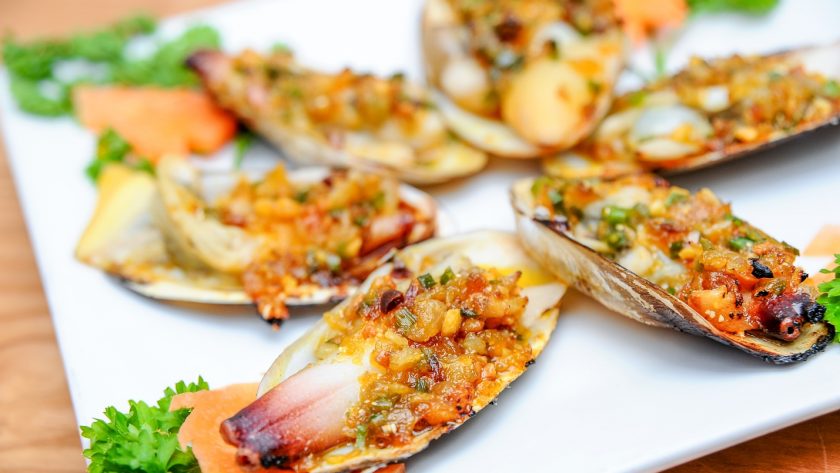 This is a very expensive dish because Tu Hai is a rare seafood. Typically this type of food from 2-2.5 million / kg, but in Bai Tu Long Bay, Tu Hai is raised so you do not need to worry about the price. The meat at the Tu Hai proboscis is very delicious, both chewy and soft and sweet.
2. Sa Sung stir-fried vegetables – Sipunculus nudus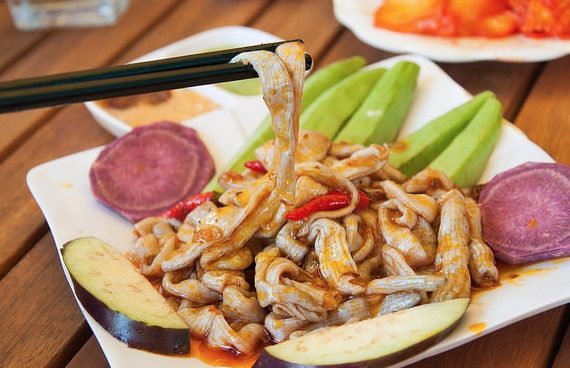 As you have read above, Sá Sung is exploited by the people at the sandy beaches on the sea so the more they chew, the more sweet and chewy and fragrant. People in the sea even order dishes better than Squid, Tu Hai, Crab, Crab, … Coming to Bai Tu Long Bay without enjoying this dish is a waste.
3. Cu Ky – Stone Crab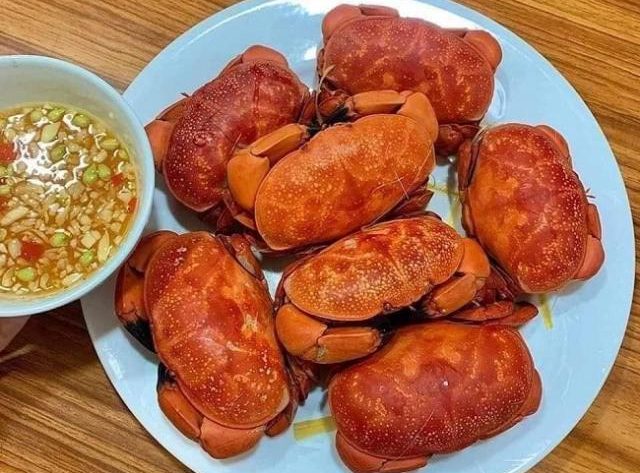 Cu Ky is firm and fragrant, nutritious and has become a famous dish here. In addition to the processing methods such as steaming, boiling, hotpot, Cu Ky can also be tamarind sauce or grilled. Especially when grilled meat extremely hard and extremely fragrant, is one of the attractive dishes in Bai Tu Long
4. Sam Bien – Horseshoe crab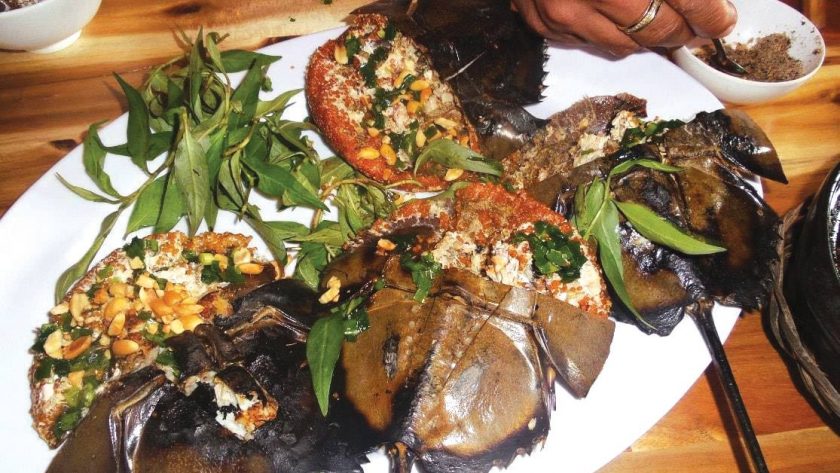 This is a specialty in Bai Tu Long Bay that not all seas have. When processing, people often have to catch 1 pair of 1 male and 1 female. Sam sea is usually processed in the way of baking, making the salad or stir-fry sweet and sour, the average price of a plate is about 150,000 VND.
VI. Some notes for travelers
If you intend to visit Bai Tu Long National Park, please prepare insect repellent or insect repellent as a precaution.
Always have a hat and sunscreen on when you go to the beach or to play spots.
If possible, prepare a digital camera to capture the best moments
Sandals and mountaineering shoes should be prepared to suit the mountainous terrain and the sea here.
Remember to bring your identity card / ID card and driver's license and other documents to check-in the hotel or self-drive car rental if needed.
During the high season, room rates are usually more expensive and quickly book rooms, make sure you have booked in advance through reputable sites.
To discover Bai Tu Long Bay, you can choose Emperor Cruises – the first all-inclusive service cruise in Vietnam with high-end class and special design.