Bai Tu Long National Park consists of a marine ecosystem with two-thirds area of the national park and also home to many rare, precious genes and plants recorded in Red Data List.
1. The geographical location of Bai Tu Long National Park
Bai Tu Long National Park is a national biosphere reserve in the Bai Tu Long Bay area, Van Don district, Quang Ninh province. In 2017, the ASEAN organization officially recognized Bai Tu Long National Park as the 38th heritage park of ASEAN.

The total area of ​​Bai Tu Long National Park is 157.8 square kilometers include 61.25 square kilometers of forest land area with more than 80 islands divided into three island groups (Ba Mun island group, Tra Ngo island group and the Sau island group) and the remaining is 96.55 square kilometers of ​​the sea and intertidal flats.
Currently, Bai Tu Long National Park is being cared for by Vietnam's departments in planning and promoting eco-tourism activities associated with environmental protection, expanding sightseeing routes, and stopping points as well as promoting tourism promotion activities.
2. The ecosystem of Bai Tu Long National Park
Bai Tu Long National Park converges a full range of very high biological forest ecosystems, including:
– The Evergreen broad-leaved ecosystem on limestone mountains
– The Tropical evergreen broadleaf ecosystem on land mountains
– The Mangrove Ecosystems
– The Seagrass ecosystem
– The Coral ecosystem
…
According to statistics, there are 2212 species (including 992 species of terrestrial organisms, 1220 species of marine organisms) of which 106 species are recorded in the Vietnam Red Book as well as the Red List of International Union for Conservation of Nature. (IUCN).
The rare and precious animals in Bai Tu Long National Park include: Sumatran serow, Spotted monkey, Clouded leopard, Indian muntjac, Small Indian civet, Large Indian civet, Hawksbill sea turtle, Dolphin, Abalone,…The rare and precious plants, including: Cycas balansae, Radix morindae officinalis, Nageia fleuryi, Hopea chinensis, Erythrophleum fordii,…In addition, there are 29 species of sea worms, 149 species of mollusks, 22 species of crustaceans and 15 species of echinoderms,…
Currently, Vietnam is implementing many projects to promote biodiversity conservation in Bai Tu Long National Park.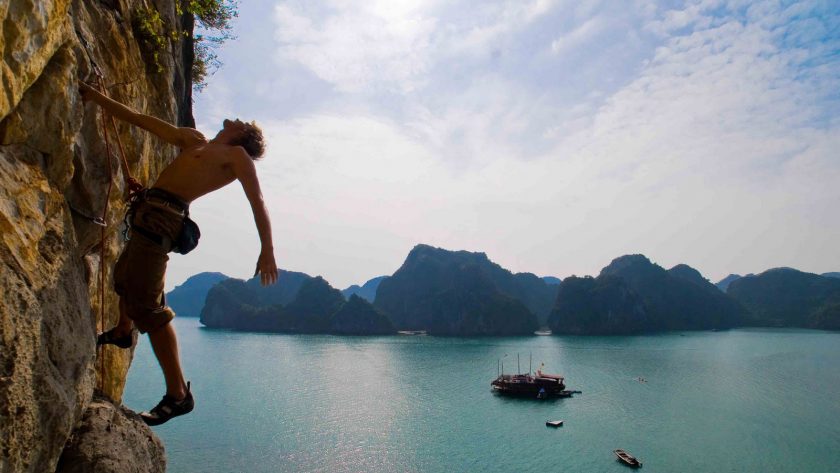 3. Places to visit in Bai Tu Long National Park
In addition to the high value of biodiversity, Bai Tu Long National Park also has many beautiful and pristine landscapes for you to explore, learn and relax, immersed in nature:
a. Cai De Cave
The cave is in the form of Cartesians with a length of about 300-400m, the widest width of the cave is about 50m. Cai De Cave goes through a limestone mountain range which is considered to be one of the largest caves discovered in Bai Tu Long Bay.
By the time the water rises, the water will flood up to the top of the cave, so if you want to go deep inside the cave you can take a small boat when the water is low.
You should also note that paddle into the cave about 100m is a shallow area, then you have to carry the boat about ten meters to continue to grow, so make sure your group has about 4-5 healthy people or more. Paddle for about 10 minutes to reach the cave's entrance, in front of the cave is a perennial mangrove forest and home of many rare animals.
b. Ba Mun Island eco-zone
Located 15 km from the shore, close to Quan Lan Island, Ba Mun Island has an area of ​​about 18 km2 with a length of more than 20 km, a narrow width, running along the East-West direction.
Ba Mun is one of the islands with the most diverse ecosystems in Bai Tu Long National Park with rich forests and rich flora and fauna. The precious wood species found here include Madhuca Pasquier, Erythrophleum fordii,…and many perennial trees with large diameters.
Ba Mun Island is definitely a must-visit for nature lovers who want to learn more about plants and animals.
c. Bat Cave – Tra Ngo Lon Island
Located in Cai Lim area of ​​Tra Ngo Lon Island, Bat Cave valley has more than 100,000 square meters of mangroves with many freshwater and saltwater creatures. The terrain of Bat Cave Valley is not directly in contact with seawater. Located at the end of the mangrove forest is the Bat Cave – home to thousands of Bats.
d. Minh Chau beach
To come here, you can go from Cam Pha to Cai Rong port (about 9 km) then from Cai Rong port you go by canoe (takes about 45 minutes) or by train/ferry (takes about 2.5 hours) To Quan Lan Island, Minh Chau beach is about 15 km from Quan Lan beach.
Minh Chau is famous for its long natural white sand and attractive blue water. During the peak season from April to July every year, on the beach, you can see the "Ninja" hunting Sa Sung (a type of sea worm, belonging to the deep-rooted family, whose scientific name is Sipunculus nudus Linnaeus). Sa Sung is used mainly to spice up "Pho" as well as processed in many specialties in Quang Ninh.
If you have the opportunity to discover Minh Chau, you definitely have to try dishes made from Sa Sung here and can buy dried Sa Sung as a gift for family or friends.
4. Some notes when visiting Bai Tu Long National Park
– The ideal time to visit Bai Tu Long National Park is from March to May and from August to October to combine to explore other nearby places of Bai Tu Long Bay. You should avoid going in June – July because this time is often stormy, stormy.
– You need to bring insect bites to prevent when visiting primeval forests or caves.
– Always apply sunscreen when bathing and trekking to protect your skin.
Bai Tu Long National Park is truly a destination not to be missed if you have the opportunity to visit Quang Ninh. Hopefully, the above information we have just provided will help you have a great experience and memorable memories with friends/relatives in Bai Tu Long National Park.