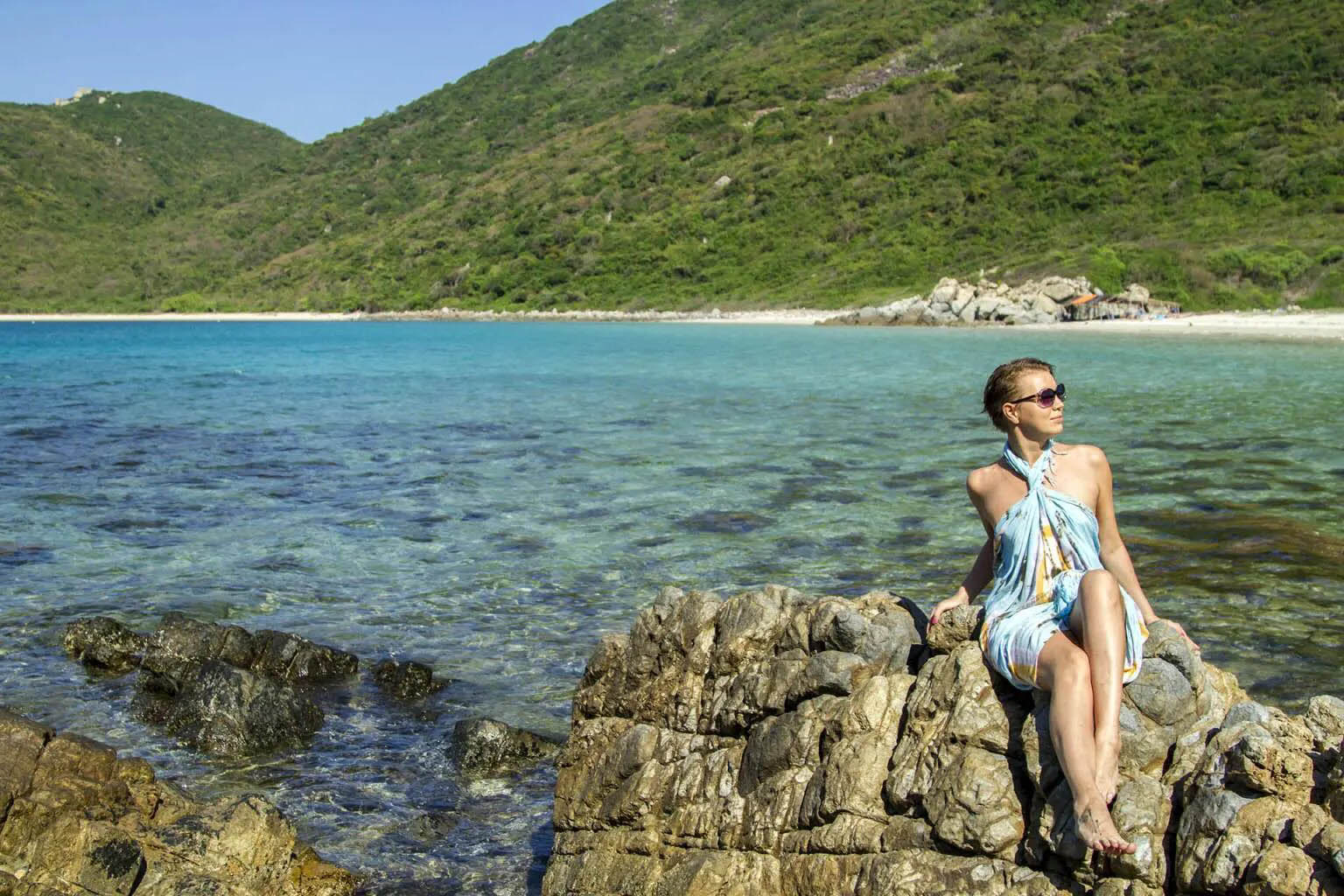 Nha Trang is a famous beach city in Vietnam. There are a lot of things to do in this awesome city. In this article, we will discover all best 26 things to do when you travel to Nha Trang, Vietnam.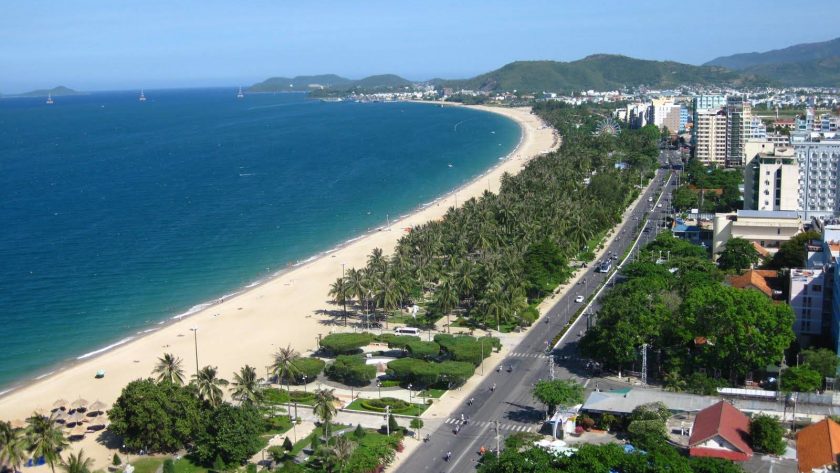 I. Bathing and participating in activities on Nha Trang beach
1. Nice beaches in Nha Trang
a. Tran Phu Beach
Tran Phu Beach is a bit deep so it's suitable for sea sports such as surfing, parasailing, canoeing,…
Along the beach is a street named Tran Phu with a system of restaurants, hotels, pubs, souvenir shops, .. very modern and luxurious, convenient for tourist trips. On the coast, there are hawkers who sell fresh seafood dishes such as Grilled Lobster, Grilled Squid,…
The price to rent a folding chair along the beach is about $ 1.5 (35,000 VND)
b. Doc Let Beach
You have to overcome large and high sandy slopes to reach the coast. Doc Let Beach is about 8 km long, because of the very low water level (only at breast height), children and non-swimmers can bathe, and not worry about drowning.
With VND 20,000 / person, you can rent small canoe boats of local people to explore the small islands lying around.
c. Bai Dai Beach
The interesting thing that has not been explained in Bai Dai is that on the white sand here, you only need to use a shovel to dig a small sandpit, just a few moments later, you will have a freshwater lake to drink. If you do not believe, go to the long beach to feel. Surely this will surprise and delight you.
In addition, you can also rent a basket boat or canoe to go sea fishing, squid fishing, an elegant hobby not to be missed here.
2. Interesting activities on Nha Trang's beaches
a. Parasailing
Parasailing attractions in Nha Trang include Tranh Beach, Coral Island, Vinpearl Nha Trang, Doc Let, Hon Tam Island. Imagine you will be flying high, the wind stretches, heart palpitations screams really loudly and watches everything around with feeling indescribably lightheaded.
There are 2 forms: single flight and double flight. Each flight lasts only 10 minutes. Depending on the number of players will have different prices.
Prices range from 600,000 – 800,000 VND. (from 26-35$)
b. Diving or walking under the sea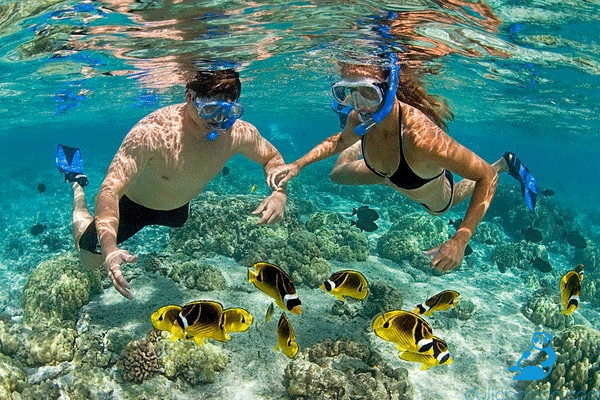 When participating, visitors will be equipped with professional equipment such as a diver including diving clothes, eyeglasses, snorkel, … After a few symbol operations with the guide, you will start the journey to explore the ocean at depths of 10-15 meters. The beautiful coral reefs and cute, colorful sea creatures will attract you unexpectedly.
The further down the sea, the greater the pressure. To ensure safety, visitors should not dive when eating too full or too hungry because it will be very uncomfortable, feeling nauseous and tired, then diving will be very dangerous. Also, do not drink alcohol before diving. After the dive is done, a simple way to stop tinnitus is to keep your mouth shut, cover your ears and breathe gently through your nose.
Places: Monkey Island, Hon Mun Island, Hon Trau Nam Island.
Price: 450,000 VND – 700,000 VND/person.
Best time: from April to August
Contact: Sailing Club Nha Trang, Tran Phu Street, Nha Trang
Tel: +84 58 352 2788
c. Banana boat ride
This is a sports game with a very strong feeling, buoys are equipped with 5-7 seats. You wear a life jacket and then sit on the banana float boat, which is tied to a motorboat with a sturdy cable. Canoes will pull boats at high speed from 50 to 80 km/hour.
Price:
On the beaches:
500,000 VND/5 people/10 minutes
600,000 VND/5 people/15 minutes
On the islands:
800,000 VND/5 people/15 minutes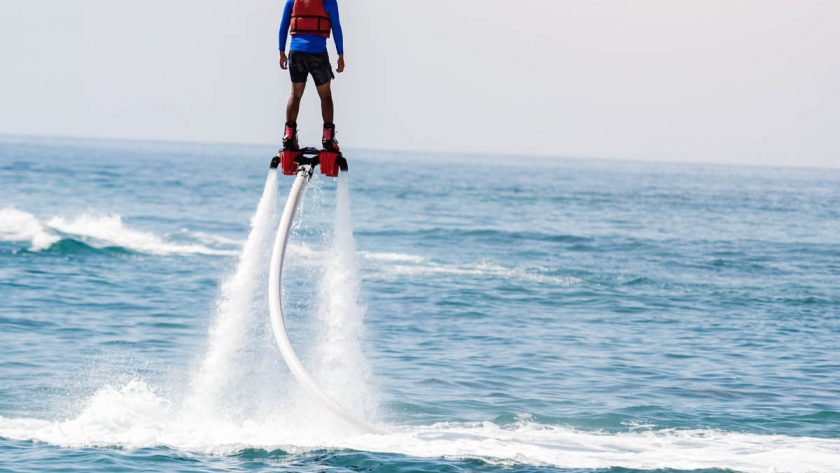 d. Flyboard
Flybroad is one of the most popular underwater adventure games for young people. In order to experience this game, you must be a sports lover, often active and have good health.
Items you should prepare:
The compact outfit, suitable for playing sports
Sport shoes
Clothes, towels, …
Must follow the trainer's guideline to ensure safety
Price:
Package 1:
Price: 600,000 VND with flybroad or flight deck
Time: 05 minutes to fly or fly with the coach
Package 2:
Price: VND 1,000,000 with flyboard or flight deck
Time: 10 minutes self-flying or flying with a coach
Package 3:
Price: 1,800,000 VND with flybroad or flight deck
Time: 01 time 20 minutes or divided into 02 times from 10 -15 minutes (play 2 people in half divided time unchanged price)
f. Mud Baths
Mineral mud in Nha Trang is a natural mineral mud, contains more minerals than other places to soothe itching, soothe irritation on the skin. For the women, bathing mud in Nha Trang helps to eliminate blackheads, anti-aging for the skin to bring a youthful, glossy skin. For the elderly, mud baths support the treatment of a number of conditions such as muscle relaxation, reducing arthritis-related to joint pain, rheumatism, and spinal pain.
Most mud baths in Nha Trang have 2 main forms of bathing, mud bath, and hot mineral bath.
Reference places:
Thap Ba:
Address: No.15 Ngoc Son, Ngoc Hiep, Nha Trang city, Khanh Hoa
Hot spring pool: 100,000 VND/pax for adult and 50,000 VND/pax for child
Mud: 200,000 VND/pax for adult and 100,000 VND/pax for child
Tram Trung:
Address: Nguyen Tat Thanh Boulevard, Phuoc Dong District, Phuoc Trung Commune, Khanh Hoa Province.
Price:
Soak in a hot tub of mud: 300,000 VND/pax for adult and 200,000 VND/pax for child
Soak in the hot stone basin: 250,000 VND/pax for adult and 150,000 VND/pax for child
Soak hot herbs in an egg-shaped tub:250,000 VND/pax for adult and 150,000 VND/pax for child
Soak hot herbs in an ice bath: 200,000 VND/pax for adult and 100,000 VND/pax for child
II. Discover the beautiful islands in Nha Trang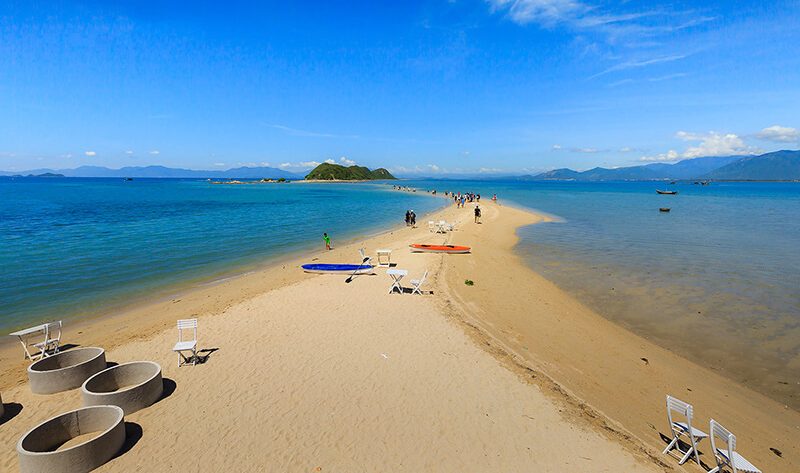 1. Diep Son Island
Diep Son is a series of 3 connected small islands, located in the waters of Van Phong Bay, Khanh Hoa Province. The best time to visit Diep Son Island is from December to June, at this time the sea is quite smooth and clear so that seasickness will also reduce much discomfort when traveling by ship.
Because Diep Son Island is very unspoiled and not developed tourism, there are no hotels and motels, so when you come you can bring a tent and camping on the sea. Located nearly half a meter below the surface of the sea, the road connecting the two islands in the Diep Son Island, Khanh Hoa province, is considered the most unique sea road in Vietnam.
There are 2 ways to go to Diep Son Island:
From Nha Trang running to Van Gia, Van Ninh about 60km. Ask for a way to the Van Gia fishing port. Opposite Van Gia port, there is a wide alley, about 100 meters into it with overnight parking. From here, there is a train going to Diep Son from 9 am to 11 am, depending on the water every day. The time for the boat come back to the land is around 5 to 6 am. It takes 30 to 40 minutes to go from the land to the island.
The second way to the island is from Van Gia Port to continue to Tan Dan, about 8 km, from here ask Tan Dan communal house, opposite the communal house, there is a small alley running to the sea, running a few hundred meters to ask Mr. Tu Nghia's family to go to the beach. Rent a boat to get out in about 15 minutes. The price for renting a boat is from VND 200 – 300,000 for about 6 people. If you go at night: 300,000 VND. The boat is small so should not carry many people.
Note:
Electricity on the island is only available from 6 to 9 pm. People must take the initiative, if used by the people, should also pay for them. The island is very secure so there is no need to worry about theft.
Food and drinks are very limited, so you have to prepare yourself. There are 1.2 places that also sell water and miscellaneous items.
There is a chicken farm on the island, people can buy chicken here to eat it.
2. Robinson Island
About 20km from the mainland, Robinson Nha Trang is a small island in Cam Ranh Bay, Khanh Hoa Province. Previously, the name Robinson was used to refer to the Tu Binh island cluster (Binh Ba, Binh Hung, Binh Lap, Binh Tien). But then it was realized that there was a small island lying alone in the middle of Cam Ranh Bay, separate from the Tu Binh island cluster, then the name Robinson was "transferred" to the island.
It takes about 1 hour to travel from Da Bac port to the island. Here you can also participate in scuba diving activities, join with fishermen in fishing activities and enjoy the freshest food on the island.
Facilities on the island are mainly built by local people with bamboo cottages, close to the coast. You can choose to stay here or rent a tent to camp with prices ranging from 150,000 VND.
3. Hon Mun Island
With favorable terrain and climate, Hon Mun is the place where extreme corals develop especially in the water about 10m. Hon Mun has therefore been recognized as the first and only nature reserve in Vietnam by World Wildlife Fund.
Hon Mun is 10km from Cau Da port and about 45 minutes by train. At the wharf area you can find many boats and canoes going to Hon Mun with reference prices as follows:
For traveling to Hon Mun by canoe: VND 300,000/time
For moving to Hon Mun by boat: VND 250,000/trip.
The best time to visit Hon Mun is from July to September, especially in August.
4. Hon Tre Island
Be the largest island in Nha Trang Bay, Hon Mun Island has an area of ​​nearly 500km2 with a relatively small population. The best time to explore this beautiful island is in July – August – September (August is the peak season), and from December to February. You should not go in October and November because of the storm and heavy rain.
You can rent a motorbike in Hon Tre for 70,000-90,000 VND/day (depending on the type of the motorbike).
Price for cable car is 880,000 VND/person (height from 140cm or more) and 700,000 VND/person (height from 100 cm to 140 cm). You can use the 2-way cable car and cover all games in Vinpearl Land Resort.
5. Hon Tam Island
Hon Tam is located 7 km southeast of Nha Trang city. If canoeing takes about 7 minutes, a day has about 20 trips, 25 guests/trip (20 minutes), taking the train takes about 25 minutes. Hon Tam has a campfire service for travelers who want to spend the night on the island, an area of ​​200 small tents, visitors will be drinking wine, eating barbecue, performing arts,…
From March to September is the best time for you to visit Hon Tam Island in Nha Trang.
6. Hon Noi Island
To reach Hon Noi, it takes more than an hour by boat from Cau Da port. The distance is about 25 km long. The island is under the management of a travel company so it is not possible to travel independently, but requires you to book a day tour, not staying overnight for 350,000 VND per person. The tour includes breakfast with cakes and spring water on board, lunch at the island restaurant, afternoon fruit snacks, hotel and boat shuttle to the island, coral-glass bottom boat, cave tour bird's nest.
Tourists can only depart for Hon Noi in March to September, the remaining months due to strong storms and storms so the train does not run. Each trip has at least 25 guests. To Hon Noi, you should visit the cave and learn about swift farming. The swift's nest is harvested twice in March and August.
III. Visiting historical and cultural places in Nha Trang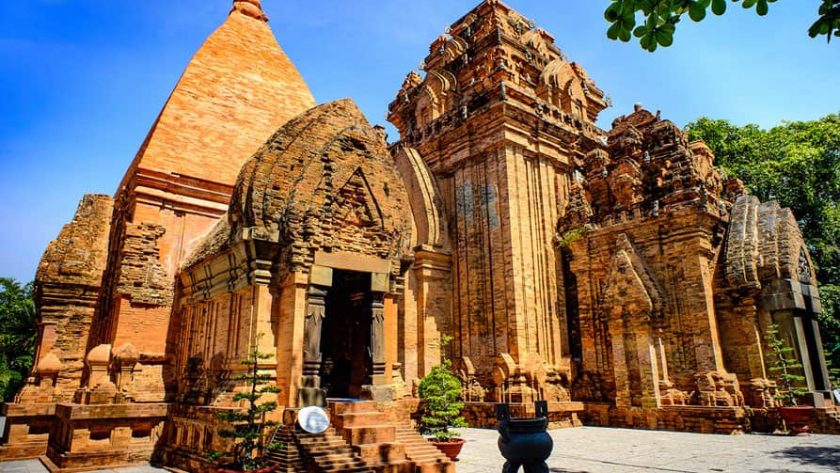 1. Ponagar Cham Towers
Not far from the center of Nha Trang City, 2 km to the North, Ponagar Tower is located on a fairly airy hill with a modest height of only 50 m above sea level.
In the past, Cham Pa people in Khanh Hoa worshiped the goddess Ponagar – She was always there to protect and take care of the lives of the people, helping them have land to live and cultivate. It can be seen that the Ponagar tower is clear evidence of the strong influence of Hinduism on the Cham and later on the Vietnamese people.
Coming to Ponagar tower at the end of March in the lunar calendar, you will have the opportunity to participate in the Ba tower festival (from 21 to 23/3 lunar calendar). This is the best time to learn about Ponagar as well as immerse yourself in the cultural activities of the locals.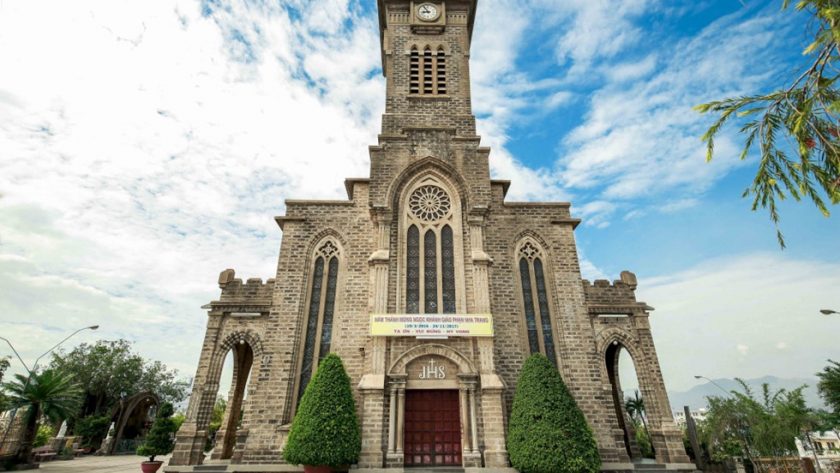 2. Nha Trang Cathedral
This church also has many popular names such as Nha Trang Church (because it used to belong to the family of Nha Trang); Stone church (because it was built of stone); Nga Sau church (because it is located near a traffic rotation); but the most popular is the name Nui Church (because it is built on a small mountain – mean "Nui" in Vietnamese)
The church is located on the top of Hoang Lan hill, at the beginning of Nguyen Trai street and intersecting Thai Nguyen street, started construction on September 3, 1928, by Louis Vallet and completed on May 1933. The house was built during the French colonial period, so the architecture follows the French style.
3. National Oceanographic Museum
Institute of Oceanography is located at No. 1, Cau Da, Nha Trang city, Khanh Hoa province, which was established in 1922 under the French colonial period. In addition to the live specimens being raised in the tank, visitors also have the opportunity to learn the largest collection of marine specimens in Vietnam with about 20,000 specimens of 5,000 species in the East Sea collected and stored since 1922.
In particular, the museum is displaying a very precious natural historical relic, a giant humpback whale skeleton nearly 18m long, 3m high and weighs 10 tons that has been buried in the ground in the Red River Delta over 200 years.
4. Long Son Pagoda
Built-in the 19th century, with many renovations and newly rebuilt in 1940, Long Son Pagoda features architectural and sculptural art imbued with modernity.
On the way to the top of Trai Thuy hill, at the first stop at the 44th step, you will admire the Buddha statue of Nirvana Entering made of marble on the background of an exquisitely carved sculpture. scene of 49 disciples of Buddha gathered on the day of Buddha's death.
Coming to the second stop is a bell tower with common persimmons weighing 1500kg by a Buddhist in Hue donated the temple in 2002.
After climbing 193 steps to reach the top of the hill, you can finally see the majestic white Buddha image of Buddha sitting sermon in the middle of the blue sky, vast white clouds, peace, and happiness as a symbol of Nha Trang. This is the largest outdoor Buddha image recorded in Vietnam record books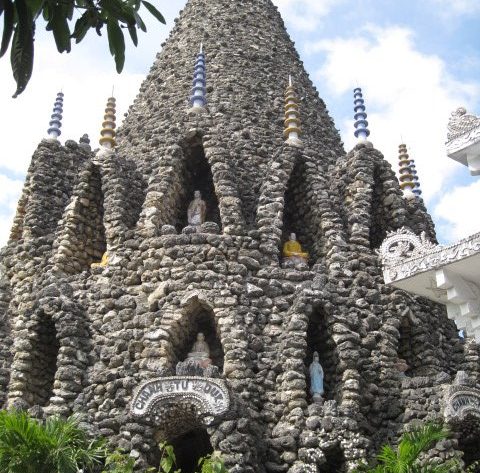 5. Tu Van Snail Pagoda
In 1995, the Venerable Thich Thong Anh, abbot of Tu Van Pagoda and the temple's monks personally designed and built the tower manually and took 5 years to complete it. The tower is 39 m high, with 8 gates symbolizing the "Eightfold Path" (including Right View, Right Intention, Right Speech, Right Action, Right Livelihood, Right Effort, Right Mindfulness, Right Samadhi).
The highlight of the pagoda is the Bao Tich Tower and 18 floors of Hell
• Bao Tich Tower is built from stacked corals combined with shells to create a space with a sea-style atmosphere.
• 18 Hells Floor is built from coral stone, surrounded by a dragon-shaped, about 500m long.
IV. Enjoy cuisine in Nha Trang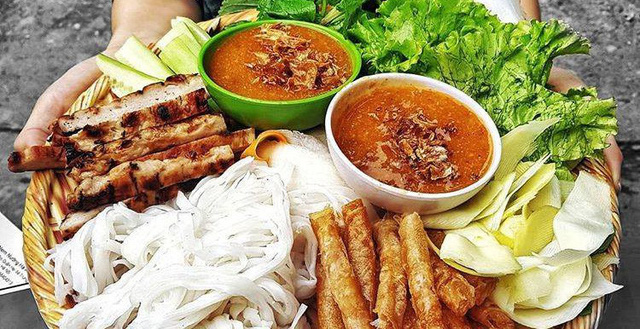 1. Nem nuong Nha Trang
In a portion, you will have a dish of baked-meat, a dish of vegetables, a dish of rice paper wrappers, a bowl of dipping sauce. The deliciousness of this dish mainly depends on the sauce.
Not every restaurant in Nha Trang is famous, but Dang Van Nguyen restaurant opened in 1987 is different. The tourists come here all said that the sauce at Dang Van Nguyen is very delicious, always warm to eat, it's not sticky like other restaurants.
Address:
Facility 1: Số 16A Lan Ong, Xuong Huan, Nha Trang.
Facility 2: Số 2-4 Phan Boi Chau, Nha Trang.
Price:: 70,000 VND – 132,000 VND.
Opening time: 10:00 am – 10:00 pm
2. Goi Ca Mai (Herring Salad)
Goi Ca Mai is made from a special species of the ocean – Mai fish. This fish looks like anchovies but is short and flattened. The fish is white transparent, its slippery and small with just two fingers. Especially, Mai fish has absolutely no scales and fishy smell (or very little fishy), which is very suitable for processing salad. Therefore, Mai fish is almost exclusively used as a single dish of salad.
Reference Address:
Number 188, Hai Thang Tu Street: This is one of the famous addresses of Goi Ca Mai in Nha Trang city. The salad here is appreciated and reasonably priced. The service at the restaurant is also very good.
Number 133, Thap Ba: Goi Ca Mai here has its own attractive taste. The customer service style is very professional and friendly. Therefore customers often appreciate the shop.
3. Bun Cha Ca, Bun Sua (Noodle with Grilled Fish)
Bun Cha Ca Nha Trang is specially made from fresh fish, including many types of fish, creates an irresistible flavor.
In addition, jellyfish noodles with ingredients of jellyfish caught in Nha Trang sea when served with fish cakes, fish beams, and fresh, clear broth brings a strange taste that is rarely found anywhere.
Reference address:
Ninh Hoa Restaurant, No. 2, Lan Ong
Nguyen Loan Fish-noodle Restaurant, number 123, Ngo Gia Tu Street.
Bun Lech jellyfish noodle, Yersin-Ba Trieu crossroads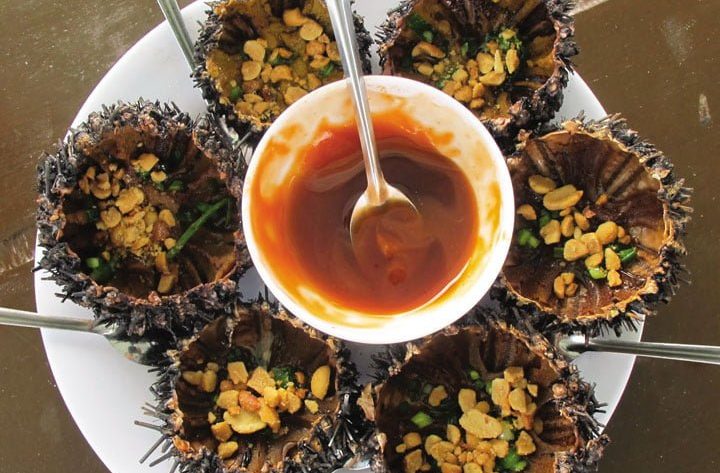 4. Nhim nuong
Nhim Bien – Echinoidea (scientific name), is the common name of a class of echinoderms, spherical, with many sharp spines surrounding the body, living quite a lot in Nha Trang – Khanh Hoa. They have the ability to release spikes to protect themselves from dangers. Therefore, divers hunt for seafaring skills that require skillful skill, use hooks and then gently put them into bags.
For sales by piece:
Prices in fishing villages range from VND 15,000 – VND 35,000/one.
Prices at popular pubs and restaurants in Nha Trang range from VND 30,000 – VND 70,000/one (the price of sea buckthorn depends on the size).
For sale by weight:
Prices in fishing villages often fluctuate between VND 170,000 and VND 250,000/kg.
Prices at popular restaurants and restaurants in Nha Trang range from VND 250,000 to VND 400,000/kg.
5. Can Cake
Unlike pastry with the main ingredient being fried flour, Can cake uses baked rice flour. Rice is soaked with cold rice, ground into flour, then diluted, then placed on the stove in a baking mold.
Baking molds are specially designed into cup-shaped round holes with lids. A thin layer of oil is coated on the charcoal stove, then the flour is poured in with the shrimp, squid, eggs, and cover until cooked. The cake will taste better when dipped with garlic sauce. The sweetness of the sugar mingles with the sourness of lemon, the spiciness of chili served with raw vegetables, salads, basil will fascinate the taste of visitors.
Reference address:
Number 151, Hoang Van Thu Street: Open from 6 am to 9 pm. Price: 18,000 VND – 25,000 VND.
Number 48, Hoang Hoa Tham Street: Only open from 6 am to 12 am. Price: 16,000 VND/2 pcs.
V. Enjoy the Nha Trang nightlife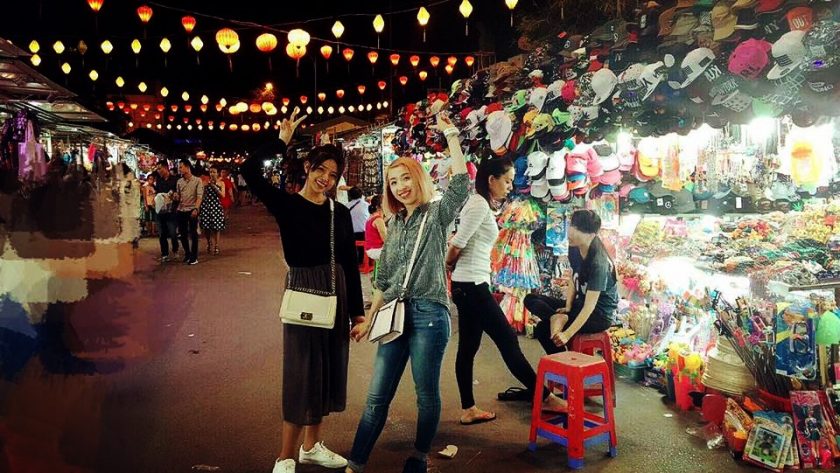 1. Walking street – Nha Trang night market
Nha Trang Night Market is not only a place to sell items but also a place for visitors to walk and feel the bustling, fresh atmosphere at night.
In the center of the coastal city formed up to 4 famous Nha Trang night markets: 46 Tran Phu Street Market, Nha Trang night market (located between Tue Tinh – Tran Quang Khai Street), Yasaka night market (by Yasaka Saigon Hotel Organized by Saigon Nha Trang), Tropicana shopping (the market is located on the campus of Hai Yen hotel). However, popular with locals and tourists, the market is crowded and the most popular is the night market at 46 Tran Phu.
The market is divided into many different areas such as food court, souvenir area, clothes, entertainment area … Here sells everything, from rustic cakes to colorful glasses of water, tea, coffee … to squid, grilled lobster. You can visit many specialty restaurants in Nha Trang that can bring back as gifts when coming here from dried seafood such as squid, yellow snapper to popular snacks such as squid fried with tamarind, burnt rice,…
The market is open until 11 pm daily but the most crowded is probably from 7 pm to 9 pm.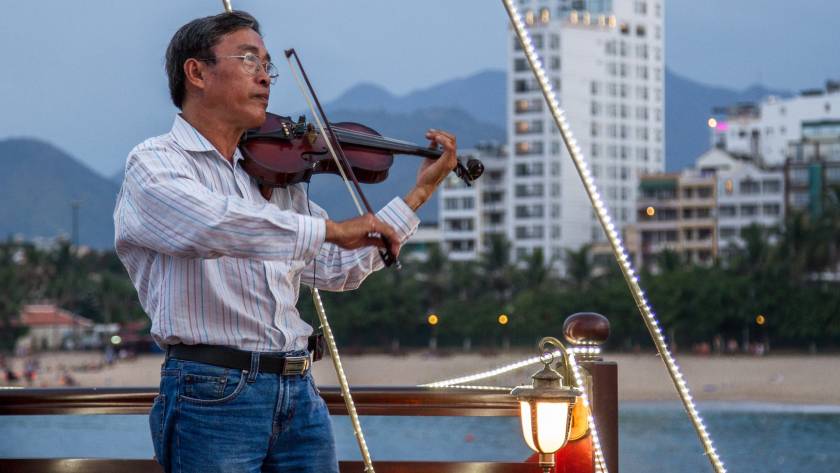 2. Watching the sunset of Nha Trang Bay on the cruise
There are many yachts operating on the Bay, but Emperor Cruise is known to most domestic and foreign tourists. You can enjoy the beauty of the sunset on Nha Trang Bay while having dinner on the cruise with your family or friends. The cruise serves cocktails and wines, drinks, violinists with melodious music that will help you have a relaxing moment, chatting freely with everyone.
In addition, the cruise also serves tours for visitors to explore Nha Trang.
Detail schedules and prices
3. Having fun at bars
a. Skylight Nha Trang
Skylight is also an outdoor bar in Nha Trang that is popular with young people. A special feature and makes Skylight different from other bars in Nha Trang is its location. In Skylight, you can enjoy the full beauty of the city and Nha Trang bay from above. The music at the Skylight bar Nha Trang suits those with a soft taste.
Address: 38 Tran Phu Street, Loc Tho, Nha Trang City, Khánh Hòa.
Operating hours: 09:00 –14: 00, 16:30 – 00:00
Ticket price: from 200,000 VND
b. Altitude rooftop bar
Altitude rooftop is a bar in Nha Trang located on the 28th floor of the 5-star Sheraton hotel. From the Altitude bar, you can enjoy the view of the sea at night and the bright lights of the city through the transparent glass window.
The luxurious, romantic space under the lights is also very suitable to become a dating venue for couples.
Address: 26-28 Trần Phú, Lộc Thọ, Nha Trang City, Khánh Hòa
Open time: 17:00 – 23:00
Price: from 100,000 VND. Rates on the menu are prices listed, exclusive of 10% VAT and 7% service charge.
c. Sunshine Bar
Sunshine is both a bar in Nha Trang and a Japanese restaurant. If you are of the age when you no longer like vibrant bars with bustling sounds and flashing lights, Sunshine bar is a great destination. Sunshine is a bar with no air conditioning, no noise and no smoke. The shop is located right next to the Flyboard training center, so you'll have the opportunity to enjoy free acrobatic performances.
Address: 35.48 Ngo Den, Group 8, Thap Ba hamlet, Vinh Phuoc, Nha Trang
Open time: 11:00 – 21:00
Price: from 20,000 VND
Above are all activities that you should not miss when visiting Nha Trang. We hope you will have a wonderful and memorable holiday in our beach-city!