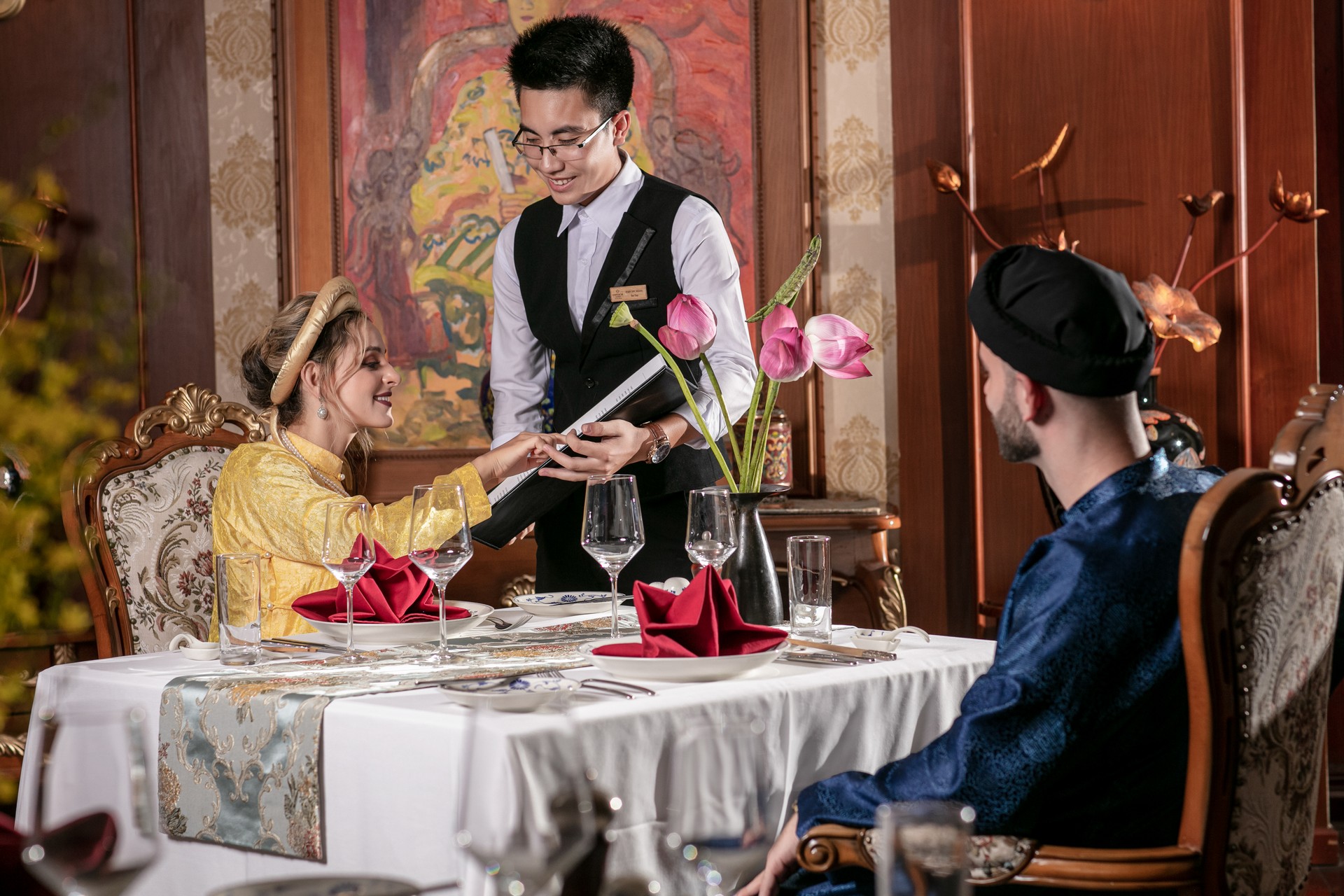 Along with exploring new cultures, one of the great joys of travel is the discovery of new cuisines. Those unfamiliar with Vietnamese food are in for a treat, as the national cuisine is flavorsome, colorful and extremely healthy.
If you ever visit Vietnam's former capital of Hue, in Central Vietnam, be sure to enjoy Hue royal cuisine, which is famous for its subtle flavors, nutrition, and beautiful presentation.
Considered a unique and important part of Vietnamese culinary culture, Hue royal cuisine features dishes prepared under the Nguyen Dynasty (1802-1945) for members of the royal family, and for imperial celebrations and ceremonies.
According to Ms Ton Nu Ha, a descendant of the family who for many generations were chefs at the imperial palace, most of the ingredients used in royal cuisine are the same as in regular dishes, but the main difference is the method of cooking, artistic decoration and the manner in which they are served.
Every meal of the Emperors included some 35 to 50 dishes and some had to feature "bát tran – "The eight most highly prized dishes in the royal palace", including peacock, bird, rhinoceros skin, bear paw, deer tendon, orangutan lip, elephant leg and swallow's nest.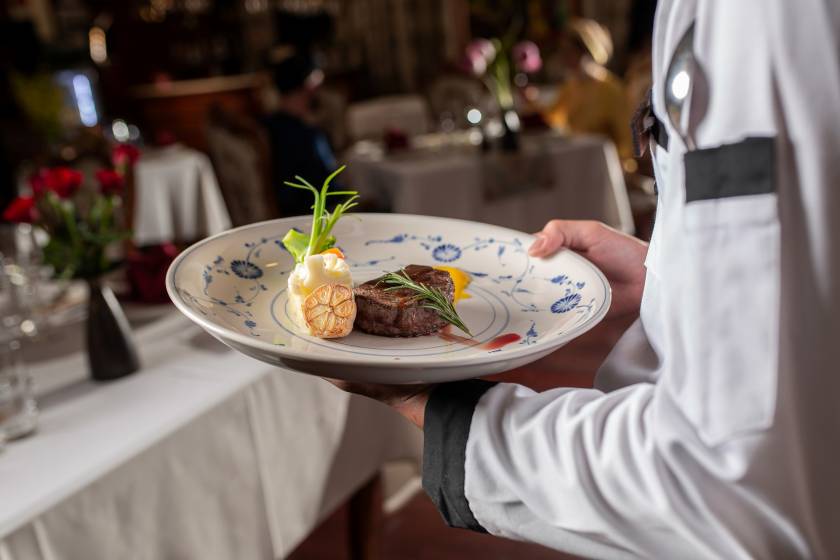 Today, out of the 8 dishes most favored by the Emperors, only bird's nests can still easily be found and used, with permission. Of the 7 remaining dishes, some species have become extinct or fall into the category of rare animals which have to be protected.
The rice and water were carefully selected before cooked, while bowls and plates in the royal palace were made from ceramic and decorated with images of five-clawed dragons.
Chopsticks and toothpicks for the emperors were made from bamboo by skilled craftsmen. The emperors used chopsticks made from "kim giao" wood, found on Cat Ba Island (near Halong Bay), Cuc Phuong and Bach Ma Forests, to guard against poisoning, because "kim giao" wood is white in color but turns black when coming into contact with any poisonous substance. Like the clay pots, each chopstick was used just once.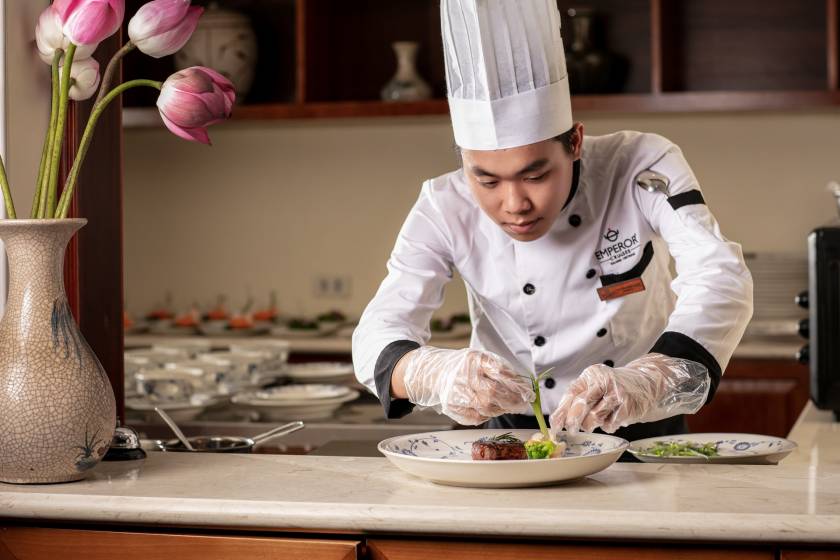 On Emperor Cruises- you enjoy imperial cruising inspired by the lavish lifestyle of the Emperor Bao Dai. We offer daily cruising options where royal abalone soup and other specialties fit for an emperor are served. The imperial dinner is made more memorable as guests wear fine royal clothing, and the glamour of a royal dining experience is recreated.
Emperor Cruises has crafted a culinary treat for the most discerning of palettes to ensure that your dining experience exceeds your expectations at the Can Chanh Royal Restaurant. The cuisine is always freshly prepared, using the best local ingredients, with an emphasis on seafood.
Each overnight trip includes a brunch breakfast, lunch and dinner. With every meal on board, guests are treated to a rich selection of complimentary local beers, spirits, and distinctive wines chosen by our acclaimed sommeliers.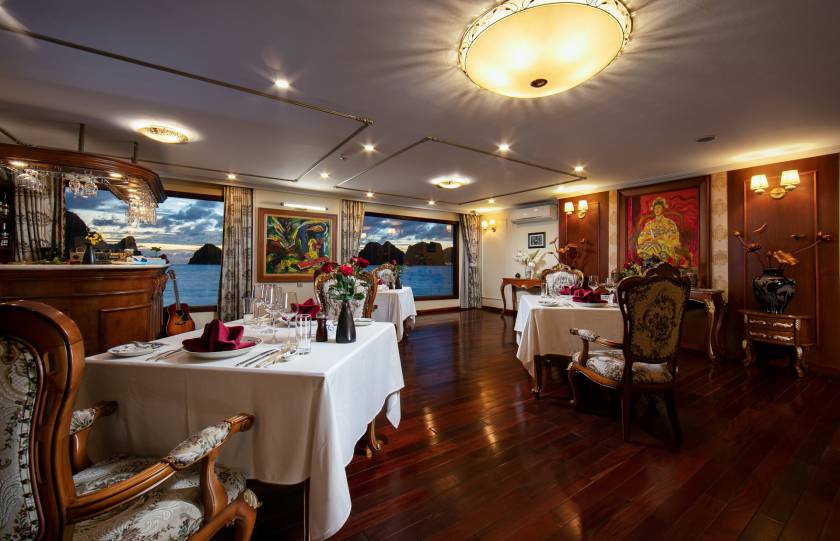 CAN CHANH PALACE RESTAURANT
Good Evening ladies and gentlemen,
Before your dinner, I would like to spend a couple of minutes to introduce to you our Can Chanh Palace Royal Restaurant. Why is it so called? And what does it mean?
Can Chanh Palace was the working place of the Emperor and where the Emperor often hosted important ceremonies and festivities. It was also a place to treat important affairs, emissaries or to organize the royal party.
Our Can Chanh Palace Restaurant was designed with a royal atmosphere and art masterpieces from well-known Vietnamese artists adorn the walls. Therefore, you can enjoy Vietnamese culture, history and gourmet cuisine.
Influenced by Hue Royal Cuisine, the food on Emperor Cruises is a careful consideration of authentic ingredients, cooking methods, nutrition and decoration. Dishes on the cruise are always freshly cooked with the best local ingredient which emphasise seafood, all under the skillful hands of our professional chefs. Each course is an artwork with beautiful presentation and full of delicious flavours.
Our crockery and cutlery are also a sophisticated selection for the Royal party. You might find ceramic bowls and plates which are decorated with images of five clawed dragons on the cruise. Chopsticks and toothpicks were made from Kim Giao wood, found on Cat Ba Island, Cuc Phuong and Bach Ma national park. Because of it specific feature which can change from white into black when contact with any poisonous substance, the Emperor preferred to use it in his table set.
Paired with the food, you are treated to a wide option of our all-inclusive drinks such as local beers, spirits and distinctive wines chosen by our certificated sommeliers.
And now, let's start and enjoy your meal!