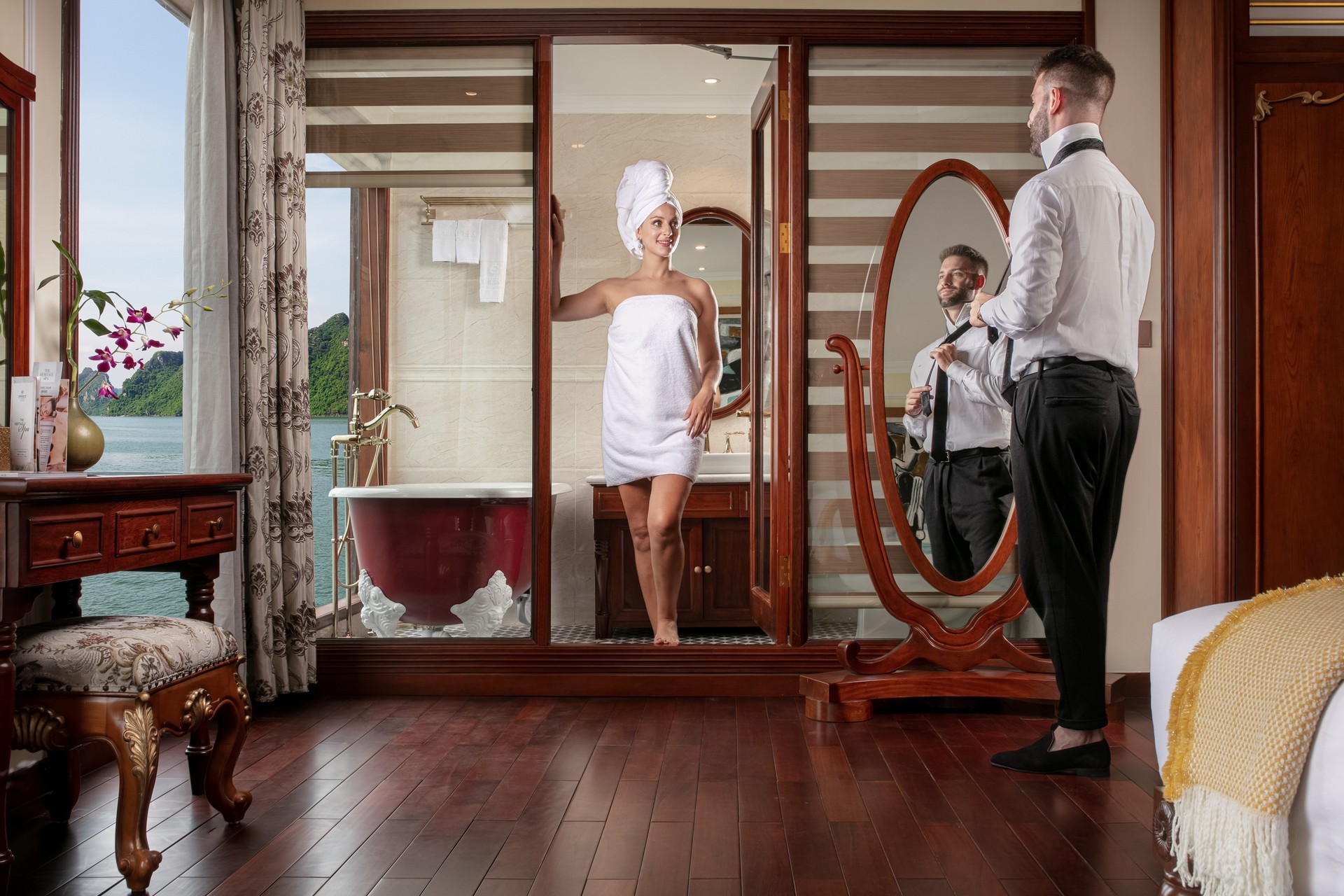 CRUISING IS THE BEST OF THE BEST THINS TO DO IN VIETNAM, THE BEST HALONG BAY CRUISES FOR ALL-INCLUSIVE LUXURY HA LONG, VIETNAM
OVERVIEW
Emperor Cruises treat passengers to a luxurious all-inclusive cruise experience around Vietnam's Bai Tu Long Bay. With all-suite accommodations, unparalleled level of service and exquisite upscale dining options, this vessel oozes regal elegance. Once ashore, destination-focused excursions and engaging itineraries which promote local culture ensure a truly authentic experience throughout.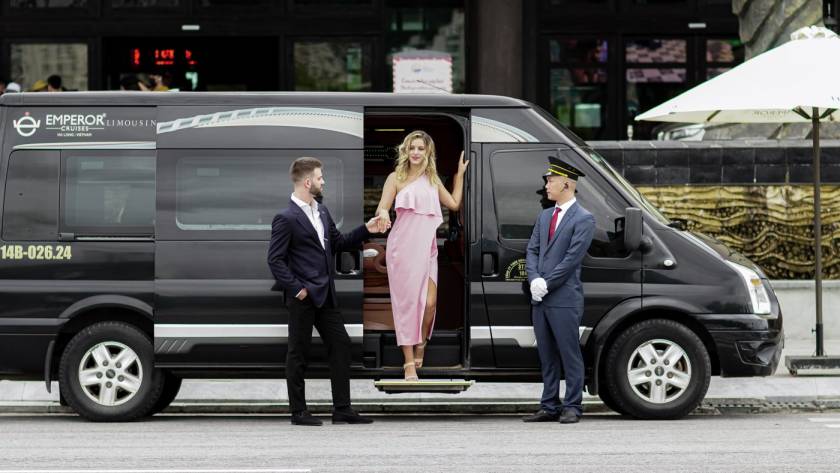 LOCATION
Guests board and disembark the cruise at Tuan Chau International Marina Cruise Port, located in the Quang Ninh province of north-eastern Vietnam, just under a 3 hour drive from Hanoi. The cruise sails around Bai Tu Long Bay, the quieter alternative to the more touristy and crowded parts of Ha Long Bay. It is every bit as beautiful as its famous neighbour, and in some ways surpasses it thanks to its pristine, unspoilt islands.
THE STORY
The Grandeur of the Two Bays, Emperor Cruises are somewhat of an innovator in the field of ultra-lux cruising; they're the first operator to offer an all-inclusive experience in Vietnam. Inspired by the lavish lifestyle of Emperor Bao Dai (the Keeper of Greatness or le Gardien de la Grandeur), one of the wealthiest kings of the Nguyen Dynasty in the early 20th century, their fleet is designed to reflect the style of the 1930s.
There are 10 suites in three categories in total including 4 Signature, 4 Staterooms, Royal Suites named Hanoi, Saigon, Hue, Vung Tau, Dalat, Nha Trang, Do Don, Lake Lake, King and Queen. 8 of the suites have been named after the locations of the Emperor's royal villas across Vietnam, and each features interesting stories from his life and the grandeur of the dynasty.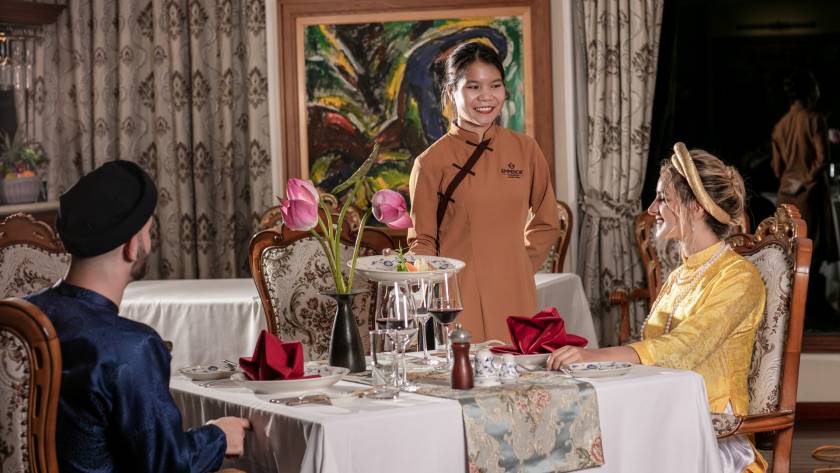 THE VIBE
The old-world glamour and royal heritage are wedded with contemporary comfort. Service and treatment fit for an emperor is complimented with walls adorned with fine arts, lounge areas decked out in lavish gold trimmings, and suites that come with a private butler service. With a design that pays homage to Vietnamese royalty and an itinerary that promotes the natural surroundings and Vietnamese culture, the cruise is also deeply rooted in its locality without sacrificing any of the splendour.
TRAVELLED WITH
My personal photographer, formerly known as my brother. I'm Maz, born and raised in London. After working in finance for 5 years, I was left craving a life with more meaning and less monotony – so I decided to set up my hotel reviewing business, something I'd always dreamt of doing. Now I am always in search of beautiful spaces which inspire people and create memorable experiences.
PRICE
Emperor Cruises offer 1 and 2 night itineraries. Suites start from £378 for the 2 days/ 1 night program. Pricey, but the all-inclusive experience makes it exceptional value.
WHERE YOU'LL STAY
This custom designed, traditional imperial cruise ship features 3 decks. The décor sees classical French elegance meet Vietnamese flair, with exquisite gold-plated motifs, Chinese ceramics, fine silk and antiques all on show.
There are 10 en-suite cabins, each boasting a private balcony, panoramic sea views and butler service. On the upper deck, the Royal Suites offer larger living rooms with a fireplace and bookcases. With floor to ceiling windows from the bedroom, from dusk to dawn you'll be mesmerised by the uninterrupted panoramas of the famous limestone karsts scattered on the horizon.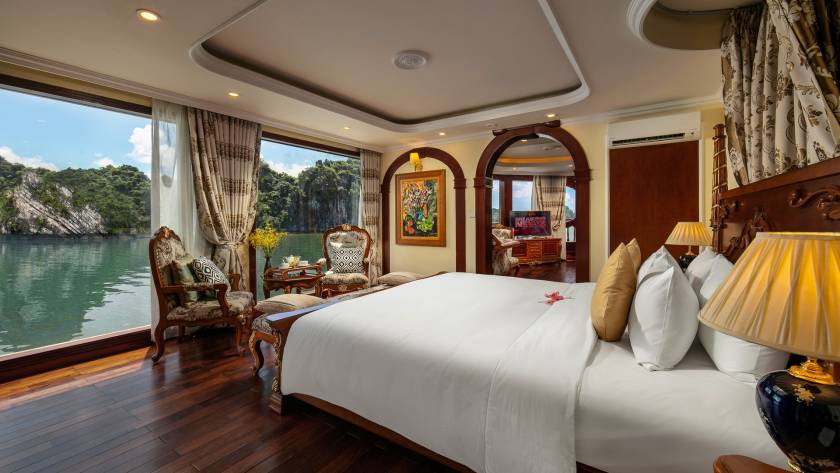 THE ROOM
We spent a night in one of the Signature Suites. The spacious sitting area and plush sofas provide room to stretch out, watch television and read a book. If you're simply too blissed out to sit upright though, feel free to admire the emerald water go by from the king-sized bed, fitted with a wooden headboard and embroidered throw pillows. And don't worry if you doze off early – you'll be woken by the delicate crashing of waves against the ship's hull.
The marble bathroom features a Jacuzzi tub and walk-in glass shower, and is so awe-inducing that it gives Emperor's five-star hotel counterparts a run for their money. The floor to ceiling windows continue into in the bathroom, meaning ocean vistas can be viewed from every corner, taking your daily cleansing to a whole new level. Enjoy music from the exclusive old-fashioned gramophone recorder as you sip some champagne outside on the private balcony.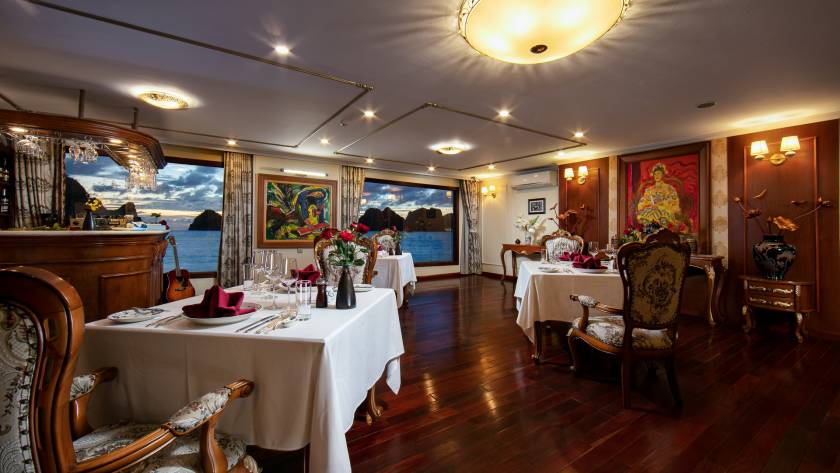 FEATURES
At the decadent Can Chanh Palace Royal Restaurant the freshly prepared cuisine, made from the best local ingredients, will impress even those with the most refined of palettes. Barbecues and private dinners on the beach or at secluded caves can be arranged – guests are free to dine whenever and wherever they wish.
There are plenty of leather chairs and comfy nooks to sink into with a book from the small library or a glass of wine from the Bar. Recline on one of the loungers on the sundeck, which provides superb views for cocktails and sunbathing (preferably at the same time).
The fitness centre is perfectly located on the upper deck facing unobstructed panoramic views across Halong Bay. Work up a different kind of sweat in the sauna or Jacuzzi, or pamper yourself with a massage at the Heritage Spa. For those of you who need to stay connected even while sailing through Halong Bay, the boat offers Wi-Fi throughout, and there is even an internet cafe on the upper deck.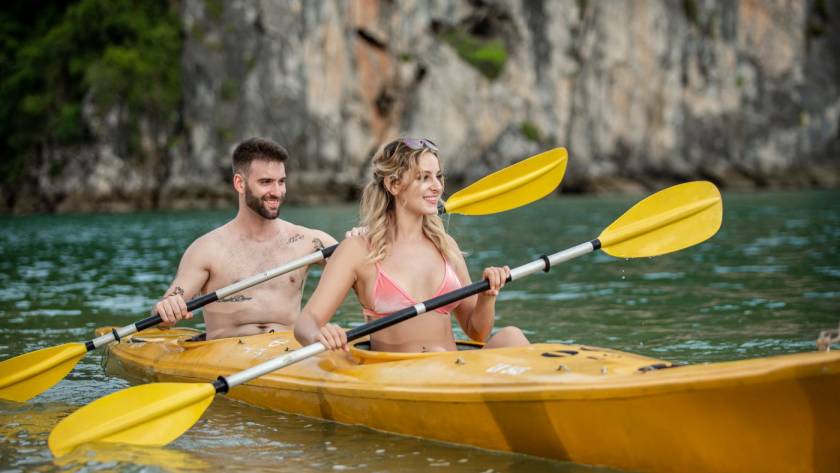 ITINERARY
As you set sail from Ha Long Bay, you will be served a la carte lunch with the finest Vietnamese delicacies.
Then, you'll be taken off the beaten track and into Thien Canh Son cave, where you can revel in the breath-taking view of Bai Tu Long Bay from up high, as well as the pristine white-sand beach of Hon Co Island below.
Once back on board, attend the tea and coffee demonstration, where you can make a cup of 'ca phe sua da' (milk coffee). Afterwards, throw on a snorkel to see the abundant marine ecosystem in close proximity, or take a kayak out and admire the beauty of the empty, white-sand beaches and limestone karsts on the surrounding islets.
Worked up an appetite? Be sure to attend the cooking class on the ship and make nem fried spring rolls with the chef.
Next, visit the Wine Cellar to choose a preferred wine for dinner with the appointed sommelier, and then settle down for some live music as you tuck into more international cuisine in the impressive 5-course set menu.
When the night falls, enjoy a 'Movie Under the Stars' shown on the sundeck, where screenings include classic films about the region. To end the day, try your hand at squid fishing off the side of the boat or have a game of chess before heading to bed.
In the morning, wake up to the delicate lapping of waves against the boat and welcome the first rays of sun. As you watch it rise over Bai Tu Long Bay, tuck into fruits and pastries and prepare to attend the Vovinam class (traditional Vietnamese martial arts) on the sundeck.
The second day's exploration involves visiting the Vung Vieng fishing village, famed for its pearl-growing, to experience the daily local life. Here, locals will row you around the oyster pearl farming plots on traditional sampan boats.
As you cruise back to the mainland, enjoy a delicious buffet-brunch on board.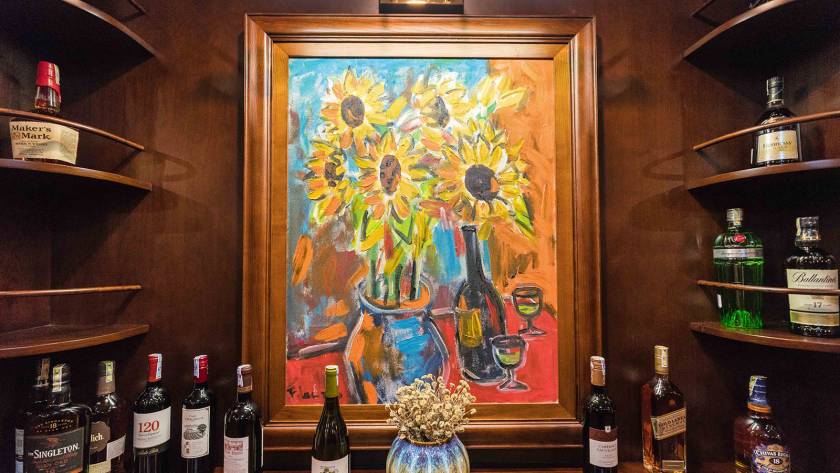 WHAT I LOVED
Responsible cruise practices. Emperor Cruises are committed to protecting the natural environment. The fleet operates an eco-friendly waste management system, is built using sustainable materials, and is designed to maximise natural airflow to reduce the use of air-con. They provide reusable water bottles and the team collect rubbish from beaches. Off board, they work with NGOs to protect the surrounding wildlife and national parks, and have created training courses that encourage local people to adopt environmentally sustainable practices and encourage local businesses to give back to the community.
The all-inclusive cruising experience mean no bills to pay at the end. Easy-peasy luxury. The highly personalised service. The cruise has an experience manager who assists you with everything from boarding and checking in to being your local guide for exploration off-board. Private butlers and reception services are also available round the clock.
Intimate, boutique luxury. Being such a small vessel – there is a maximum of 30 passengers on board – Emperor Cruises have the advantage of slipping into the less visited and more remotes places in the bay, while offering the chance to become familiar with other passengers and crew.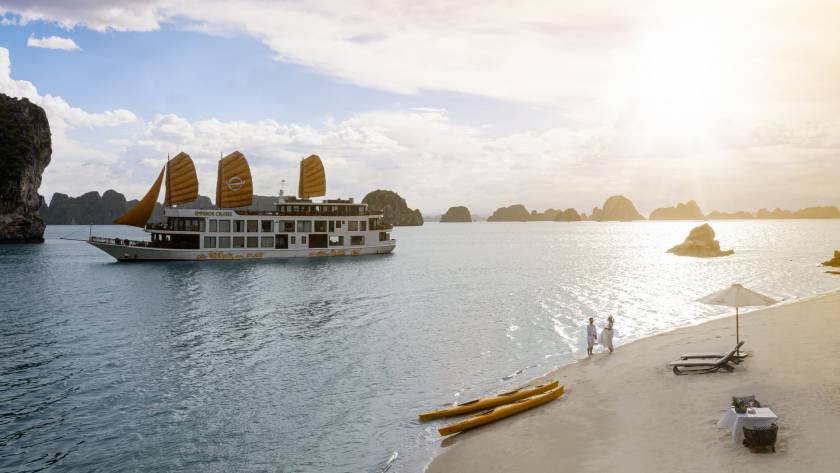 THINGS TO KNOW
Although it occupies three quarters of Halong Bay World Heritage site, Bai Tu Long remains an extensively unexplored area. This means it's is far less congested by other boats, the water is less polluted, and the environment is immaculate – at times, it will feel like you have the ocean all to yourself.
All spa treatments are included in the price unless otherwise stated, so be sure to make a reservation through the experience manager.
This is one hell of a cruise for art lovers. The boat is filled with pieces from Pham Luc, an official military artist and one of the most famous artists in the country – his work, which includes both French and Vietnamese influences, depicts war and peace in Vietnam over the 20th and 21st centuries. There is a gallery of his work on the top deck and a guided art tour is available upon request.
Complimentary limousine transfers to and from the port. Alternatively for those who are feeling extra indulgent, private charter planes, helicopters and seaplanes can also be arranged.
With such a broad itinerary on offer, the days are jam-packed. If your time and budget permits, opt for the 2 nights/3 days stay to get the most out of the cruise ship itself. We rarely found a moment to do nothing!
BEST FOR
Those who are seeking one of the most exclusive experiences Ha Long Bay has to offer. It is perfect for art-lovers and explorers who revel in elegant, refined and well curated travel. However, with such an immersive and interactive itinerary, this vessel is ideal for all kinds of travellers; solos, couples and families.
THE VERDICT
With an emphasis on five-star experiential travel, Emperor Cruises promise a decadent stay with a truly local touch. Steeped in history, art and royal heritage, this boutique cruise ship is as inspiring as some of the destinations it visits along the way. www.emperorcruises.com
---
about the author
MAZ GREEN
Hi! I'm Maz, born and raised in London. After working in finance for 5 years, I was left craving a life with more meaning and less monotony – so I decided to set up my hotel reviewing business, something I'd always dreamt of doing. Now I am always in search of beautiful spaces which inspire people and create memorable experiences.