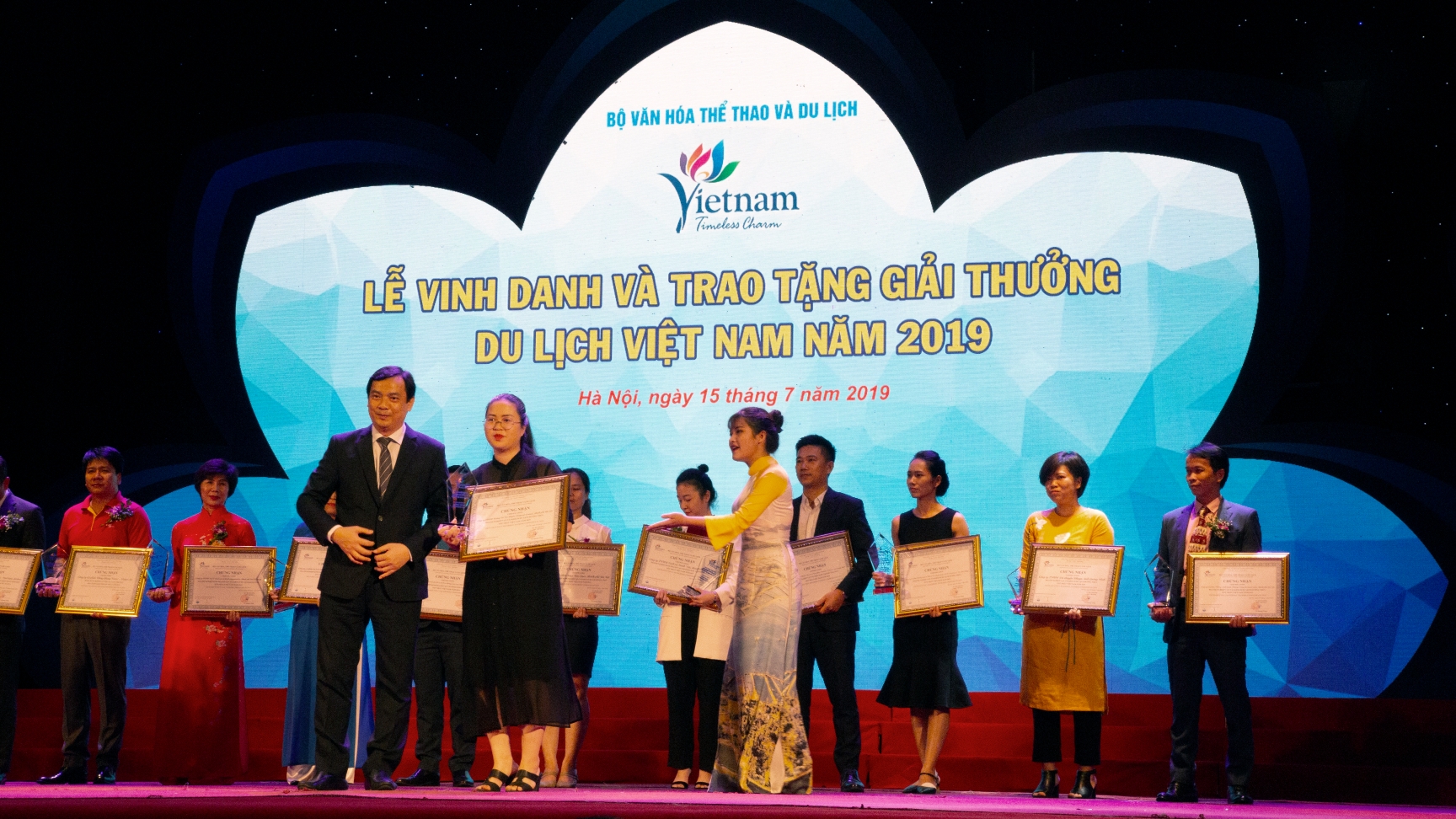 Vietnam National Administration of Tourism Awarded for Top Notch Cruises 2019 for Emperor Cruises, Vietnam's first five-star all-inclusive cruises with butler and limo service.
(Hanoi, 15 July 2019) For the first time, Emperor Cruises (www.emperorcruises.com) receives an award "Top 5 Waterway Tourism Companies in 2019", by VNAT, the gala presentation ceremony took place on 15 July 2019 in Viet Xo Cultural Palace, Hanoi with the presence of the Vice Prime Minister Vu Duc Dam, Minister of Culture, Sport and Tourism and top high-ranking officals from VNAT among many others.
Vietnam Tourism Award is the annual award, first held in 1999, the award aims to honor leading tourism enterprises which make significant contribution to tourism development, improve tourism service quality, diversify tourism products, strengthen international integration and promote Vietnam tourism. This year VNA announced 100 companies in the travel and tourism industry and only five cruises lines are chosen for this prestigious annual awards.
"Emperor Cruises has been inspired by the lavish life of the last Emperor Bao Dai and is a a brand new in the cruise industry, after four year of pioneering operations in Nha Trang and Bai Tu Long Bay, we are so proud to receive the most prestigious tourism award in Vietnam by VNAT. The award is a great encouragement to all members of the Emperor Cruises Company to raise the bar in luxury, deliver authentic and unique experiences, encouraging us to invest more in luxury cruising across Vietnam." said Pham Ha – Co-Founder of Emperor Cruises.
Serving 5000 satisfied guests per year in both Nha Trang Bay and Bai Tu Long Bay, Emperor Cruises has a fleet of two cruises offer daily departures for day and sunset cruises in Nha Trang Bay and overnight options in Bai Tu Long Bay. Ha reveals that more travelers choose cruising in Cat Ba Archipelago and Nha Trang Bay, the company will add the overnight cruises in Nha Trang Bay for the first time in the celebration of Vietnam Tourism Year 2019 in Nha Trang, Khanh Hoa and build new cruises in Bai Tu Long Bay by the end of 2020 to increase the fleet to 5 cruises ships for up to 10000 luxury travelers each year.
Emperor Cruises stepped in the past, routed in history, culture, arts, heritage and culinary of the country, pioneering the concept of " all inclusive luxury cruising experiences" by aiming at sustainable tourism development with minimal impact of tourism exploitation on natural resources, respect for local culture and focus on whole experiences of travelers. The company has received other prestigious many times as the Guide Awards and Trip Advisor. Emperor Cruises is a member of the Lux Group which owns Luxury Travel, Heritage Cruises and Emperor, an award-winning Asian travel and hospitality group with more than 20 years delivering unique experiences.
According to statistics from the Vietnam National Administration of Tourism, Vietnam welcomed nearly 8.5 million foreign tourists in the first half of the year, up 7.5% year-on-year. The sector generated VND338.2 trillion (US$14.5 billion) in revenue, up 8.4% over the same period last year.
This year, the sector expects to serve 17.5-18 million international visitors and 85 million domestic tourists, earning some VND700 trillion.