EMPEROR CRUISES LEGACY HALONG BAY
Painter Pham Luc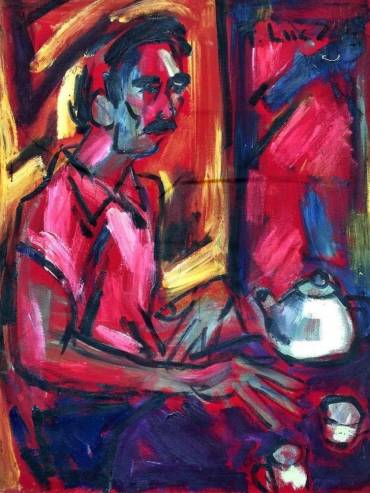 The artist's Letter
TO ART LOVERS ABOARD EMPEROR CRUISES
Discover Vietnamese culture through an original idea to have boats exhibiting my artworks for the enjoyment of discerning people like you. I like this innovative art idea, and I applaud my friend and collector Pham Ha, co-founder of Emperor Cruises, for making it happen so you can see my paintings in his collection on board.
I have held many exhibitions around the world, but very much enjoy the originality of having my work shown on boats in some of the world's loveliest bays such as Ha Long Bay and Nha Trang.
It is the first time Pham Ha has developed this unique idea, and I am happy to have my paintings shown on board the luxury Emperor Cruises, exclusively for in-house guests, in such magnificent natural settings.
I enjoyed every single moment on board Emperor Cruises, here in one of the Word's Best Bays and Natural Heritage Sites, a must-see destination for all travelers.
I do hope you enjoy my paintings, hand-picked by Pham Ha during his many visits to my home and my studio. I hope that you discern something beyond the descriptive and 'easily readable' narrative of the pictures. I relish the satisfaction of producing art and being able to convey my feelings and share them with you.
Until then, discover a world of enrichment through fine arts and enjoy your holiday in Vietnam!
Sincerely yours!
Pham Luc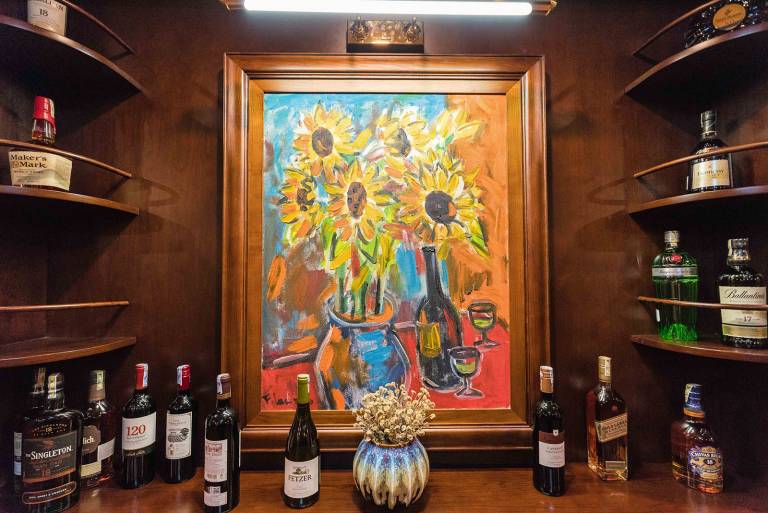 FINE ARTS ON EMPEROR CRUISES
Dear distinguished guests of Emperor Cruises
Happiness is a journey, not a destination. I am delighted to introduce the artist Pham Luc to you, and I am privileged to call him my friend. To understand and feel art is something special and a memorable experience.
His works have been influenced by the great French artists, and I have also immersed myself in French culture and civilization. I feel Pham Luc's works touching my heart, and the broad simplicity and colorful strokes of his paintings have become part of the fabric of Vietnam's timeless beauty, struggle and joy in life.
I have known him and his daughter for many years and have visited his home and studio to discuss art with him over tea. I am awed by his life, heart, and talent and enjoy his unique sense of humor. Because of my affection for him and my admiration for his work, I have dedicated our Emperor Cruises boats, in both Ha Long Bay and Nha Trang Bay, almost exclusively to his art to create the first "art boat" in Vietnam.
Perfectly matched and related to the inspired story of Emperor Bao Dai, the last Emperor of the Nguyen Dynasty of Vietnam and his lavish lifestyle in the 1930s, Pham Luc's art reflects where East meets West.
His work covers multiple genres of painting in the classical European tradition: townscapes, landscapes, seascapes, still life, figurative composition, intimate nudes, and self-portraits. The works are presented in a variety of traditional media: oil on canvas, oil on paper, the artist's trademark of oil on rice sacks, gouache, and watercolor, as well as the traditional Vietnamese lacquer technique.
Artistic mastery marks these paintings — one can easily follow the flow of the drawing, as well as the movement of a great talent's brush stroke. My collection is modest and nothing in comparison to other collectors, but I am proud to show the work of a Vietnamese master to the world.
Each of his pieces is unique, full of love, hope, and meaning, telling stories with his distinctive style. His art helps viewers to easily understand Vietnamese culture through his visual language, his artistic expression so that you can appreciate the aesthetic value of his work.
Built with passion, Emperor Cruises is dedicated to enjoyable travel, cruising, food, wine, hospitality, music, and art to represent our vibrant Vietnamese history, culture, nature, heritage, and cuisine; all of which help to create memories for the most sophisticated travelers. Discover our Emperor Cruises and Vietnamese fine arts on board and create your own memories!
Pham Ha
Co-founder of Emperor Cruises
Paintings by Pham Luc are attractive due to liberal lines and strange color tones which arouse much emotion in viewers, especially the paintings which feature Vietnamese characters, which makes them resonate with Vietnamese people.
said Pham Ha, the co-founder of Emperor Cruises Nha Trang and Halong Bay. Ha is an avid art collector.
More than just a collector, Pham Ha, co-founder of Emperor Cruises Nha Trang, also counts himself as a friend of Luc and hangs some of his masterpieces on boats in both Halong Bay and Nha Trang Bay.
Each of his pieces is unique, full of love, hope and meaning, telling stories with his distinctive style. His art helps viewers more easily understand Vietnamese culture through his visual language and artistic expression, so you can truly appreciate the aesthetic value of his work.
Built with passion, Emperor Cruises is affiliated with the master Pham Luc as travel, cruising, food, wine, hospitality, music and art represent rich Vietnamese history, culture, nature, heritage and cuisine, which all create memories for travellers. Ha said that Emperor Cruises makes special frames to preserve the paintings from the effects of the marine environment, and believes Luc's lacquer ware becomes more beautiful with the passing of time.
Looking at his rough, crude paintings, life is always full of hope and love. Using various materials from oil to pastel, the artist creates layers of emotion. Free, broad, solid, inspiring and humane, that's how I would describe Pham Luc's strokes. He opposes any restrictions, instead painting the beauty he perceives and pursues. Through his unique paintings, we can read his feelings and soul. He leads viewers through his emotions.
Said Pham Ha, Co-founder of Emperor Cruises.
As a professor at Harvard said, if you want to understand Vietnamese culture, history, heritage, and lifestyle, view Pham Luc's paintings. For over half a century, the artist Pham Luc has created a body of work exploring a wide number of styles and themes on media from oil to lacquer to silk. Of his prolific output he has said: "I created to stop myself becoming bored". Pham Luc has made a particular mark in his portrayals of Vietnamese women: mothers, grandmothers and daughters, often hard at work. I am proud of my rich collection of art on rice sacks in Vietnam.
Pham Quang Phuc, a member of Pham Luc's Paintings Lover Club.
Most surprisingly, this is also the strongest feature of his large traditional Vietnamese lacquer paintings, where his sure hand and his exceptional sensitivity and mastery of the medium draw bold, freely applied strokes of gold on a black background; making it all look like done in one fell swoop, yet the expressive gesture and form are there only to serve and accentuate the depth of his intimate feelings. It is this depth of feeling that can convey, without any intended metaphor, the horror of the actual reality of war in the form of the trunks of trees in his town-scapes, assuming strong resemblance to planted upright and pointing at the sky rifles — an amazing, subconscious pop-up of an allusion of a repressed memory and emotion.
Ilza Burchett is an internationally exhibiting artist, now based in Hanoi, Vietnam.
I am disabled but crazy about Pham Luc's paintings. Many Vietnamese and foreign friends coming to my home to see my collection were amazed at the creations of Pham Luc. Many asked me why I collected so many paintings. I replied, "Each painting is a support for me to overcome handicap and integrate into life. His paintings give me confidence in life and aspiration to rise up. In my difficult times and in pain, I come to his paintings to seek consolation, sympathy and often find in them peace amidst the storms of life.
Ngo Quang Tuan, from Painter Phạm Lực
Pham Luc paints at night, during daytime, when awake at night, or even if he has just recovered between sicknesses and can sit up. The motivation behind his creation is like a karma, a curse of fate. If he can't paint he will get sick and will be like a flu-infested chicken. Many times I saw him grubby in a mess of colors and lacquer as if haunted. 
Dr. Nguyen Si Dung, from Painter Fạm Lực
He doesn't need money. He spends all his money on charities, his children, and buying gold, silver, lacquer and colors. So what does he need? To build his fame? May be, but may be not. In fact, he is already very famous. Many people know him and admire him. Ambassadors in Hanoi buy his paintings and make friends with him. So the answer to his efforts lies in his passion. Because he can't do otherwise. 
Dr. Nguyen Si Dung, from Painter Phạm Lực
More than half of my collection from Pham Luc is about women. And for Pham Luc, women are his endless inspiration. His works about women are created in various materials at different periods of time; nevertheless all of them carry genuine and refined emotion, sometimes daringly, sometimes trembly, sometimes reverentially and sometimes endearingly.
Pham Ha, CEO of Luxury Travel
Thomas J. Vallely, a Havard professor, gave his thoughts about the work of Pham Luc, in a recent interview with the writer Nguyen Ngoc.
For me, my favorite place to visit in Vietnam is, the simple studio house of the painter Pham Luc. Whenever I visit, and talk to him about his art, I learn something new about Vietnam's past and present. His work is so rich in culture, history and heritage, and is displayed through varied and diversified themes, a common language that presents the wartime years, and the sorrow that it brought to Vietnam.
We can understand more about war, and the sacrifices and sadness that Vietnamese men and women endured during this difficult period in the country's history. Today, his work has evolved, and the themes express the deterioration of the environment, the pursuit of wealth and the abuse of power. These themes are not just representative of Vietnam, but are universal in meaning, and this creates sincere value in his artistic creations.
He was born in a poor countryside in a deprived village in the Central region of Vietnam and used to be a soldier fighting in the wars. He lives and paints with qualities of a farmer and Uncle Ho soldier. These qualities have become his humane belongings. No wonder many people sympathize with, love, and are crazy for his art. He is so happy!
An Chuong, from Painter Pham Luc
We aspire to bring our Royal Class experience into your life