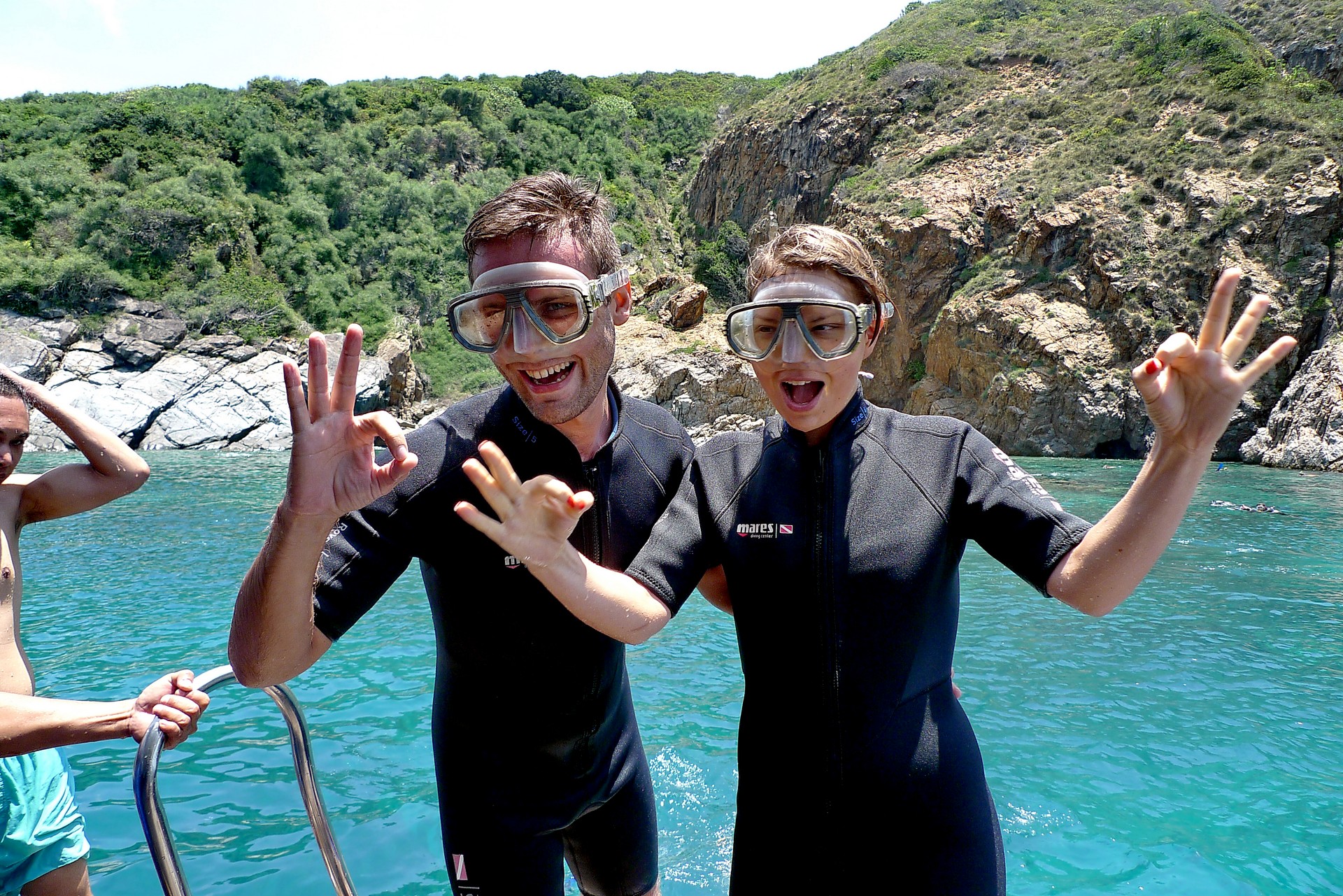 Diving and Snorkeling in Nha Trang – When, where, and how?
Do you want to explore the picture of the colorful sea beneath the deep sea? Scuba diving and snorkeling to see corals in Nha Trang will definitely be one of the interesting activities for you in the journey.  Let find it out in this article!
1. An ideal time for diving and snorkeling in Nha Trang
Hot or cool weather does not affect the diving process much. However, two factors must be ensured when scuba diving is clear water and no strong waves or strong winds to ensure safety.
The ideal diving time is from April to October, especially in July to August, when the water is clear, light winds and temperature are also suitable for you to see the coral reefs and small colorful tropical fish with lots of colors. The average visibility is about 10 meters, in good weather, the visibility can be up to 20 meters.
Although the diving center is still open, you should not dive in December to mid-February because at this time the sea is opaque, visibility is limited.
2. Nice places for diving and snorkeling in Nha Trang
a. Hon Mun Island
The distance from the stone bridge port to Hon Mun island is about 12 km. It takes about 20 minutes by canoe (300,000 VND/pax) and about 1 hour by wooden boat (250,000 VND/pax)
Due to the mixture of hot and cold water, Hon Mun is the focus and development of thousands of rare coral and fish species in the world. The island has about 1500 species of sea creatures living in a total of more than 2000 species in the world. This can be considered as the most beautiful diving spot compared to the places that have been put into exploitation.
b. Monkey Island – Hon Lao Island
Located in the middle of Nha Phu Bay, 15km to the North of Nha Trang, Monkey Island is a small island with the shape of a javelin, which runs straight to the sea. The reason for calling "Monkey Island" is that there are about 1200 monkeys on the island.
In Hon Mun, tourists who want to dive must have a "high level" because it is more than 20m deep here. But in Monkey Island, the depth is only 3 – 5m so visitors can rest assured exploring the ocean without fear of exhaustion. Instead of jumping from the boat into the sea like at Hon Mun, here you can climb the ledges, follow the small path to the beach and from the beach keep wading along with your guide until the water comes across the shoulder.
c. Hon Mot Island
Hon Mot is located about 9 km from the city of Nha Trang to the Southeast. Hon Mot area is less than 1 square kilometer, therefore, it is considered an island with the smallest area of ​​Nha Trang Bay. On the island, there is also a small fishing village, with about 200 people living.
Around Hon Mot Island, there are also many coral reefs of all shapes and colors, extremely diverse and the water level is quite shallow, even if you do not swim too well, you can still see them.
3. Some centers for diving and snorkeling in Nha Trang
Sailing Club Divers
Address: 72-74 Tran Phu Blvd (at Sailing Club Nha Trang), Nha Trang
Contact: (58) 352 2788
Website: sailingclubdivers.com
Price: Discover Scuba Diving (2 dives): 1,850,000 VND
PADI Open Water 6,500,000 VND
Snorkeling 500,000 VND
Rainbow Divers
Address: 90A Hung Vuong St, Nha Trang
Contact: (0908) 781 756
Website: http://www.divevietnam.com
Price: Two try dives 1,825,000 VND
PADI Open Water 7,900,000 VND
Snorkeling 525,000 VND.
Vietnam Active
Address: 115 Hung Vuong St, Nha Trang
Contact: (058) 352 8119
Website: http://vietnamactive.com
Price: Discover Scuba Diving US$80
PADI Open Water Diver US$350
Snorkeling US$25
4. Some notes when diving and snorkeling in Nha Trang
– Do not choose to dive to see corals when the body is tired, do not dive right after eating or when hungry, it is best to dive only after eating 2 hours.
– Do not go diving after drinking alcohol with a high alcohol content to avoid unintended accidents.
– Do not go diving alone but follow a large group, must have the guidance of professional staff and always follow the instructions of the staff.
– If you have cardiovascular disease, you must never dive into the ocean to watch corals.
– For the first time, you should swim slowly and do not dive too deep to regulate the water pressure below.
– During the dive, you must not swim too far, do not risk diving too deep, only dive at a safe level that professional divers have warned before.
– After diving, you should close your mouth, cover your ears and breathe gently through your nose to avoid shock and adapt to the onshore environment.
– If the vacation is not too long, you should consider diving because, after diving, you should have 1 day of rest for your body to recover before boarding.