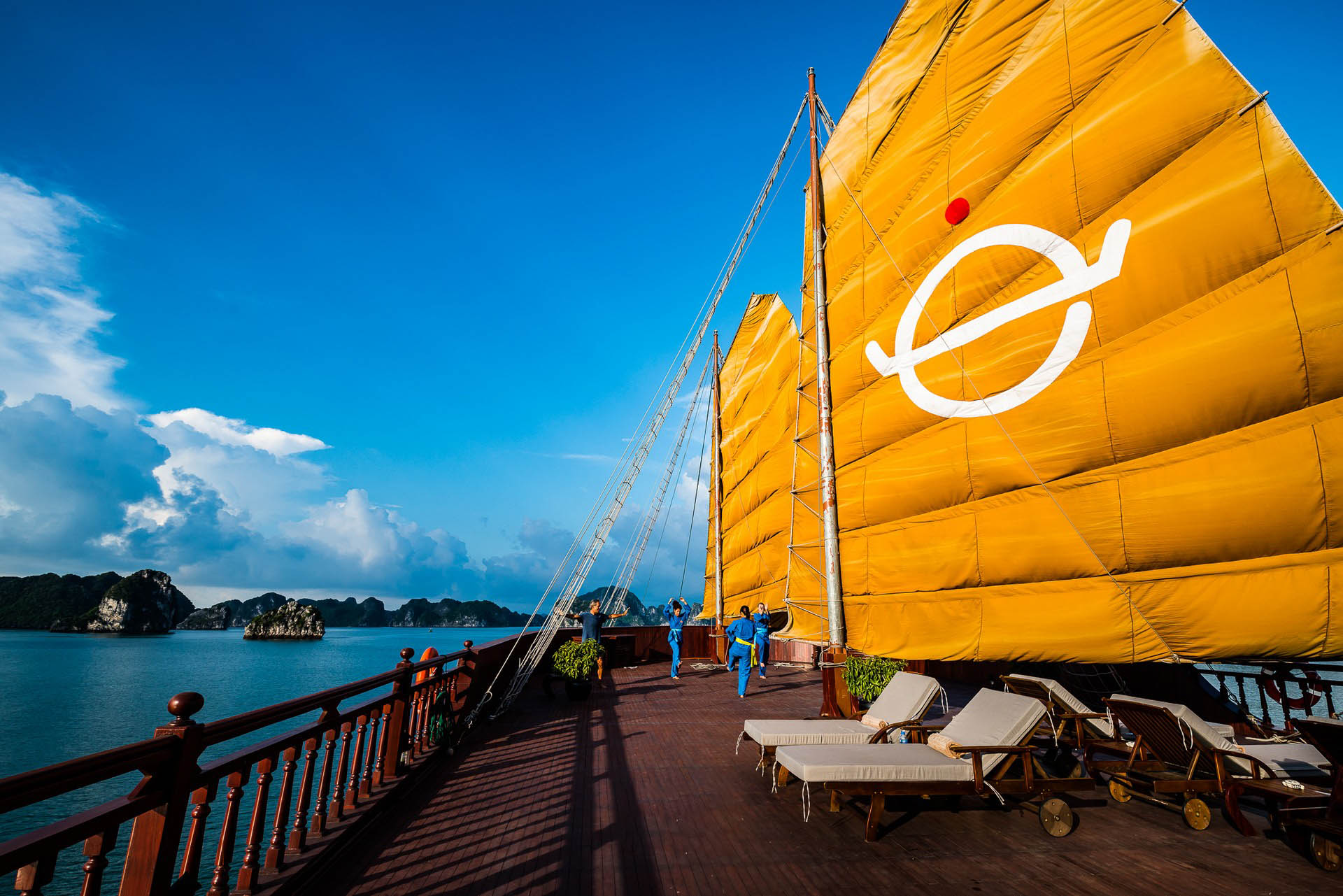 The ornate chopsticks are crafted with silver, five-clawed dragons aboard Emperor Cruises. 
From Legend
Once upon a time, there lived a beautiful and virtuous princess named Kim Ngan. The kingdom of her father was attacked by barbarians, and in an effort to retain his kingdom, the king promised to give the hand of his daughter to the man who would repel the invaders. A dignitary at his court proposed that command of the troops be given to his son, but alas, he was soundly defeated in battle.
The task was then given to Giao Thuy, the son of an impecunious woodcutter, who volunteered to go and meet the enemy. The young man was brave and intelligent, and he ultimately succeeded in driving out the barbarians.
True to his promise, the king ordered the wedding to be celebrated. However, the jealous mandarin stealthily added poison to the bridegroom's wine cup, who was thus killed. The disconsolate princess died of sorrow, and she and her husband were interred in the same grave.
Some time later, from the burial mound sprang a vigorous shoot, which in time, grew into a tall tree. The king named the tree 'Kim Giao' in memory of his daughter Kim Ngan and her husband Giao Thuy. Later, it was discovered that the wood from the tree had the miraculous property of detecting the presence of poisonous substances. Hence the custom of using Kim Giao wood began.
Kim Giao Wood
Kim Giao (Podocarpus fleurii) is a tree which can grow to a height of 20-30 metres. Its trunk has a diameter of 80-130 centimetres, and its wood is yellowish-brown in color. It grows on mountainous slopes at an altitude of 1,000 meters and more, in the North and Centre of the country. More and more rarely found now, it calls for urgent protective measures.
It is found in most of the mountainous provinces of Vietnam, especially in Ninh Binh, Hoa Binh, Thanh Hoa and Nghe An, Quang Nam provinces. The species occurs sparsely in primary and slightly disturbed evergreen rain forests at elevations of 200-1000 m, usually mixed with Madhuca pasquieri, Vatica odorataand and Quercus bambusaefolia.
The wood is precious and rare, and was often used to make chopsticks for the Kings. It is said that Kim Giao chopstick will show bubbles and turn red when it touches poisoned food. White Kim Giao wood is, fine, light, very beautiful and durable. Used for artworks, chopsticks and cabinet work, the leaves are made into medicine to cure coughs. It is also prominently used as an ornamental tree in parks, along avenues and at pagodas and temples
At Cuc Phuong and Cat Ba National Parks, the species grows in groups and is the main species in some areas. An undemanding species, it thrives on good sites with deep, well-drained soils developed from limestone.
For Food
Can Chanh Palace was the working place of Emperor and where the Emperor often hosted important ceremonies and festivities of the country.  It was also a place to treat important affairs, emissaries or organize the royal party.
The experience manager of Emperor Cruises Halong's Thomas said: "Our Can Chanh Palace Restaurant was designed with a royal atmosphere, and artistic masterpieces from well- known Vietnamese artists adorn the walls. Therefore, you can enjoy Vietnamese culture, history and gourmet cuisine." "Our crockery and cutlery are a sophisticated selection for the Royal party. You will find ceramic bowls and plates which are decorated with images of five-clawed dragons on the cruise. The chopsticks and toothpicks were made from Kim Giao wood, found at the nearby Cat Ba Island. The ornate chopsticks are crafted with silver dragons with five claws to symbolize The Emperor".
Influenced by Hue Royal Cuisine, the food on Emperor Cruises is a careful consideration of authentic ingredients, cooking methods, nutrition, and decoration. Dishes on the cruise are always freshly cooked with the best local ingredients, emphasizing seafood, and under the skillful hands of our professional chefs. Each course is an artwork with beautiful presentation and full of delicious flavors.
"Because of it specific characteristics which can change its color from white when contact with any poisonous substance, the Emperor preferred to use it in his table set. Nowadays, you don't need to worry about it changing color, and we have created dishes full of Royal heritage for your pleasure aboard Emperor Cruises Halong. Paired with the food, you are treated to diverse options of all-inclusive drinks such as local beers, premium spirits and distinctive wines chosen by our certificated sommeliers," added Thomas.
Inspired by the lavish lifestyle of Emperor Bao Dai, the last Emperor of Vietnam, this masterpiece is designed to reflect the style of the 1930s, and be a haven for the most sophisticated travelers to enjoy Vietnamese culture, history, and gourmet cuisine. The cruise is where glamor and heritage combine to create the epitome of elegance and aristocracy. Each guest will be treated like an emperor and experience the best of the best, in privacy, and with every tiny detail attended to.