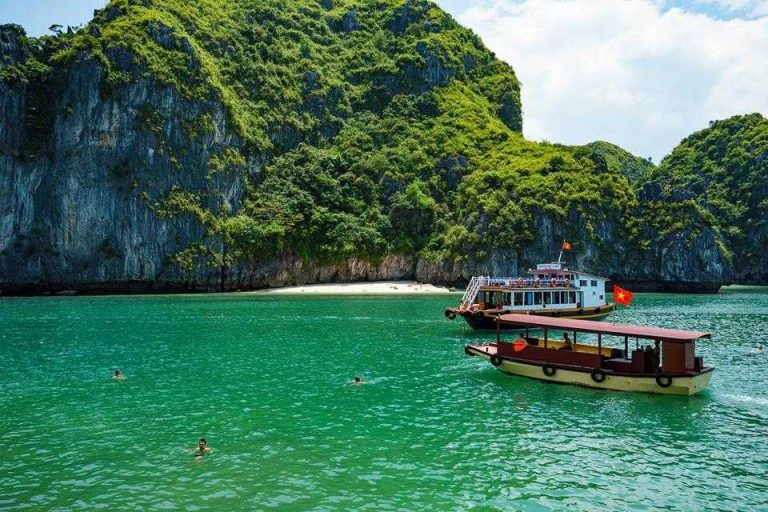 Halong Bay is famous and summer is always the best time to discover it. My wife and our 6 year old son traveled to Halong Bay for 3 days, had flexibility with a private car, stayed in preferred hotel, and cruised on our own itinerary on a private charted junk.
About 175 km from Hanoi or 200 km straight from Noi Bai Airport, Halong Bay was first recognized as a World Natural Heritage site in 1994 and again recognized as a World Natural Heritage Site for its geology and geomorphology in 2000. Officially recognized as one of the New Seven Natural Wonders of the World in 2012, Halong Bay is a must see on anyone's itinerary for Vietnam, thanks to its turquoise water and thousands of jagged, limestone islands.
Although it was not my first time to Halong Bay, I found myself a bit surprised by how good the road conditions have become, making it easier to enjoy the countryside landscape.
It is not a bad idea if you have a chance to stop for a Vietnamese coffee, and maybe find yourself lost among many selves of local handicraft products. Rumor says that this is a travel trap, but I can say that you are always welcomed with the warmest smiles even if you are not buying.
At the end of your drive you will see the few hotels on your right hand and a crowd of islands and deluxe junks on your left hand.
We stayed our first night in the Novotel Halong Bay, the newest 4 star hotel in the region. All the rooms have panoramic bay windows and look out to either the picturesque bay or city.
Another way to enjoy Halong Bay is overnight on wooden-junk and we took the Indochina junk. We had time to freshen up again before a tender brought us to the junk, which was much nicer than the other junk I took on my earlier tour
Emperor Cruises Legacy Halong have spacious, well-appointed cabins and suites with large ensuite marble bathrooms, a large sundeck with comfortable lounging furniture and a dining room and bar.
The best way to appreciate this magical scene is from a boat, cruising between the cliffs, which rise like fairytale castles, complete with rocky spires and hidden caves. Still used to for fishing, whole families live on floating villages that are easily visited. Some will even take you out on a fishing trip. It was also among Asia's top five tropical island paradises as selected by CNN.
The two-day-one-night cruising program gives you the chance to do everything from kayaking to squid fishing, exercising or just laying down on the sundeck with a beer in hand.