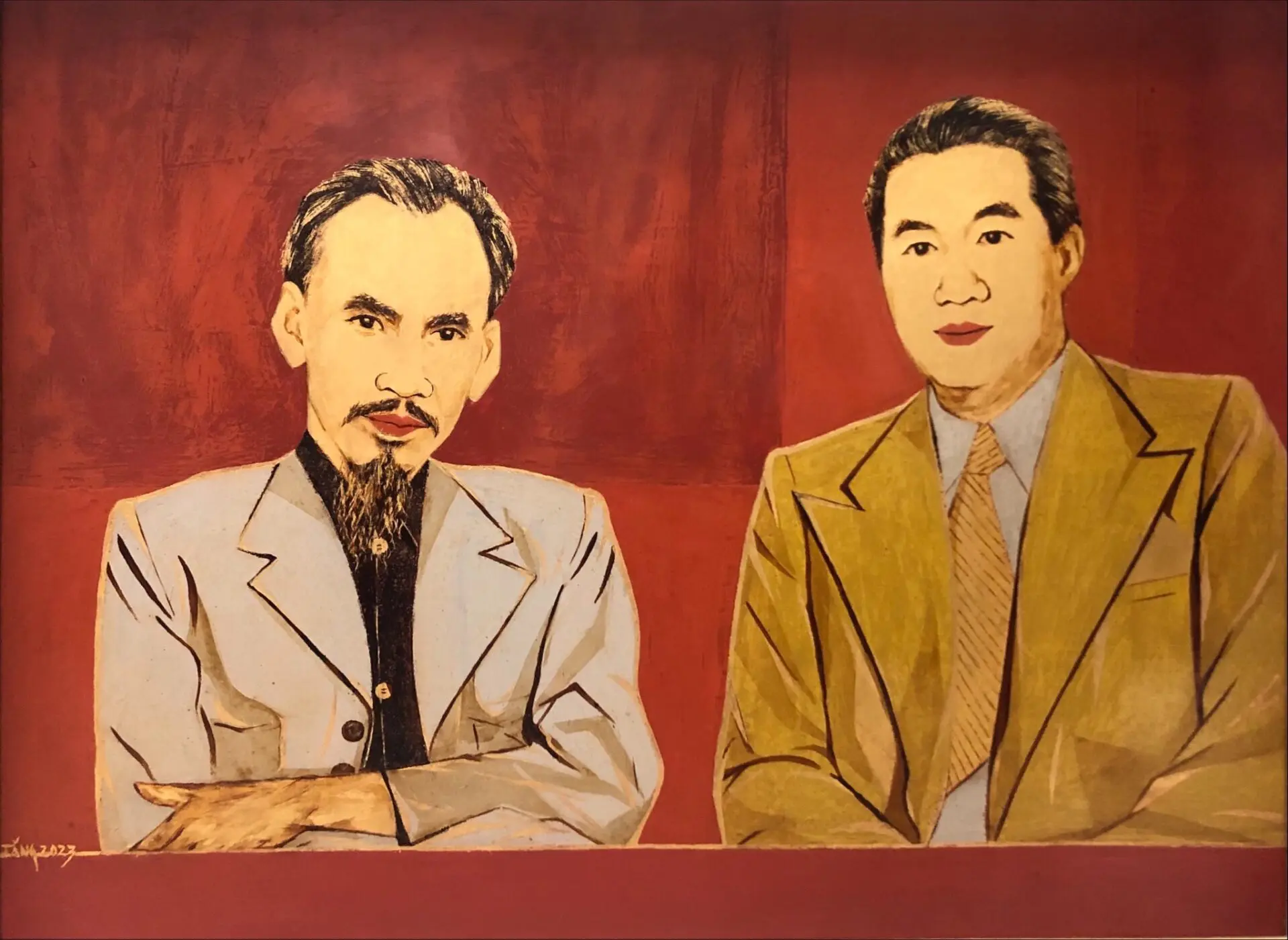 President Ho Chi Minh and Supreme Advisor Vinh Thuy – Artwork Copyright: Lux Cruises
From the time when the Hung Kings established the Van Lang Country (Vietnam), until the end of the 13th King of the Nguyen Dynasty, Vietnam experienced many ups and downs, leaving many great historical values and anecdotes behind. In particular, the name Bao Dai – The last Emperor of the Vietnamese monarchy always provokes many curiosities for future generations.
Emperor Bao Dai, whose real name is Nguyen Phuc Vinh Thuy, was born on October 22, 1913 in Hue. Vinh Thuy's father was Nguyen Phuc Buu Dao, or Emperor Khai Dinh, his mother was Hoang Thi Cuc, or Mrs. Tu Cung Thai Hau.
Even the story of the true identity of Vinh Thuy is controversial, there are many records that he is not the son of Emperor Khai Dinh, but all are hypotheses and still not inconsistent. It was only known that Khai Dinh had only one son, Vinh Thuy, and he ordained the Royal to Vinh Thuy before his death.
In 1922, Vinh Thuy started studying abroad in France. In 1925, when his father Khai Dinh passed away, he returned, officially succeeded his father's throne, and took the title Bao Dai. In 1926, Bao Dai returned to France to continue his studies and assigned all the work to his officials in Vietnam. After ten years of studying in France, Emperor Bao Dai returned to the country on August 16, 1932, reigning Vietnam in Hue until 1945.
Emperor Bao Dai is known as a talented horse rider. He also loved and admired many fashionable sports at that time such as golf, tennis, sailing. Emperor Bao Dai especially likes playing tennis. So after returning to his home country, he built a "international standard" tennis court right inside the Imperial City of Hue, causing many visitors to visit the ancient capital of Hue to think it is a modern construction that was built later. The tennis court is currently located in an empty area in the Northwest of Hoang Thanh Hue or Hue Royal Citadel, next to Kien Trung Palace.
Bao Dai is also known as an amorous Emperor with many anecdotes about his history. He once had a very beautiful love story with Marie Thérèse Nguyen Huu Thi Lan – the granddaughter of Mr. Huyen Sy, the richest and most prestigious family in Nam Ky. She was famously beautiful, dubbed "Miss Indochina" at that time and was also known as Queen Nam Phuong later. Nguyen Dynasty was very incompetent in his ordination of an empress early. Before the time of Emperor Bao Dai, there were many concubines, although they were very fond of the king, but until getting old, they were ordained a queen.
But the wedding day was the same day that Emperor Bao Dai declared the title of Queen Nam Phuong. The Emperor also abolished the harem and pledged "a husband and wife" to her. After that, they had 5 children together.
However, later on, Emperor Bao Dai also had two concubines: Mrs. Mong Diep and Mrs. Monique Marie Eugene Baudot, along with many lovers such as Ly Le Ha, Hoang Tieu Lan, Le Thi Phi Anh, Vicky, Clement and Christiane Bloch-Carcenac.
During the reign, the King "from the West" issued a number of new policies, he abolished a number of customs that the previous Nguyen kings set out; like: don't have to kneel down when facing the King, the Western officials can shake hands instead of kowtow,… He also established the House of Representatives so that the people could express their aspirations to the king.
After the August Revolution succeeded, Emperor Bao Dai abdicated and became a "citizen of Vinh Thuy". In his abdication manifesto, he famously said "I want to be a people of a free country, rather than a king of a slave country". Afterwards, Vinh Thuy – Emperor Bao Dai was invited by President Ho Chi Minh to be an supreme advisor to the newly established Provisional Government.
In 1946, Bao Dai joined the delegation of the Democratic Republic of Vietnam government to Chongqing to visit China, Ho Chi Minh asked him to not return to his home country according to Hue Researcher Nguyen Dac Xuan, but to Kunming and Hong Kong. In April 1949, he was sent back to Vietnam.
In October 1956, Bao Dai went to France to live in exile. To forget the life of bitter political activity, Bao Dai confined himself for 10 years (1956-1966) in a house in Alsace, Eastern France, hunting and pondering as a hobby. The love story between Christiane Bloch-Carcenac and Emperor Bao Dai remains a unique part of Vietnamese history and is often cited as an example of the cultural exchange that occurred during the French colonial period and the time of Emperor Bao Dai exil in France after coup d'etat of prime – minister Ngo Dinh Diem.
In 1996, he was not well, his eyesight was getting worse. In 1997, he fell ill and was put into treatment at a famous military hospital of Paris. At 5 am on July 31, 1997, the last Emperor of Vietnam passed away in France, aged 85. To this day, the life of this Emperor is still shrouded in many anecdotes.