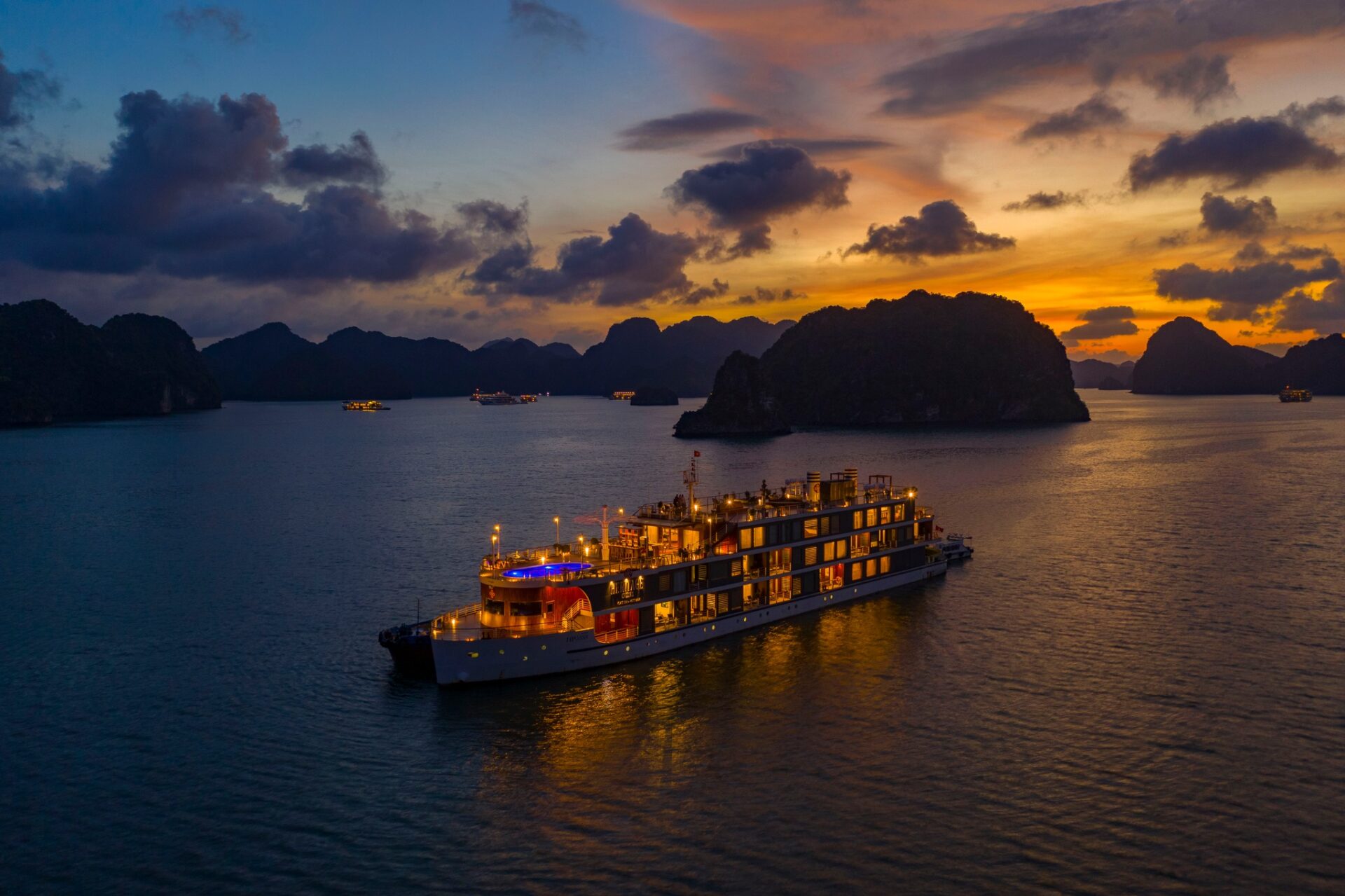 Step into a world of refined elegance and unmatched luxury with Lux Cruises, proudly presented by Emperor Cruises and Heritage Cruises. As you explore our remarkable fleet of cruise ships, you'll discover a harmonious blend of timeless beauty, exceptional service, and unforgettable experiences.
At Lux Cruises, we believe that every voyage should be an extraordinary affair, where indulgence and sophistication go hand in hand. Our meticulously designed ships are a testament to this belief, showcasing exquisite craftsmanship, attention to detail, and a commitment to providing the utmost comfort and opulence for our discerning guests.
From the moment you step on board, you'll be enveloped in an atmosphere of refined sophistication. Our highly trained and dedicated staff members are passionate about curating unforgettable moments for you, ensuring that every aspect of your journey is flawlessly executed. Whether it's a warm smile as you embark, a personalized greeting from your butler, or the seamless coordination of your itinerary, our team is committed to surpassing your expectations at every turn.
Indulgence knows no bounds aboard Lux Cruises. Our stunning staterooms and suites are designed with your comfort in mind, featuring lavish furnishings, luxurious amenities, and breathtaking views of the surrounding ocean. Unwind in a haven of tranquility, enveloped in sumptuous fabrics and surrounded by elegant touches that elevate your experience to new heights.
Culinary excellence takes center stage on Lux Cruises. Our team of world-class chefs is dedicated to creating gastronomic masterpieces that tantalize your taste buds. From delectable international cuisine to exquisite regional specialties, each dish is crafted with the finest ingredients, showcasing the rich flavors and culinary traditions of the destinations we visit. Indulge in a symphony of flavors, complemented by impeccable service and an extensive selection of fine wines and spirits.
As you sail with Lux Cruises, you'll have the opportunity to immerse yourself in captivating destinations and captivating experiences. From secluded beach excursions to immersive cultural encounters, our expertly curated itineraries showcase the best of each region, allowing you to connect with the local heritage, natural beauty, and vibrant communities that make each destination unique.
Lux Cruises is more than just a cruise; it's a gateway to unforgettable memories and transformative experiences. Whether you seek a romantic getaway, a family adventure, or a celebration of life's special moments, our sales team is here to assist you in creating a personalized journey that exceeds your expectations.
Escape the ordinary and embrace the extraordinary with Lux Cruises. Elevate your travel experience to new heights and embark on a voyage of indulgence, where impeccable service, exquisite accommodations, and awe-inspiring destinations seamlessly blend into an unforgettable journey. It's time to set sail and create memories that will last a lifetime. Contact our sales team today to embark on your extraordinary adventure with Lux Cruises. Discover more at lux-cruises.com