LIFE ON BOARD
Enrich Programs
Unique Cruising Experience in Vietnam's first ever all suites cruises
Enrich Programs
A WORLD OF ENRICHMENT
We are delighted to introduce our exciting Emperor Enrich activities.
These special enrich programs are designed exclusively to appeal to our discerning clientele. We aim to create memorable experiences that allow guests to really have a taste of the region they are visiting, meeting with locals, and experiencing authentic local life.
Whilst your time onboard your Emperor Cruises will be memorable, your tour becomes truly unforgettable when you leave your floating hotel and explore the bays and villages of Halong Bay during your shore excursions.
You will experience the best that Halong Bay has to offer through our Emperor Enrich, Emperor Options and Emperor Bespoke activities and events, Emperor Enrich, Emperor Options which are all included in the cost of your luxury cruising experience. Just book with your experiences manager onboard.
EMPEROR ENRICH *
Emperor Enrich is our exclusive program of truly exceptional activities, where you will be immersed in the local culture and nature. Every Emperor Enrich event adds to the experience of the region you are exploring, whether enjoying an on-board lecture on Emperor Bao Dai, Queen Nam Phuong and the Nguyen Dynasty, dining in the wine cave or on the beach or exploring protected submarine areas. Other possibilities include visiting a pearl farm, the homes of the local island villagers or the floating villages. Whatever you select, your Emperor Enrich excursions will ensure your Vietnamese adventure here in Halong Bay is totally unforgettable.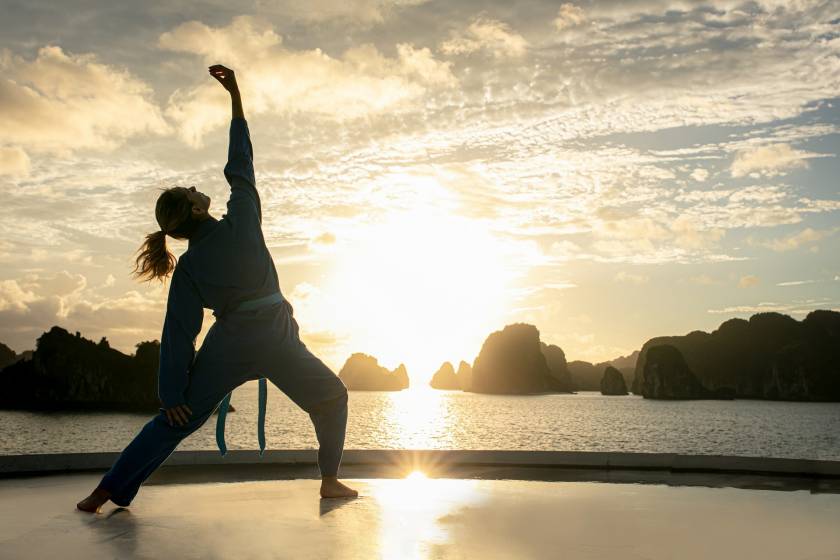 Emperor Enrich – feel and live the destination, don't just cruise through it.
EMPEROR OPTIONS *
Emperor Options  provides an abundant selection of activities whilst on board allowing you to choose the activities that interest you the most, including visiting deserted beaches, caves, coves, lagoons or a pearl farm; discovering the the floating villages in Vung Vieng, Cua Van or the Dragon Eyes Island; kayaking, boating, snorkeling, squid fishing,  watching a film or cookery demonstration, wine tasting or learning the art of drinking tea and coffee; enjoying private drinks at sunset just for two, dinner on the beach, a guided hide or cave exploration. Regardless of what you choose, you can do so in the knowledge that there's no extra to pay!
Emperor Options – Enjoy the flexibility of individual travel and the activities that interest you the most.
EMPEROR BESPOKE *
Emperor Bespoke is our enriching program that can be custom-made for our guests upon request. We can customise your request for theme tours, exceptional experiences for once-in-a-lifetime activities, or special interests in Halong Bay, Quang Ninh for you to enjoy every moment, an escape to enrich your life in a unique place with unique people. These exclusive bespoke tours and experiences allow you to explore:
Vietnamese Cuisine
Nature, Islands and Beaches
History
Arts and Culture
Activities and Adventure
Photography tours with a photographer
Romance and Honeymoon Escape for Lovers
Robinson Crusoe meets Robin Loc on a Deserted Island or Be Robinson Crusoe for a Night
Bai Tu Long Bay's Hideaway Camping in the Wild, on Islands and Beach
Emperor Bespoke  –  Imagine whatever you wish to experience, name it and we can make it happen and deliver in style.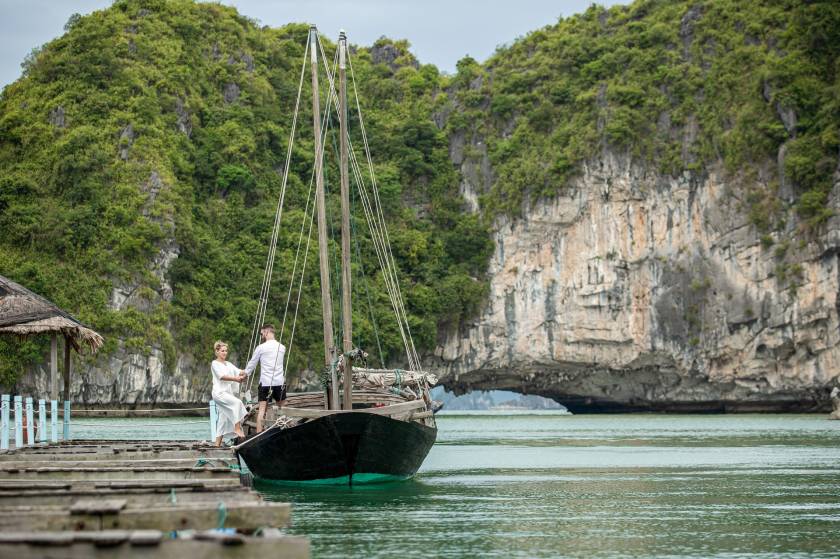 Luxury is all about experiential and personal. We are delighted to help you to create your perfectly personalized activities, either to keep you busy or as relaxed as you wish. #EmperorCruises's 20 Sweet Defined Experiences. We promises you luxury on the boat and adventure on the water. Your choice of 20 experiences aboard Emperor Cruises Halong.
ON THE BOARD
Massage
Guided Art Tour
Guided Masterpiece Tour
Tea Demonstration
Vietnamese Cooking Class
Movies on board
Dining Experience in Suite
Breakfast in bed
Vovinam (Vietnam Martial Arts)
ON THE WATER
Cave Visit
Sampan Boating to visit the floating Vung Vieng Village.
Kayaking
Visiting a Pearl Farm
Visiting the community complex
Squid Fishing at Night
Excursion Offshore by Small Boat.
Enjoy Your Light Breakfast at Sundeck, Raise the Sails with Sailors, Watch Sunrise and Exercise Vovinam or Guided Yoga.
Sunset Cocktail and Private Dinner by the Wonder.
Visiting Wine Cellar for Wine Appreciation and Wine Choice for Dinner with Your Sommelier
Coffee Demonstration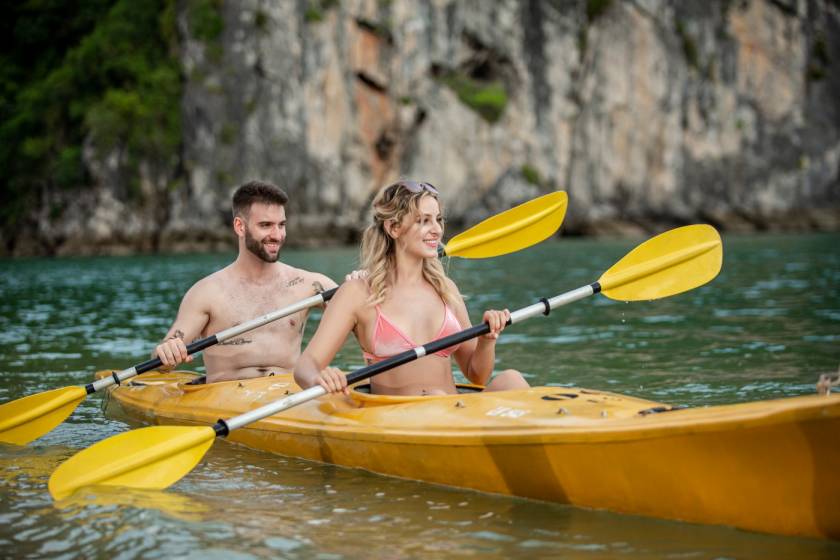 Absolutely Nothing.
Luxury is doing absolutely nothing…or practically everything. You choose your personal favorites.
Massage
Breathing new life into body and mind, enjoy a refreshing sense of well-being in the sanctuary of the Heritage Spa, amidst the timeless beauty of Vietnamese tradition, in the pristine and legendary bay. You can choose foot, head and shoulder, body massage or body massage with hot stone. This deeply relaxing treatments involve the application of pressure to reflex points, helping to restore the body to a healthy balance. Before or after treatments, you can stay in the Heritage Spa to enjoy the dry sauna whilst sipping on complimentary ginger or jasmine tea. All treatments in the spa are included in the price unless otherwise stated, so all you need to do is to make a reservation through your butler or experience manager.
Guided Art Tour
You are cruising artfully among creations from one of the most famous artists in the country, Pham Luc. He was an official military artist and his work bridges two centuries while depicting war and peace throughout Vietnamese history. Throughout the boat are a great variety of art styles such as lacquers, oil on canvas, rice sacks, paper. If you want to learn more about Pham Luc art and brief of history Vietnam fine arts, our team delighted to guide to discover the richness of Vietnamese art, culture and history through these creations because it flows in the chicest way possible. Cruise for art lovers.
Guided Masterpiece Tour
Our boat is a destination in itself, built with love and passion for "wow"' factor experiences, this cruise ship is inspired from the opulent lifestyle of Emperor Bao Dai, his top secret stories, his villas and palaces across Vietnam. Our team is more than happy to guide you to discover our masterpiece. Each suite, places are named after his villas, palaces, you can see the old photos hang over the boat. Works of art commissioned from well-known Vietnamese artists will adorn the walls. This masterpiece will be a place for the most sophisticated travelers to enjoy Vietnamese culture, history and gourmet cuisine, and where royal glamour and heritage will combine to create the epitome of elegance. Every corner tells you interesting story and the passion and vision of the owners.
Tea Demonstration
One of the most favorite activities on boat is the tea demonstration. Tea drinking has been a tradition of the Vietnamese people for over 3,000 years and, like many places throughout the world, is an integral part of Vietnamese culture. Present everywhere from daily life to holidays and weddings, tea brings friends and family together in conversation and celebration. The demonstration allow you to really understand the art of drinking tea, from the countryside folk and montagnards, to normal people and royalty. You can enjoy the scented lotus tea in the traditional way according the season.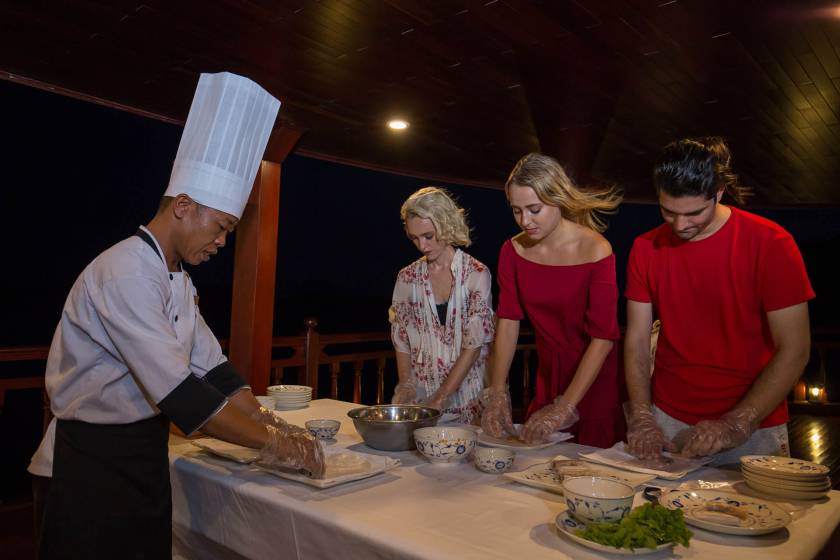 Vietnamese Cooking Class
Whether you are a total novice or an experienced cook, you will find our hands-on-cooking class the fun way to become familiar with the wonderful local cuisine. Learn the finer art of preparing some of the most popular dishes such as Nem Fried Spring Rolls with our passionate chef. The cooking class is held in Can Chanh or Panorama aboard with other fellow guests and you can taste what you have cooked and you can get a recipe for Nem.
Movies on board
Enhance any Halong Bay journey with classic films about this exotic region, like L'Indochine, The Lover, The Scent of Green Papaya, The Quiet American and Good Morning Vietnam among few to name. Our cruise director will be happy to organize a private screening for you in the Hanoi Bar 1945, where guests will also gather for private lecture, videos and documentaries about the fascinating cultures to meet in Halong Bay.
Dining Experience in Suite
Knowing that you sometimes prefer to dine in the comfort of your suite, we offer room service around the clock. Room service offers a delectable choice or fine dining experience in your suite with a selection of good wine from our wine cellar cave. Excellent cuisine is one of our core values on board. Menus change daily and a multitude of dishes are offered during the cruise program. You are free to dine whenever, wherever and with whomever you choose.
Breakfast in bed
Surprise your special someone with breakfast in bed. A sumptuous morning meal is the perfect way to start your day in your own private sanctuary. This is an ultimate indulgence! Your gourmet breakfast includes juice, coffee, pastries, yogurt and fresh local fruit is delivered to your suite in a special "in bed" basket.
Vovinam (Vietnam Martial Arts)
Vietnamese practice this traditional martial art daily so do like locals to exercise and start a new day more energy on Sundeck. Vovinam is practiced with and without weapons. It is based on the principle of between hard and soft. It includes training of the body as well as the mind. It uses force and reaction of the opponent. Vovinam also includes hand, elbow, kicks, escape- and levering techniques. Both attack and defense techniques are trained, as well as forms, combat and traditional wrestling. The wide range of techniques include punching, kicking, forms, wrestling, sword, staff, axe, folding fan and others. You will try some soft and easy postures with its uniform.

ON THE WATER
Cave Visit
The pathway to Thien Canh Son Cave is set below the forest canopy and a stone cliff, so you have the feeling you are climbing towards heaven. You can revel in the breathtaking view of Bai Tu Long Bay from up high, as well as the glorious white sandy beach at Hon Co Island. As you can see on the program, the cave has more than 100 steps, and the hike up to the entrance of the cave promises you a great view of the bay. At the mouth of "Grass Cave", you can stand here to take some picture, it's really a beautiful spot for capturing postcard-like images of the landscape below. This is the reason why Emperor Cruises sails into this off-the-beaten-track location, so that you can enjoy the most beautiful moments at the right time of the day, with less people around.
Sampan Boating to Visit the Floating Vung Vieng Village.
You will be captivated by the lives of the fishermen who live here in the scenic fishing village. It is home to hundreds of others whose lives revolve around the bounty of the sea, and they are a simple but happy people. Vung Vieng fishing village was formed in the early 20th century. At the time, it was a small harbor for boats. Its special topography and location offered a good place to dock and provided refuge from storms. Over time, fishermen began to reside here. To visit Vung Vieng, you hop aboard a rowing boat (the same used by the village's inhabitants), and pass through Hang Cao – the gate to the fishing village. On your voyage around the bay, Vung Vieng fishing village is not-to-be-missed destination. You will have the opportunity to feel the tranquility of the village especially early in the morning..
Kayaking
Kayaking may be not so difficult as you may think, you discover by yourself the bay in new angle and sublime beauty of the bay and have a senses of adventure on the water. This experience is for both first time paddlers to experienced riders. Our team will give some instructions before kayaking, guide you and paddle with you. Kayaking in Bai Tu Long Bay, Vietnam you'll not only witness extraordinary scenery, but gain an intimate insight into the country's coastal communities – meeting and dealing with local fishermen who will be only too happy to supply you with your evening meal. Thien Canh Son and Cong Do areas are allowed to kayak among limestone islands, Bai Tu Long Bay is peppered with roughly 600 islands – many of which have enticing sea caves, tunnels and mangroves, floating villages.
Visiting a Pearl Farm
Bai Tu Long Bay is known by many travelers for its natural beauty, turquoise sea, and forests. This bay is also blessed with a product that few places have – Pearls. After the sampan boating to visit Vung Vieng Village, you can opt to visit a pearl farm production and pearl shop in Bai Tu Long Bay which has earned a well-deserved reputation for producing some of the world's most exquisite pearls. In Bai Tu Long Bay, northeast of Halong Bay with similar rocky outcrops, is a pearl farming village that annually produces millions of colorful, glittering pearls. Its pearls are considered to be some of the best in the world. Despite changes throughout history, today the small farming village is known as "The Kingdom of Pearls."
Visiting the community complex
Aside from the pearl farm you can also choose to visit the community complex. The community complex is located in the center of the village. In this complex, there is a large house for community meetings, festivals and other special events. There is an exhibition house that displays photos in the community as well as small museum where you can see the special equipment that the fishermen using for fishing. There is also a building where children from fishing village would come to primary school. You can also visit the fish farm where the residence of fishing village grow up there fish.
Squid Fishing at Night
When the night falls, after enjoying your fine dining experience onboard, for those who want to be engaged in squid fishing will be provided fishing gears like fishing rods and racquets. Lucky or experiences guest can catch 5 – 15 squids per night in the night without the moonlight and squids are attracted by strong light and come near to the boat. Are you confident with your fishing experience or your luck? Normally, the ideal time for squid fishing is from April to around January of the next year. In the early season, squid is very small, so, if you want to catch the biggest squid, visit Halong Bay in the peak season of squid, from August to December, especially in October and November.
Excursion Offshore by Small Boat.
The three-day hideaway program allows you to cruise further, choose to cruise in their own itinerary, create their own adventure, and explore Thay Cave, wild beaches and islands in Bai Xep Geological Park. Explore, Dream and Discover before you get the mother boat. A decision to spend a second night on board our elite Emperor Cruises boat will be one that you remember for eternity as the boat becomes a home away from home. A more leisurely cruise will give you time to encounter locals and floating villages in less visited areas where they will receive a warm welcome.
Enjoy Your Light Breakfast at Sundeck, Raise the Sails with Sailors, Watch Sunrise and Exercise Vovinam or Guided Yoga.
Time flies, but one thing that has never changed since the time of Emperor Bao Dai, is that the sun rises in the East. Fishermen raise the junk sails to start the new day, and set sail fishing, as they have for generations. Vietnamese people continue to practice VOVINAM early in the morning as the sun rises. Enjoy watching the very first rays of the sunshine in the summer time from 5:30 am – we promise it will be one of the most unique and memorable moments in your life.  June, July and August, September are the best months of the year to have the chance to see the sunrise with blue skies and magnificent seascapes. Enjoy these special times of the day aboard Emperor Cruises Halong. From 5:30 pm on the sundeck, you will witness the majestic sunset in this natural Wonder of the World. We have requested especially beautiful weather during both sunrise and sunset for you and all our guests, however, during certain months, the gods are prone to cancel the service without prior notice. Enjoy these special times of the day aboard Emperor Cruises Halong.
Sunset Cocktail and Private Dinner by the Wonder.
Treat yourself for sunset cocktail on your suite or sundeck. Review moments and relive of the day's exceptional experiences as you and your special someone enjoy pre-dinner liberations and delicious canapés. What the vista and colors of the bay and sky, from 5:30 pm, you will witness the majestic sunset in this natural Wonder of the World. We have requested especially beautiful weather during both sunrise and sunset for you and all our guests, however, during certain months, the gods are prone to cancel the service without prior notice. Enjoy these special times of the day aboard Emperor Cruises Halong, Sunset Cocktail and Private Dinning by the Wonder will be one of the most memorable memories for you as life is a collection of moments.
Visiting Wine Cellar for Wine Appreciation and Wine Choice for Dinner with Your Sommelier
Our boat is designed for "wow" including 1945 and its wine cellar wine in the lower deck. Your palate will applaud as you learn what to look for in a good wine.. You can visit our Wine Cellar Cave with your butler or cruise director for choose the best wine for your a la carte menu for royal dinner at Can Chanh Royal Palace Restaurant. We offer "Dinner in the Wine Cave" option. Book yourself in for a treat by having dinner in our wine cave if you like. The cave sets up an evening in Hanoi Bar 1945 for a very intimate experience as the lighting and the surrounds set the tone for that special occasion.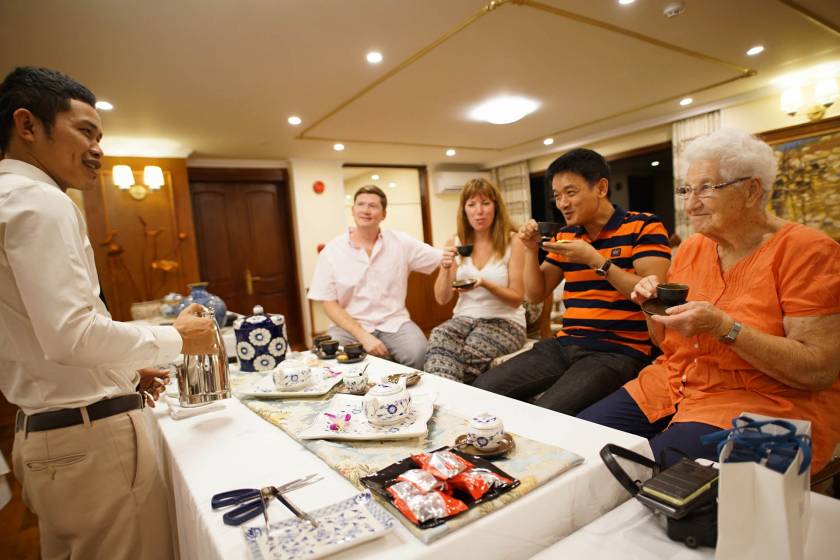 Coffee Demonstration
In Vietnam, coffee is enjoyed at all times of the day, from the first glass at breakfast, to meetings, dates or social gatherings with friends and family. Coffee has a special place in Vietnamese culture, and this simple drink forms the epicenter of daily life. The presentation will allow you to really understand the origins of coffee in Vietnam, the steps involved in making the perfect cup coffee, and the various regional differences in how people enjoy their coffee from North to South. You can hands on to make a cup of ""ca phe phin or coffee filter" or "ca phe sua da" – Iced coffee with condensed milk for yourself.
Absolutely nothing.
You have an option of doing absolutely nothing. We are delighted to help you to create your perfectly personalized activities, either to keep you busy or as relaxed as you wish. Luxury is doing absolutely nothing…or practically everything. You choose your personal favorites and create your own memories in this natural wonder.
We aspire to bring our Royal Class experience into your life