Bai Tu Long Bay – 8 dishes that you have to try
Referring to Bai Tu Long, everyone immediately thinks that it is an extremely popular tourist destination in Vietnam with hundreds of wonderful islands and beautiful natural scenery. However, Bai Tu Long tourism is not only to enjoy the scenery but also many special culinary specialties, dishes, cuisine, food.
Here are some specialties that visitors cannot ignore when traveling here:
1. Oysters – Best dish in Bai Tu Long Bay
Favored by nature for weather conditions and water sources, Ban Sen island commune (Van Don district) is an ideal place to raise Pacific oysters. Dubbed the "kingdom" of oysters, because it focuses on many large-scale farming facilities. In particular, there are oyster farming areas that stretching for kilometers with over 1,000 rafts in the Cong Nua area and Bai Tu Long Bay.
Here oysters are processed into many different attractive dishes such as:
a. Grilled oysters with onion
Oysters after being peeled on one side will be baked. When the oysters are almost ripe, they will coat a layer of onion fat to make the oysters sweeter and smell better. When you remove the oysters from the kitchen, add onions and some peanuts.
When eating, you will feel the sweet but still coolness of the oysters, blended with the aromatic smell of roasted peanuts and fried onions.
b. Oysters in tomato sauce
Only with simple ingredients: oysters, tomatoes, dry onions, scallions, dill, and a little spice, created a very tasty and extremely attractive dish.
Stir-fried finely chopped shallots with tomatoes. Then, put the cleaned oysters on the same. Seasoning with a little fish sauce, the main noodles add flavor. When the oyster infused spices, add scallions and cumin to smell up. This is the favorite food of many people in Bai Tu Long Bay, especially the children.
2. Cha Muc – Squid Sausage
Meticulous is the essential requirement of this dish. Squid is cleaned and cut into small pieces pounding in stone mortars. The pounded squid is a little tangled enough to create a sticky level to have a medium bristle texture, not too tough or too friable.
a. Xoi Cha Muc – Squid sausage with sticky rice
To eat Squid Sausage at Bai Tu Long Bay, the right taste is often served with white sticky rice.
Quang Ninh white sticky rice has a unique flavor. This is the taste of the sea and the unique feature of Bai Tu Long Bay tourist destination. Once enjoying Squid Sausage with sticky rice, surely you will not forget the taste of this dish.
Currently in Bai Tu Long Bay each white sticky rice yield from VND 35,000 to VND 50,000. As a traditional dish of a place, a tourist center, this price is not considered too expensive.
b. Banh Cuon Cha Muc – Squid sausage with rolled rice pancake
This is a dish with a combination of 3 elements: squid sausage, rolled rice pancake, and dipping sauce. These 3 elements must ensure good quality and quality to create harmony for the dish and the delicious taste.
To have a delicious flavor that attracts customers, you must make sure that the dipping sauce is the best. The sauce has enough ingredients including fish sauce, chili, sugar, lemon juice, … With a sweet and sour taste and the combination with the hot-rolled pancake, shrimp and each piece of squid slices to create a delicious taste right after touching the lips.
3. Sa Sung – Sipunculus nudus
Sa Sung is a type of mollusk, shaped like a worm, living in the coastal sandy beaches but not everywhere. Sa Sung is one of the best specialties in Bai Tu Long Bay that every traveler must try
a. Fried sweet and sour Sa Sung
Lots of flavors we can enjoy from this dish, the sourness of lemon, the sweetness of sugar and pungency, the spiciness of chili, the richness of fish sauce. Along with the crunchy, fried sweet and sour Sa Sung will surely bring you and your family a great meal in Bai Tu Long Bay.
b. Sa Sung Soup
Sa Sung is cooked with garlic, dry onions, a little bit of fish sauce, and seasoning seeds to create a strong flavor. Sa Sung soup is usually cooked with tomatoes and when almost cooked, it is added to guise leaves. The broth has a slightly sour taste, very good for the body, especially those who are tired or just recovered.
4. Sam Bien – Horseshoe crab
Sam Bien (Horseshoe crab) has a strange shape, hard shell, round body, swim very slowly and crawl like a crab. Female sam weighs about a kilogram, male sam smaller, weighs only half the female.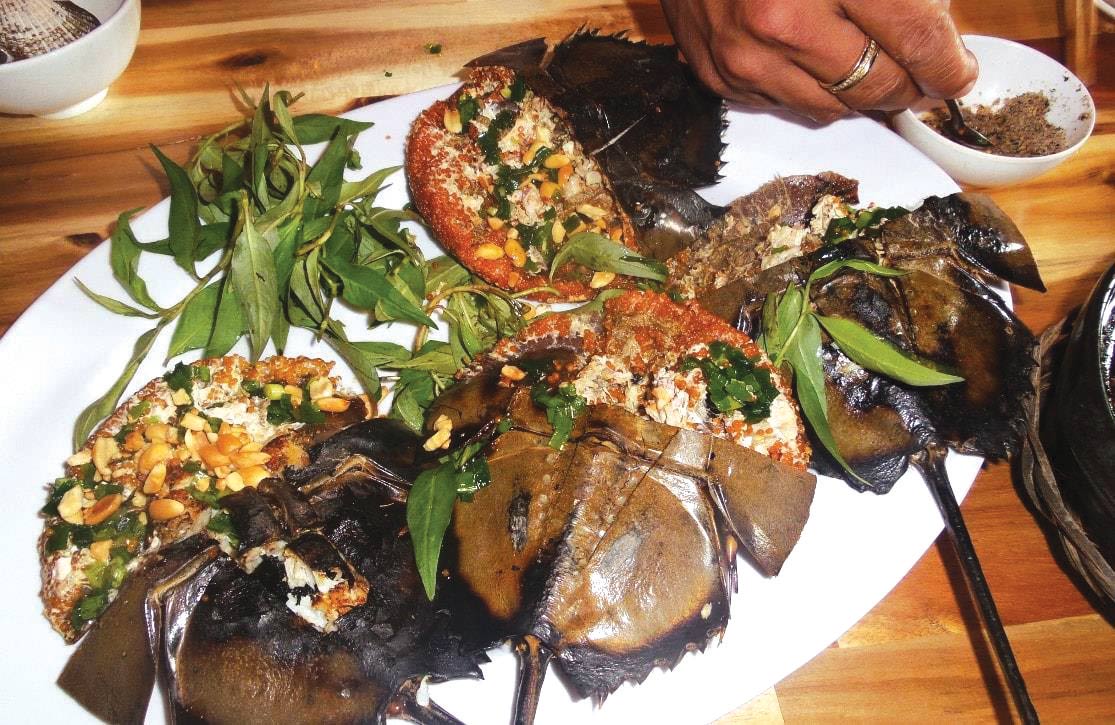 Sam Bien legs and thighs after being cut off will be soaked in hot water to remove fishy, ​​will be marinated with galangal, lemongrass, chili and spices and sautéed in a hot pan.
In addition to the familiar spices, it is indispensable for tamarind juice to wake up the aroma and natural sour taste for the dish. Guise leaf is added last to create the characteristic aroma of this dish.
Sam's legs are sweeter and more fragrant than crab meat. Vietnamese people (especially people in the coastal areas) consider it a favorite when drinking with friends.
5. Oc Mong Tay – Solenidae
With a two-piece structure, about the size of a finger, the intestine is milky white, the shell is slightly yellow-brown. The taste of it is fleshy and chewy so it is used as a raw material to make many delicious dishes in coastal areas of Vietnam.
The popular dish of Oc Mong Tay is tamarind-fried. To make tamarind-fried Oc Mong Tay, people often combine familiar ingredients in the kitchen every day such as garlic, chili, tamarind, peanuts and laksa leaves – a spice that reduces the smell of fishy and flavor enhancement for the dish.
The solenidae after being washed will be cooked with tamarind. The sweet and sour fried solenidae with tamarind is a nutritious food, suitable for many people's taste, especially used as a snack on cool, rainy days
6. Bai Tu Long Cu Ky – Stone crab
Cu Ky is a type of sea crab with two very large pincers, hairy legs, firm meat and very fragrant. This crab has become a specialty dish in Quang Ninh (Bai Tu Long, Ha Long and Mong Cai).
Cu Ky lives in rocky ravines, wood chips along coastal cliffs and mangroves, as well as in aquaculture farms, rafts and breakwaters. They can grow to large sizes (width up to 12 cm), feeding on small planktonic.
Cu Ky's meat is only found in their two pincers. Their body is porous and almost no meat. The exotic is also processed in many different ways such as noodles, steaming, roasting with tamarind or grilling over charcoal.crustacean species.
7. Hai Sam – Sea cucumber
This is a nutritious delicacy, does not contain too much grease, more fiber good for health. Sea cucumbers are cut into bite-sized pieces combined with shiitake mushrooms, spoon vegetables and a few spices for a tasty dish. When eating sea cucumber crispy and soft taste in the mouth. Sea cucumber is useful for health, preventing kidney stones, body weakness.
8. Nhim Bien – Sea-urchin
a. Grilled sea-urchin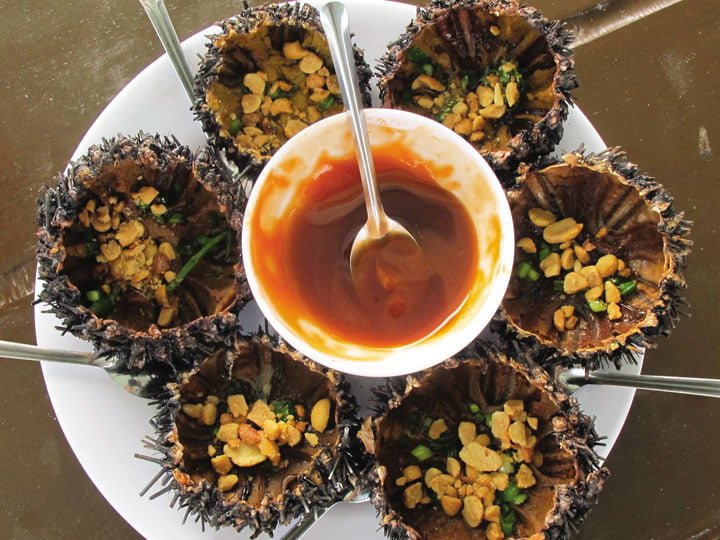 For those who love grilling dishes, sea-urchin grilled with onion is an attractive dish that you cannot ignore. This dish is made quickly but gives you a delicious and refreshing feeling.
The sea-urchin after being cleaned will be cut in half, put in some onion oil and baked on charcoal until the meat turns yellow.
When eating, adding a pinch of lemon pepper to the top of them then using a spoon to put into the mouth to swallow slowly is the best way to try the food.
b. Sea-​​urchin porridge
In addition to grilled sea-urchin, you should not forget to enjoy the delicious sea-urchin porridge.
To make delicious porridge, one must use fresh sea urchin. For a more flavorful taste, the chef will marinate the meat with spices like pepper and onions. Then, the ingredients will be fried through to add flavor and blend together. Finally, just pour all into the pot of boiling porridge, stir well and scoop out the bowl quickly when it's still hot.
Above is a summary of some typical dishes on Bai Tu Long Bay. Hopefully, the above information will help you have a great experience with Vietnamese cuisine.
Bai Tu Long Bay – All Essential Guide in 2020
Not so popular like Halong Bay, Bai Tu Long Bay is the hidden charm in the North of Vietnam with all the beauty of nature like mysterious caves, wonderful beaches, unspoiled islands,… In this article, we will discover all the essential travel guide to Bai Tu Long Bay.

I. Where is Bai Tu Long Bay?
Bai Tu Long is located in the Northeast region of Vietnam. The East borders on the sea, the Northeast borders on Co To island district, the West borders on the mainland with Cam Pha city, the Southwest borders on Halong Bay.
Bai Tu Long Bay consists of hundreds of limestone islands, large and small schist islands, including many large islands inhabited by Quan Lan Island, Ngoc Vung, Van Canh, Ong Cu, Minh Chau,…
Bai Tu Long Bay is located about 30km east of Halong Bay. Halong Bay is a well-known name on Vietnam's tourism map with a large number of domestic and foreign tourists each year.
Bai Tu Long Bay has not been exploited much by the locality because it is difficult to access and there are many mysterious caves, so this place is still quite unspoiled and quiet. It can be said that this is a top place for those who like to explore the hidden, wild beauty of nature, not too bustling by tourist groups like other bays/islands.
II. Time to travel to Bai Tu Long Bay
The climate in Bai Tu Long Bay is divided into 2 distinct seasons: hot humid summers and cold dry winters. The average annual temperature is from 20°C to 30°C. The amount of rainfall is about 2000 – 2500 mm / year, the tidal range is about 3.4 – 4m / day.
The dry season on the bay starts from March to May and from September to November, at this time, the temperature is pleasant, the sun is mild and the sea is gentle, so it is very suitable for tourism activities to explore the Bay.
However, this is also the peak season of tourism so the price of train tours, hotel room prices, … will also be higher.
The rainy season is from May to September and from November to March next year. If you plan to visit this place, you should avoid going in July and August to avoid storms, rough seas – the water will be more turbid.
That being said, not every season on the Bay will be raining and storming, but you can take a closer look at the weather in the Bay during this time, you will choose a cool day but the price is also good because of better due to many deals from tours.
III. Ways to get to Bai Tu Long Bay from Hanoi
1. Transfer from Hanoi to Bai Tu Long Bay by bus
This is the most economical way to travel from Hanoi to Cam Pha, Quang Ninh from there to Bai Tu Long Bay. However, if you only have 1 day to travel, this is not the best option.
Here are some buses from Hanoi to Cam Pha, Quang Ninh that you can refer to:
a. Dai Phat coach (1 trip/day)
Schedule: Gia Lam Bus Station (20:50′) -> Zone 1, Gieng Day Ward, City. Ha Long (00:50') -> Central Bus Station of Cam Pha Town, Quang Ninh (01:20′)
Total travel time: 4 hours 30 minutes
Phone: 0438 641 637 or 0983 651 722
Ticket price: 170,000 VND (Updated on 04/02/2020)
Utilities: Car sleeper 40 seats, with drinking water and air conditioning.
b. Duc Phuc coach (20 trips/day)
Schedule: My Dinh Bus Station (5:15 ') -> Que Vo, Bac Ninh (6h30') -> Pha Lai, Hai Duong (7:00 ') -> East Star Bus Station, Red Star (7:20 ') -> Dong Trieu Bus Station, Quang Ninh (7:50') -> Mao Khe, Dong Trieu, Quang Ninh (8:10 ') -> Uong Bi Bus Station (8:50') -> Bai Chay Bus Station (9:50 ') – > Hon Gai Bus Station (10:10 ') -> Central Bus Station of Cam Pha Town (11:05')
Total travel time: 4 hours 12 minutes
Phone: 02033 741 879 or 01232 288 389
Ticket price: 100,000 VND (Updated on 04/02/2020)
Utilities: Drinking water and air conditioning.
c. Van Don Xanh coach (15 trips/day)
Schedule: Cau Giay (6h) -> Uong Bi Bus Station (8h) -> TP. Ha Long (9h) -> Cam Pha, Quang Ninh (10h) -> Back gate of Cai Rong market, Cai Rap town, Van Don, Quang Ninh (10h30)
Total travel time: 4 hours 30 minutes
Phone: 0964 24 240 or 02033 991 991
Ticket price: 220,000 VND (Updated on 04/02/2020)
Utilities: VIP Limousine, with drinking water and air conditioning.
d. Emperor Cruise's Limousine
We offer a door-to-door pick-up and drop-off service by D'Car Limousine, priced at only 45 USD per person for a round trip between Hanoi and Bai Tu Long Bay. The van features a luxurious leather interior with all the necessary facilities and modern conveniences.

2. Transfer from Hanoi to Bai Tu Long Bay by motorbike
From the center of Hanoi to Sai Dong, Long Bien -> go along Road 5 -> Highway 17 (passing Dau Pagoda, Bac Ninh) -> Highway 18 -> Pha Lai -> Chi Linh -> Sao Do -> Follow route 326 -> Van Don -> Cai Rong Port.
The total route from Hanoi – Cai Rong Port is about 194km. Total travel time about 4 hours (Depends on speed).
The advantage of going on your own by motorbike is that you will have more experience in residential areas, places along the way. In addition, when having a motorbike along, you will not have to spend time renting a car to go to the island.
The downside is that for unprofessional drivers it will be dangerous, on the way if you are not careful to obey the traffic rules, it is also susceptible to penalty/shoot speed.
In addition, going long distances will make you tired, at the time of arrival, there will be an additional fee to take the motorbike to the ship to the Bay,…
3. Rent a car from Hanoi to Bai Tu Long Bay
a. Sunny Gold car rental service
4 seater car:
Rental cars: Altis, Vios, Mazda 3, i10, …
Price: 1,600,000 VND (1 day) or 2,500,000 VND (2 days 1 night))
7-seat-car:
Model: Innova G
Price: 2,000,000 VND (1 day) or 3,000,000 (2 days 1 night)
Note: Prices include driver salaries, fuel, ferries, yards; Price does not include 10% VAT, BOT highway, driver's sleep and food if traveling more than 1 day.
Address: No. 97, Quan Hoa, Cau Giay, Hanoi.
Phone number: 0989 567 299
Website: http://travelcar.vn
b. Minh Duc car rental service
4 seater car:
Rental cars: Toyota Camry, Vios, Altis, Civic, Daewoo Lacetti, Mazda 3S, …
Price: 1,400,000 VND (1 day) or contact the dealer directly for a longer time.
7 seater car rental:
Models: Toyota Innova G, Ford Everest, Isuzu HiLander, …
Price: 1,700,000 VND (1 day) or contact the dealer directly for a longer time.
Address: No. 9 Lane 1/267 Ho Tung Mau Street – Cau Dien – Nam Tu Liem District – Hanoi
Phone number: 0966 678 983
This is an easy way to move for families who carry lots of luggage, want private space or groups of friends who want to sit down, watch the scenery or people on business trips and need to focus on their work.
However, traveling by rented car will cost more than other means, so you need to consider it.
4. Move from Hanoi to Bai Tu Long Bay by train
The Halong Express train departs from Gia Lam (Hanoi) to Ha Long (Quang Ninh) with 6 cars, each with 62 soft seats and 1 car also serving passengers, including bars and trolley Eating.
Total travel time: 5 hours
Ticket price: 110,000 VND / person
Departure time: 07h05 '- Arrival time: 12h00'
Advantages: This is a way to help you save costs than other means of transportation. In addition, taking the train also helps you to enjoy sightseeing and relaxation. Coaches do not move around during the day and the doors are quite tight, so it is difficult to see the scenery. In contrast, the train runs from the early morning, wide and clear glass doors, through the train window, you can watch the whole scenery along the way. Another plus is that you can carry up to 20kg of luggage on board.
Disadvantages: From the train station, you will have to spend more time and cost to catch the car to the Port. In addition, the train's schedule and beginning time are often unstable, so you should consider not to miss the train to the island. Luggage is protected by the passengers themselves, so you have to take the initiative in this, to avoid being stolen.
IV. Interesting activities on Bai Tu Long Bay
1. Take a cruise to visit Bai Tu Long Bay
Emperor Cruise
Emperor Cruise is famous for being the most luxurious 5-star yacht designed with inspiration from the lavish life of King Bao Dai – the last King of the feudal dynasties of Vietnam.
What is better is that you can both relax on the boat and immerse yourself in the natural scenery, breathing the relaxed atmosphere after exhausting working weeks. Activities of visiting the islands, exploring caves, … are combined in the trip will definitely be a memorable experience with your loved ones.
Schedule:
2 days 1 night:
Day 1: Hanoi – Hon Gai Port – Bai Tu Long Bay – Thien Canh Son – Cong Do
Day 2: Cong Do – Vung Vieng Fishing Village – Hon Gai Port – Hanoi
3 days 2 nights:
Day 1: Hanoi – Hon Gai Port – Bai Tu Long Bay – Thien Canh Son – Cong Do
Day 2: Cong Do – Cong Dam (Hon Xep) – Hang Thay – Cong Do
Day 3: Cong Do – Thien Canh Son Cave – Hon Gai
There are also multi-day exploring packages, details: emperorcruises.com/experiences
Information:
Office address: 266 Doi Can, Ba Dinh, Hanoi
Phone number: (+ 84) 83 666 8879 or (+84) 24 3927 3475
Email: [email protected]
2. Explore Bai Tu Long National Park
In 2016, Bai Tu Long National Park was recognized as an ASEAN Heritage Park. Senior experts of the ASEAN biodiversity center during the survey and study evaluated Bai Tu Long National Park as home to the most unique ecosystem in Southeast Asia.

This is a national biosphere reserve with 5 extremely rich and diverse flora and fauna ecosystems: broadleaf rainforest, limestone forest, coastal forest, coral area, and shallow water area.
The sea surface area accounts for a quarter of the area of ​​the National Park and is home to many rare and precious animal and plant gene samples, many species are recorded in the Red book. The species of birds here are Burmese hawks, Japanese Falcon, Black Hawk, Warbler, Warbler, Bighead Bites …
The broadleaf rainforest has up to 494 species of plants and animals, some of them are listed as rare and endangered species, such as Tue Da Lime, Cheetah, Mang Do, Indian Civet, and civet…
Coastal ecosystems are small areas surrounding islands. It is biologically diverse with 251 species including 19 species of mangroves, 17 species of seaweed, 29 species of sea worms, 149 species of mollusks, 22 species of crustaceans and 15 species of echinoderms.
The Coral area ranges from the depth when tidal water recedes to the lowest depth of 10 meters. Here, 409 species have been found including Grouper, Sea Bass, Crab, Snail, Abalone, and Seaweed.
a. Ba Mun Island
The forest on Ba Mun Island has many rare and precious animal species such as pythons, fire leopards, golden monkeys, pangolins, and geckos and is home to the highest density of ungulate animals in Vietnam.
b. Tra Ngo Lon Island – The largest stone island of Bai Tu Long National Park
The island has a quite special geological structure, the south is limestone mountains with many valleys and caves creating a very unique landscape. Cai Lim Valley on the island is the most typical feature of a long-standing mangrove ecosystem.
However, this mangrove forest is isolated in the middle of the sea, few people back and forth so not everyone can access this forest.
The deeper you go into the valley, the more you will discover many interesting things such as the vegetation of the orchid family that lives on limestone, on both mangrove branches and stems.
Including the precious orchids named in the Vietnam Red Book such as Yellow Flower Orchid, Tai Trau Orchid, Kim Tuyen Orchid,…This is a phenomenon that scientists have confirmed is unprecedented in the other mangroves in Vietnam.
c. Minh Chau island commune
In a sea with many rocky islands, Minh Chau island commune seems to be the most favored land with ancient Tram forest, folk medicinal gardens on the sea and endless sources of seafood …
Every day here, there are often women who go hunting in the sand along the coast. When searching for food, Sa Sung crawls to the surface of the sand, pokes long tentacles in search of food around the mouth of the cave, and will crawl into the sand very quickly when there is a sound.
The time of hunting is mainly during the day in shallow days from April to August of the lunar calendar, other days, Sa Sung hunting is still available but less. Sa Sung, which is exploited by local people, is mainly purchased by traders and then exported to China to make noodle soup.
In the summer, the natural beach here is an attractive destination for visitors with white sand beaches for kilometers.
3. Experience as a fisherman on Vung Vieng fishing village, Bai Tu Long Bay
This is the habitat of thousands of fishermen year-round struggling to make a living. In particular, visitors will experience and explore the life of the fishermen here. To visit Vung Vieng fishing village, visitors have to take a small boat used mainly in the fishing village and go through Cao Cave- A famous cross-water cave of Bai Tu Long Bay known as the gate Vung Vieng Fishing Village.
The fishing village appears with the looming a simple, idyllic beauty. The cages for raft fishing are located along the cliffs. Cobia, sea bass, grouper are raised for restaurants, hotels or for export. Some cages for ornamental fish such as Ong Lao fish, Tai Voi fish, cobia, …
The tourist services provided by the villagers take the form of kayak rentals; hire boat people to visit; Rent a traditional dragon boat
Fare:
– Kayak rental ticket price: 50,000 VND/person/hour
– Tickets hire rowing nan boat: 50,000 VND/person/hour
– Traditional dragon boat ticket price: 100,000 VND/person/hour
4. Explore caves on Bai Tu Long Bay
a. Thien Canh Son Cave
This is a pristine cave located in Cong Do Nature Reserve. The cave is also known as the Grotto Cave. About 20 km from Tuan Chau port, the cave has a moderate size, divided into two compartments connecting with each other through a narrow passage.
To reach the cave entrance, visitors must climb about 100 stone steps. The first compartment is quite small, the stalactite system is yellow-brown, creating strong features. The second compartment has a larger space, the stalactite system is also more diverse and richer.
b. Two new caves on Bai Tu Long Bay have not been named yet
The cave is located on an island opposite Phat Co Island, discovered by Mr. Nguyen Sy Binh – a local resident here.
Currently, the cave is being surveyed and checked by management and functional agencies to determine the value and potential for exploitation, so it is not known and visited by many people.
There is only one road to enter the cave, the entrance is 50-60m high from the water so the road to the cave is quite twisted, craggy, just a person away. Unlike quite humid caves in Halong Bay, this cave is dry, with a ceiling of 20-30m high, airy with giant stalactite columns hugging dozens of people.
In particular, in addition to wild beauty, the cave also contains many geological and geomorphic values. Entering the cave entrance, you can see a layer of fossil shells found only in archaeological relics. There are also emerald green stones in the cave that you cannot ignore.
V. Enjoy food on Bai Tu Long Bay
List of certain dishes not to be missed when visiting Bai Tu Long Bay
1. Tu Hai – Geoduck
This is a very expensive dish because Tu Hai is a rare seafood. Typically this type of food from 2-2.5 million / kg, but in Bai Tu Long Bay, Tu Hai is raised so you do not need to worry about the price. The meat at the Tu Hai proboscis is very delicious, both chewy and soft and sweet.
2. Sa Sung stir-fried vegetables – Sipunculus nudus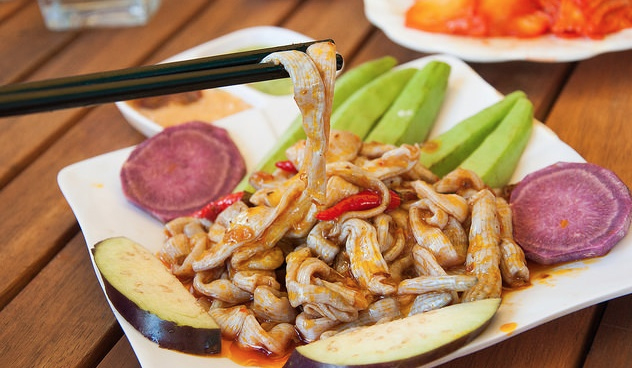 As you have read above, Sá Sung is exploited by the people at the sandy beaches on the sea so the more they chew, the more sweet and chewy and fragrant. People in the sea even order dishes better than Squid, Tu Hai, Crab, Crab, … Coming to Bai Tu Long Bay without enjoying this dish is a waste.
3. Cu Ky – Stone Crab
Cu Ky is firm and fragrant, nutritious and has become a famous dish here. In addition to the processing methods such as steaming, boiling, hotpot, Cu Ky can also be tamarind sauce or grilled. Especially when grilled meat extremely hard and extremely fragrant, is one of the attractive dishes in Bai Tu Long
4. Sam Bien – Horseshoe crab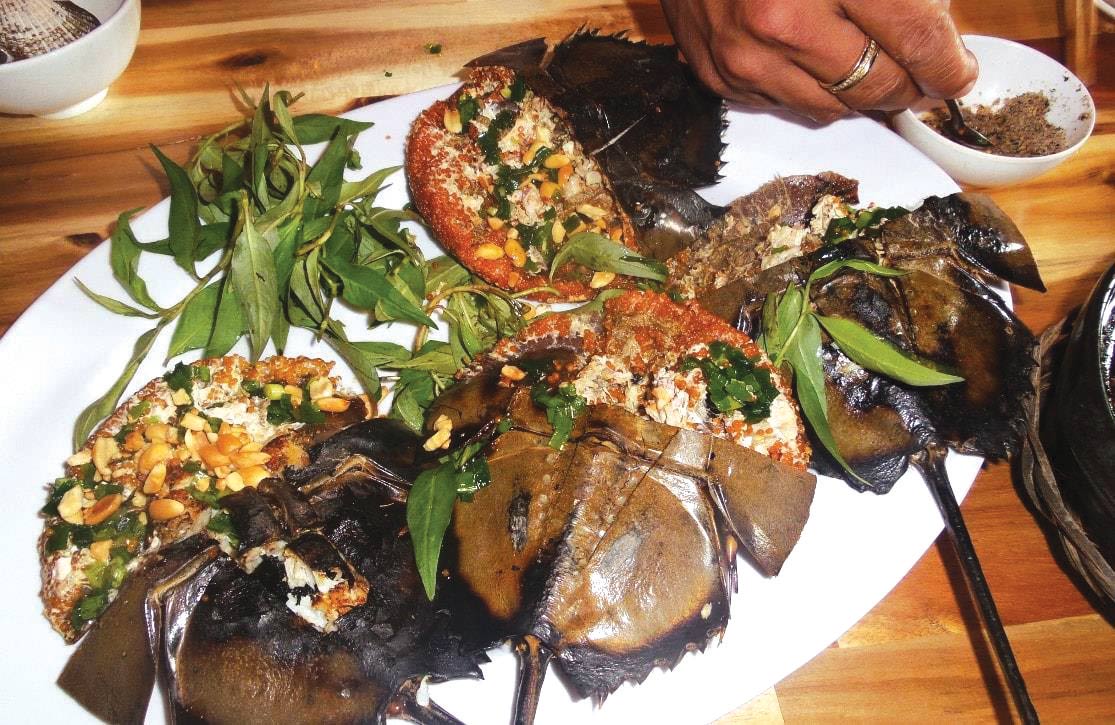 This is a specialty in Bai Tu Long Bay that not all seas have. When processing, people often have to catch 1 pair of 1 male and 1 female. Sam sea is usually processed in the way of baking, making the salad or stir-fry sweet and sour, the average price of a plate is about 150,000 VND.
VI. Some notes for travelers
If you intend to visit Bai Tu Long National Park, please prepare insect repellent or insect repellent as a precaution.
Always have a hat and sunscreen on when you go to the beach or to play spots.
If possible, prepare a digital camera to capture the best moments
Sandals and mountaineering shoes should be prepared to suit the mountainous terrain and the sea here.
Remember to bring your identity card / ID card and driver's license and other documents to check-in the hotel or self-drive car rental if needed.
During the high season, room rates are usually more expensive and quickly book rooms, make sure you have booked in advance through reputable sites.
To discover Bai Tu Long Bay, you can choose Emperor Cruises – the first all-inclusive service cruise in Vietnam with high-end class and special design.